"You're a name here, not a number. That's cliché, but it's true. My experience has been exactly what was promised: A community dynamic where I am treated based on my unique wants and needs and not everyone else's."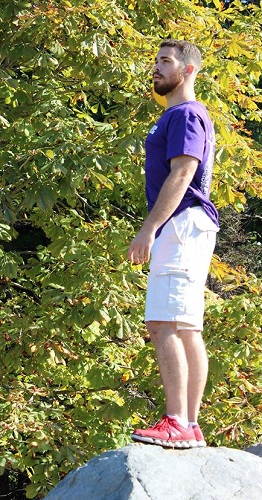 Looking at Logan Murray's current social calendar, it's surprising to hear him say that he didn't have the confidence in high school to connect with friends or get involved in activities.
Things changed when Logan decided to push himself to get out and interact by joining the rugby club. "When I joined rugby, I started to gain confidence and mold myself into a healthier and happier individual," said Logan.
This confidence continued when he started his post-secondary career at the New Brunswick Community College in Miramichi, where he planned to study for two years before entering a university program. While at the NBCC campus, his new love for community involvement spiraled quickly into other extracurricular activities including planning a Dining in the Dark event in Miramichi in support of CNIB, volunteering for the Autism Resource Centre and the YWCA.
"I was doing things that I would have never believed I could accomplish before, and was growing into a leader in my own respect."
Now finishing up his first year at the Mount, in the third year of the
Bachelor of Business Administration
degree with a
major in marketing
, Logan says that when it came to transferring to a university, the Mount was the obvious choice. "The Mount recruitment team visited the NBCC campus and they worked closely with me as I went through the transfer process," says Logan. "The Mount was the only school to offer the
2 + 2 Articulation program
, which takes into account the diploma you receive from a designated college and lets you complete a university degree in two years instead of four."
Upon joining the Mount, Logan received the Student Leadership Award, which rewards new students who have exhibited high standards of leadership and achievement prior to attending the Mount with a free room in residence for their first year. Recipients of this award are expected to continue their high levels of involvement while attending the Mount and Logan certainly has exceeded that requirement.
"The Mount is a community of individuals who want the success of everyone."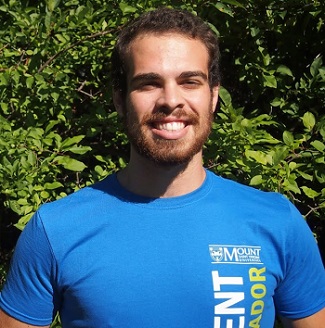 After becoming involved with the Rec Society, Logan floated the idea of bringing the CNIB Dining in the Dark event to the Mount campus. Logan recalls that he had incredible support in moving the idea forward. "With the help of the Rec Society, CNIB, the Business and Tourism Society and the Students' Union among many others, we were able to get the event off the ground, with funding, prizes and a great turnout."
Logan will graduate in the fall of 2016, after completing his involvement in the co-op program. His dream is to pursue a career in advertising. Until then, he has more to accomplish at the Mount: "I want to be a Resident Assistant for residences next year," said Logan. "To give students the experience I have had at the Mount and show them how engaging this campus can be for everyone."