How Leadership Award winner Courtney Goldie found her place at the Mount
To say that Courtney Goldie "kept busy" during her high school years in Guelph, Ontario would be a massive understatement. As head editor of her school's yearbook committee, member of the grad committee and social justice club, Courtney was determined to take advantage of any opportunity to learn and experience new things.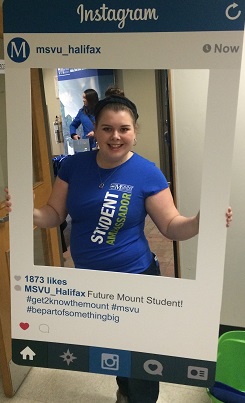 While searching for post-secondary opportunities with her parents, she came across the
public relations program
at the Mount, and decided to visit the school in-person to make sure it was a fit. "I fell in love," said Courtney about her initial reaction when she arrived on campus. "Everything fit; the small classes – smaller than a high school class, which is unheard of in Ontario, the personable recruiters who knew my name. It was just a very welcoming environment."
Fitting of her personality, Courtney forged ahead and applied for a number of scholarships and was named a recipient of the
Student Leadership Award
, a scholarship given to new students who have exhibited high standards of leadership and achievement prior to attending the Mount. The scholarship provided Courtney with a free room on campus, and the ability to meet on a regular basis with other like-minded leadership award winners.
"It's unbelievable. I'll be walking down the hall and the President of the university will stop me to say hi."
Courtney recalls how as a Leadership Award winner, she and other recipients were treated to a lunch at the start of the school year with Mount President
Dr. Ramona Lumpkin
. "I'm sitting there thinking, 'This does not happen at other schools!'," said Courtney. "What's funny is that Dr. Lumpkin is often spotted eating lunch with students in the cafeteria. That's a common thing to see."
Not surprisingly, Courtney's transition to the Mount was seamless and she quickly threw herself into extracurricular activities on campus, becoming a
student ambassador
, executive secretary for the Free the Children Society, executive secretary for the Public Relations Society, and committee member for the Mount's Charity Ball.
All these activities compliment an academic program that Courtney says has exceeded her expectations, "After my campus visit, I had basically put the Mount's Public Relations program on a pedestal," she says. "In reality, it is far better than I ever imagined."
"When I arrived at the Mount for Orientation, the student leaders all knew my name, and they knew my story."
As Courtney finishes her first year of university, she thinks about what advice she would give high school graduates deciding on a post-secondary school. "It's important to reach out and ask questions, take advantage of all opportunities and apply for every scholarship." In typical Courtney fashion, she offers up one last piece of wisdom, "The more effort you put into your experience, the more you'll get out."