Mount Applied Human Nutrition student part of winning team at local Healthcare Team Challenge
Two heads are often better than one, but Mount student Connie Yu of the Masters of Science Applied Human Nutrition program, and five Dalhousie teammates, recently demonstrated that when it comes to healthcare, six can be even stronger.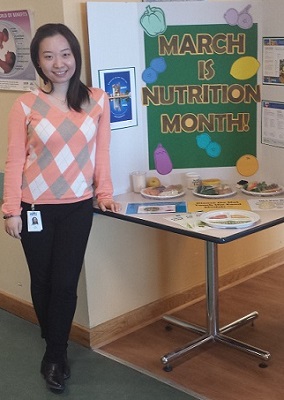 On January 29th, Connie and her teammates participated in the first Healthcare Team Challenge
sponsored by the IWK Health Centre and Dalhousie University. At the event, 36 students from 15 different programs came together in teams of six to test their skills and deepen their understanding of the value of inter-professional practice in patient care.
"We were given a case study with the background of a fictional patient along with three questions related to clinical knowledge and how a multidisciplinary team functions," said Connie.
At the end of the three-hour competition, Connie and her team were declared the winners of this local challenge, and on March 6th they went on to represent Nova Scotia in the National Healthcare Team Challenge at Queen's University in Kingston, Ontario.
"The National Healthcare Team challenge was really competitive!" said Connie. "Our case study involved health professionals who worked in acute care settings or home settings. This required all of us to have a good understanding of the role of each healthcare profession and how we could collaborate in order to deliver the best health care to the patient."
While Connie's team did not win the national competition, she said the experience offered valuable lessons and skills that she can take into her professional career: "I could see growth in myself from the local competition to the national competition… I could see where a dietitian fits in a healthcare team and the kind of value and expertise we can bring to the table."
And Connie continues to have the opportunity to experience inter-professional practice in action as part of her current administrative dietetic internship at the IWK Health Centre, where she and another intern have been busy coordinating Nutrition Month activities.
"We have prepared a lot of resources on nutrition and health, and one live activity each week," Connie explained. "This year, we also decided to involve patients in the IWK's Mental Health and Addictions program. We will be doing a 'salad in a jar' food demonstration with the teenagers there, and teach them how to make a healthy salad."
Kudos to Connie and her teammates on their Healthcare Team Challenge win!
Before this Nutrition Month runs out (March), visit
Dietitians of Canada
to explore ways to help make healthy eating a part of your regular routine.