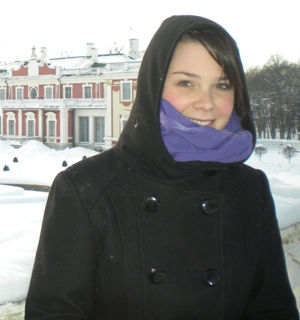 Each year, graduating Mount students include those who have impacted the institution and student body through their dedication to growing school spirit and culture. Noelle Peach is one of those students.
Noelle will be graduating with an Advanced Bachelor of Arts (BA) in Political Studies, with a minor in French. During her four years at the Mount, she was involved heavily in Students' Union and a variety of related activities that connected her with the student body. In addition to her support for the Mount community, she also managed to strike a remarkable balance, engaging fully in her studies. It is because of this dedication that she will be graduating as highest aggregate among the students in the Advanced BA program.
"I was thinking that this couldn't be right," says Noelle. "I proceeded to double and triple check."
But in spite her humble nature, Noelle's position is well earned. The level of hard work and dedication necessary to achieve highest aggregate is difficult to maintain for any person, but it is especially hard to maintain when you have an extra commitment like the Students' Union.
During Noelle's time at the Mount, she took a variety of different roles with the Students' Union, including Off-Campus Representative, Arts' Representative, and in her final year, she served as Speaker of the Students' Union before leaving on an exchange program to Estonia.
"My exchange to Estonia is my most recent and most exciting memory that I couldn't have accomplished it at any place [other than the Mount]," says Noelle. "I want to go back to Eastern Europe and do some more travelling and work. I want to visit the Balkans region."
A long way to travel for a girl from Mira Gut, Cape Breton, but Noelle is always looking for ways to gain new experiences. She is motivated by a quote from the 1998 film, You've Got Mail.
"You are daring to imagine that you could have a different life… You are marching into the unknown armed with… nothing. Have a sandwich."
"Now, at least, I'm marching into the unknown with a degree!" Noelle jokes.
Noelle's good nature and hard work has taken her far at the Mount, and will continue to lead her to exciting new heights once she has graduated. She plans to take a year off, and then continue with her education at the University of Toronto in the Master of Arts in European, Russian and Eurasian Studies, a venture that she will undoubtedly undertake with the same level of passion and drive that she demonstrated at the Mount.