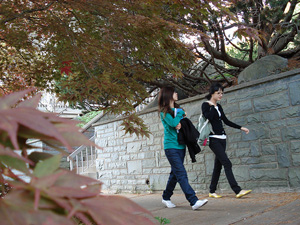 With such a wide-range of students studying at the Mount, so too are the reasons they choose to come here.
Kaela King transferred to the Mount to take the Bachelor of Applied Human Nutrition.

"It was small, inviting, and I really liked the freedom it offered for a program's minors," says Kaela. "[Transferring to the Mount] is one of the best decisions I've made. I am involved on and off campus, and I was able to find a part time job that suits my schedule."
 
Chris Newell, who is in his final year of his Bachelor of Science degree, also transferred to the Mount. He feels the individual attention available to students is why they choose to come here.
 "I am obtaining skills here that are comparable to any other school, and the hands on approach that has been adopted by the faculty ensures that I am getting the most out of my education," he says.
This year the Mount has seen a 15 per cent increase in students transferring to the University. It has also seen a 25 per cent increase in its international student enrolment.
"Halifax is a quiet place, like my hometown in Mauritius," says second year Master of Applied Human Nutrition student, Ansuya Neeraye. "The teachers are all very approachable, and the campus is small and very nice."
 "I heard about the Mount from my friend in their second year, who told me it was a nice place," says Taylor Wang, an international student from Linfen City in the Shanxi Province of China. Taylor is currently in his first year of the Bachelor of Tourism and Hospitality program.
"I joined the International Student Society (ISS), and if I have any questions, I can ask the International Office," Taylor says. "It's very nice here. Everybody has a good heart."
The International Office and ISS prove to be very important resources for Mount students who come from away. The support system available is lead by those who have been in similar positions and understand the unique stresses and concerns of international students.
Both Taylor and Ansuya feel their future goals have been impacted by their time at the Mount, from the influence of their professors and friends in ISS, and by the city.
"I'd like to stay in here in Nova Scotia for a while, to gain more work experience," says Taylor, who would someday like to move to a larger city and work in the tourism industry.
Meanwhile, Ansuya's plans have been altered by one very inspiring professor.
"I always wanted to do research," she says, "But because of Dr. Patty Williams, I'm more likely to do work on food security."
No matter what the future holds for our graduates, students are finding the Mount is a place where they can learn, grow and succeed.
*Photo by: Sammi Jessome & Sarah Bustard, Mount students