When she graduates with a Bachelor of Arts degree this fall, Barbara Cochrane of Sheet Harbour, Nova Scotia, will be crossing the convocation stage for the third time. By next May, she hopes to be a four-time Mount Saint Vincent University graduate. Though it's been a journey not without its bumps, Barbara has persevered no matter what challenges have come her way. The need to pick the right path, not the easy path will be a message she'll aim to impart when she addresses her fellow graduates as valedictorian at the Mount's fall convocation on November 5, 2017.
Barbara first enrolled in a two-year secretarial diploma program at the Mount in 1978. "Times were different back then. If you were a woman, you were expected to either become a teacher, a nurse or a secretary, for the most part," she said. "I've told my fellow students in recent classes about how people would say to me back in 1980 that I was 'making good money for a woman' at the job I had, and they're just floored. It wasn't right, but it was the way things were."
Fast forward to 2002 and Barbara's career is interrupted due to an illness. When she had to quit work entirely, her doctors recommended she find an activity to help keep her brain engaged. That's when she decided to head back to school – back to the Mount. First, she got to work completing the degree she started in 1978, ultimately graduating as one of the last in the Bachelor of Office Administration program in 2009. After that, she started taking more "random courses of interest."
"When I graduated in 2009, I did it for my Mom," Barbara noted. "She had just come through a bout of cancer and she wanted to see me graduate. I really did it for her."
Barbara's passion for learning kept her in the classroom after that, taking more courses at the Mount – in business, history, and languages. As she added to her academic experiences, new interests emerged – this time in French and writing. "Despite the fact that I have a hearing disability, I learned a new language. Though speaking the language is still tough, I've learned to write and read it well. Now here I am with a degree in French."
In her writing minor, Barbara discovered some of her other favourite courses. She remembers her courses in creative writing and editing most fondly. In 2012, she received an award from the Department of English for one of her written works, titled "Passed Down." The piece focuses on obsessive compulsive disorder, combining parts of her grandfather's diary from World War I, a poem written by her daughter, and her own obsession with counting as she works. She later presented it at an undergraduate English conference at St. Thomas University.
Though she's met the requirements for her BA, she's still in the classroom this fall, taking two courses in Business. She's registered to take two more for history in the winter, and then she hopes to have met the requirements for both a Bachelor of Business Administration degree (in accounting) and a second Bachelor of Arts degree, this time in History.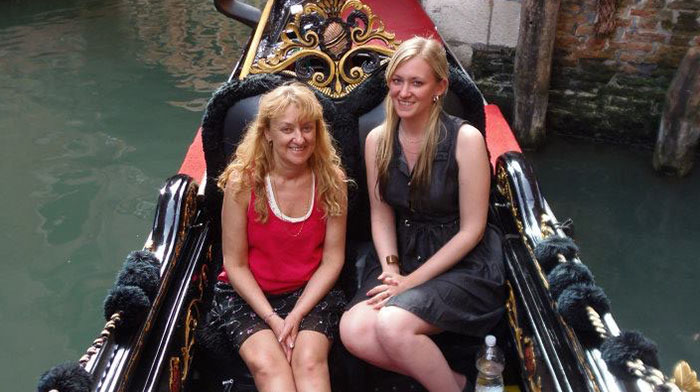 Pictured above: Barbara and her daughter (with whom she shares her first name) while on a backpacking trip around Europe.
A love of learning is a trait that runs in her family. A mother of five and grandmother of one, Barbara attended the Mount alongside the daughter who shares her name. They will graduate together, something the younger Barbara can take credit for. "I was going to skip convocation, but my daughter really wanted us to graduate together. She's graduating with a General Bachelor of Arts, concentration in Family Studies/Gerontology this fall." Her second youngest child, son Kyle, graduated from the Mount with a Bachelor of Arts in Political Studies last year.
Barbara's life outside school has gone much the same as her life in academia these past several years – she's gotten a little involved with a couple of things and then they've snowballed. Take her involvement with wrestling, for example. She's gone from being a supportive mom on the side of the mat, judo coach, and local wrestling club lead, to Nova Scotia delegate with the Canadian Amateur Wrestling Association, meaning a responsibility for representing all of Eastern Canada. "They were an organization crying out for volunteers," she said. "I got a little involved locally and then it grew." She's also a National A Pairing Master in wrestling and President of the Nova Scotia Wrestling Association – the latter a significant commitment for the sport in the province. "They're a small organization looking to grow, start a high-performance program, improve their policies and bylaws, and ensure inclusivity. There's a lot to be done."
Her commitment to her community runs deep. She's a member-at-large of the legion in her area (#58) and supports legion fundraising efforts to help with its continued operation. "Legions are dying across Canada, shutting down because there's less funding and fewer veterans to work there, but they're still important," she said.
Barbara's interest in history is partly satisfied by her role as secretary with the Sheet Harbour Heritage Society, and, most recently, she joined the business planning committee for the new area recreation facility, called the Eastern Shore Lifestyle Centre, which will replace an existing aging facility.
It hardly seems like there would be room left for an academic career, but Barbara's example of what can be accomplished when you let your passions guide you is inspiring. A lesson in resilience herself, no doubt her fellow graduates will learn a few things as she shares her words of wisdom at the Mount's fall convocation. Congratulations, Barbara, on this well-deserved recognition!
—————————————————————————————————————————————
Barbara will deliver her valedictory address during the morning convocation ceremony on Sunday, November 5, 2017, which gets underway at 10 a.m.