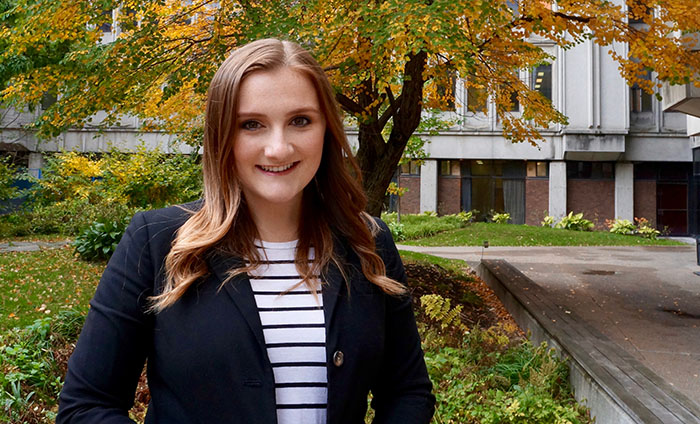 Bhreagh Ross of North Sydney, Nova Scotia, is going places.
A student at Mount Saint Vincent University for the past four and a half years, she'll cross the convocation stage to receive her Bachelor of Public Relations degree on November 5, 2017. She'll also take to the podium as valedictorian. That same weekend, she's supposed to be writing a take-home exam for her law degree. It's a juggling act she's done with great aptitude since her university career began.
Building her life at the Mount
Bhreagh's interest in the Mount was first sparked when she was in grade 11. A friend of hers was studying and living on campus. "I came for a tour and fell in love with the school," Bhreagh said. Her sights set on a degree in Public Relations (an offering unique to the Mount among Atlantic universities), the Mount was the only university to which she applied.
While there is much she loved about her alma mater, perhaps what she valued most was the small size of the University and its classes. "I never skipped a class in my entire degree because my professors and fellow students were counting on me to be there and participate," she said. It's a commitment that worked both ways. "My professors were all pushing me forward, making me the best student I can be. Even when I was away from campus on work terms, my professors were still checking in to see how things were going."
And though a reliable student all around, Bhreagh did have one minor mishap while living in residence. A resident of the 10th floor of Assisi Hall in her first year, Bhreagh broke a rule when she lit a candle, quickly learning why the rule was in place. "I accidentally set off the fire alarm," she said. "It was a low point for sure. I certainly never lit another candle in residence! Luckily, I was still able to become a Resident Assistant in my second year."


A well-rounded experience
In addition to her contributions to Residence Life, Bhreagh served as a member of the Mount's Public Relations Society, president of the charity ball committee, member of the President's Street Team, volunteer with the Make-A-Wish Foundation, volunteer coordinator for the ALS walk (NB/NS), and music leader at Bayer's Road Baptist Church – all while pursuing full-time studies.
Bhreagh is grateful for the opportunities she got from participating in extra-curricular activities at the Mount. "I strongly encourage students just starting their post-secondary education to get involved," she said. "Make the time to try new things ¬– it will greatly enhance your university experience."
Bhreagh has worked in both Toronto and Ottawa on co-operative education work terms during her degree. She also held a co-op position with the Mayor's Office for the Cape Breton Regional Municipality. She notes that the communications theory and strategy she learned in her course work were valuable, but without her co-op experiences she would have been missing an important lesson. "By participating in co-op, I got the real-time work experience I just couldn't get in the classroom. These experiences really give you the skills you need to be successful on the job," she said, highlighting that most of her classmates have secured employment since finishing the program.
A passion for persuasion
Bhreagh's affinity for communications evolved from an interest in theatre and debating. At Riverview High School in Coxheath, NS, she first started debating competitively, coached by her teacher, Ms. Butler, who she noted had a positive influence on her throughout her high school education. Her debating experience, which included a national competition, has also prepared her well for the next phase of her academic journey.
Today, Bhreagh calls Montreal home as she pursues a bilingual law degree at McGill University. She began her first year of studies in law at McGill this past September, just a week and a half after the end of her studies at the Mount. Bhreagh hopes to someday serve as a Supreme Court Justice or Member of Parliament for her home community in Cape Breton. She'd also love to open a boutique law firm that specializes in the legal issues associated with crisis communications.
"My PR studies at the Mount have given me a unique advantage in my law degree," she said. "The program has provided me a well-rounded arts and business background. I've come away with multiple ways of thinking and analyzing problems. I think that will serve me well as I pursue the rest of my education."
Her ambitions may seem specific, but the list is not exhaustive. Bhreagh's aspirations are coupled with a healthy sense of adventure and openness to the unexpected. "Ultimately, I just plan to 'ride the ride'," she said. "The more I'm in school and talking with my professors and professionals, the more I start figure things out. In the end, I'll be successful if I'm content in the choices I've made."
Congratulations, Bhreagh! We look forward to seeing what's in store for you.


—————————————————————————————————————————————-
Bhreagh will deliver her valedictory address during the morning convocation ceremony on Sunday, November 5, 2017, which gets underway at 10 a.m.