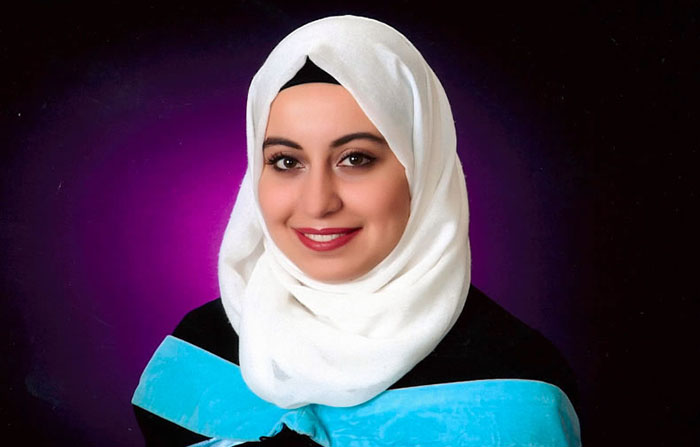 For Nadira Al Nasleh, a Palestinian-Canadian, having the opportunity to live in both Jordan and Canada as a child has shaped who she is today.
Born in Jordan, Nadira's family moved to Halifax when she was two years old. Wanting Nadira and her two younger brothers to be exposed to Palestinian culture and have a firm grasp on the Arabic language, her parents moved the family to Jordan six years later. When Nadira was 12 years old, her parents made the decision to move the family back to Halifax permanently in the hopes of providing better educational and career opportunities for their children.
"I really admire my parents for having the courage to take that big step of leaving their life in Jordan – leaving their parents, aunts, uncles and cousins – and moving back to Halifax," said Nadira. "I appreciate them thinking ahead to our future."
After high school, Nadira began studying at Dalhousie University. It wasn't until her fourth year that she considered a career in education. Her Arabic Language professor told her she would be an excellent teacher and encouraged her to become a teaching assistant. Nadira took her professor's advice and soon discovered her affinity for teaching.
"I just loved it – the close interaction with students and the general experience of leading a classroom," she said.
After graduating with her Bachelor of Science degree (with a major in Microbiology and Immunology and a Minor in Arabic Studies) from Dalhousie University in June 2016, Nadira knew she wanted to continue her education. The Mount's Master of Education in Lifelong Learning program seemed to be the perfect fit.
"A major deciding factor for me was the hands-on nature of the program," said Nadira. "I also liked that the Mount is a small university where you can make personal connections. Coming from a larger university, I really appreciated the feeling of community. I also liked the Mount's commitment to inclusion, diversity and equality, as well as health and wellness."
In September 2016, Nadira began her studies at the Mount. She was able to complete her degree in one year, which is an impressive feat given the demands of the program, including a practicum and a major research project. Even more impressive, Nadira also held down a part-time job that year and was a dedicated volunteer both on campus and in the community. "It's just a part of my personality to give back as much as I can to the community," she said.
As part of her practicum course, Nadira volunteered with WISEatlantic, an organization based at the Mount that aims to encourage young girls to consider careers in STEM. Nadira organized a series of workshops for newcomers and immigrant women who have been educated and have had experience in STEM fields in their home countries, to help with their integration into the Canadian workforce.
"This was definitely a highlight of my time at the Mount," said Nadira. "WISEatlantic is a wonderful organization doing such interesting and important work for girls and young women in our community."
Nadira also volunteered at two large Mount events – the Alexa McDonough Institute's annual Girls' Conference, and the Atlantic Connections Conference. Off campus, Nadira has volunteered for several local initiatives such as food drives by Feed Nova Scotia and Share the Spirit of Ramadan Food Drive, Coats for Humanity Coat Drives, and the Children's Wish Foundation.
Another highlight for Nadira during her time at the Mount was her relationship with other students in the Lifelong Learning program.
"I was one of the youngest of my group, so it was really inspiring to be surrounded by colleagues who have had incredible experiences, and who were applying what they were learning in the program in such interesting ways," said Nadira.
What's next for Nadira? That remains to be seen. With two degrees under her belt at the age of 23, a curious mind and fierce determination, the world is truly her oyster. One thing she knows for sure is that she will continue to give back to the community.
"I don't know exactly what the future holds but I know I want to become more involved with education in the community," Nadira said. "In particular, I would like to find ways to develop and advance Arabic language and Arabic culture education within the province."
—————————————————————————————————————————————-
Nadira will deliver her valedictory address during the afternoon convocation ceremony on Sunday, November 5, 2017, which gets underway at 10 a.m.