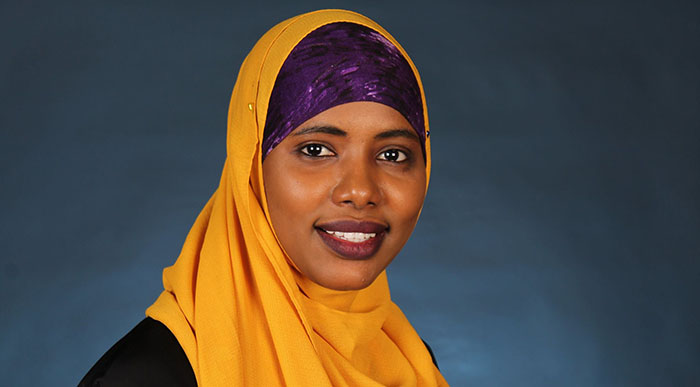 For 29-year-old Abshiro Abdille, the road to graduation has been long and filled with twists and turns. From her early days as a Somali living in a refugee camp in Kenya, through to her new life in Canada, she has shown unwavering strength, determination and perseverance – qualities that have led her to build the life of her dreams right here in Halifax.
Abshiro will graduate from Mount Saint Vincent University on November 5 with a Bachelor of Arts. Following in her older sister Halima's footsteps, Abshiro came to the Mount in 2011 as a sponsored refugee student through the World University Service of Canada (WUSC) program. WUSC is a Canadian non-profit organization dedicated to improving education, employment, and empowerment opportunities for youth around the world.
Life in the refugee camp
When she was just 18 months old, Abshiro and her family – her parents, older brother and three older sisters – fled from war-torn Somalia to the Dadaab refugee camp in Kenya. While conditions in the camp were harsh, she still cherishes her time there.
"Growing up in Kenya was a happy time in my life, despite the situation," she said. "I didn't know any different; I only knew the camp and I made the best of it." She fondly recalls sitting for hours under a tree reading her school books and watching while children played and sheep and goats grazed in a field.
Though she had a happy childhood, Abshiro knows she's had a more difficult journey than the majority of her classmates at the Mount. For example, not many of them had to travel three miles just to get water, or study by kerosene lamp because they had no electricity, or endure a famine. But she doesn't dwell on the negative. "Where I'm from, life isn't easy but people still have hope and courage and they make the best out of every day."
Abshiro has always known the importance of education. This was something her parents instilled in their children from an early age. "My father would actually come to school every day to make sure we were studying hard and doing our best," she recalled. "My parents wanted us to understand that our only hope of leaving the camp was to become educated." Unfortunately for many young people in Dadaab, high school will be the highest level of education they obtain. And they must excel if they ever want the opportunity to leave the camps to attend university.
After completing high school, where she learned to speak English, Abshiro worked at the United Nations High Commissioner for Refugees (UNHCR) Centre as a Somali-English interpreter, helping Somali people work their way through the legal process of becoming registered refugees. After work, she volunteered teaching English and math to young girls.
When Abshiro was 20, she travelled to Nairobi for the first time to study for scholarship interviews and exams. She knew that if she did well on the exams, she might have the opportunity to attend university outside of Kenya. After a few months of living in Nairobi, Abshiro lost her father to cancer. Though this was a very difficult time for Abshiro, she remained steadfast in her determination to do well in her scholarship program.
A turning point
A defining moment for Abshiro was when her sister Halima found out she was going to be sponsored by WUSC and attending university at the Mount. To her, it meant that leaving the camp and furthering her education was a real possibility. Abshiro remembers receiving a DVD from Halima, after she had arrived in Canada, with a television interview she had done with a Halifax news outlet. "I was watching the video and I found myself looking past my sister and the reporter and focusing on the background, and I remember thinking how beautiful the campus was and how lucky I would be if I could attend this university one day."
Halima also shared stories with her family about how helpful and welcoming the Mount community was when she arrived, and how invested they were in her continued success. "She said the Mount was like a big family," Abshiro recalled.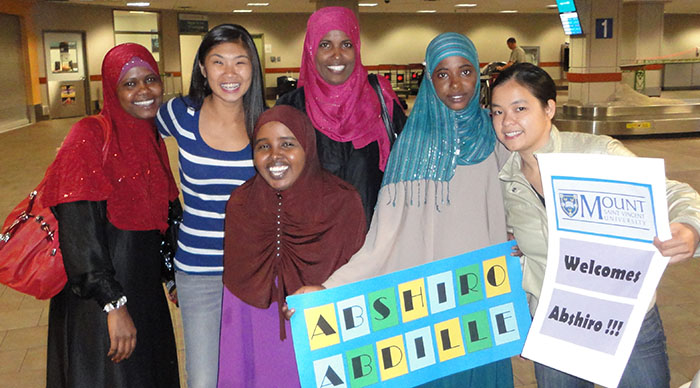 Pictured above: Abshiro (holding the blue sign) moments after she arrived at Halifax Stanfield International Airport in 2011. Her sister Halima (far left) and other members of the Mount community were there to great her with open arms.

In September 2011, Abshiro got to see this firsthand. After being away from her sister for three years, Abshiro was finally able to join Halima at the Mount through WUSC sponsorship of her own. "I can't even explain how happy I was to be chosen and to be able to see my sister again. I felt like I was going to a home far away from home, because the Mount was not new thanks to Halima," said Abshiro.
Adapting to a major life change
After graduating from the Mount in 2012, Halima moved to Edmonton to take an accounting job. This meant that Abshiro no longer had family living in Halifax. In her third year of university, Abshiro gave birth to a baby girl she named Amal (meaning "Hope" in Arabic). As a single mother with no family around to help, she decided to leave school to focus on bonding with her daughter. A year later, after much personal reflection and encouragement from staff at the Mount, she made the decision to go back to school to finish her degree.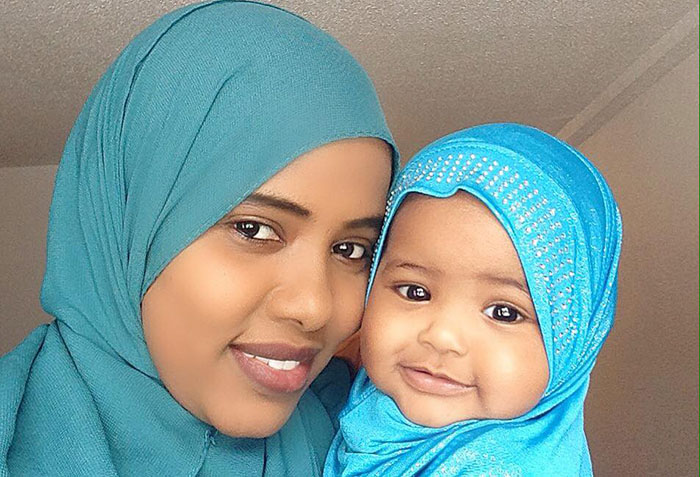 "Education was the reason I came to Canada and I thought about what the future would be if I stayed home. I knew I needed to make a better future for me and my daughter," Abshiro explained.
At this point, there was no prospect of her family joining her in Halifax. This meant she would need to find a job and rely on daycare so she could attend classes. For three months, Abshiro's life revolved around school, work and caring for her daughter. She would wake up at 3 a.m. and study until her daughter awoke at 8 a.m. She would then go to school to attend classes, put in some hours at her job as an organizer of the Alexa McDonough Institute Girls Conference on campus, then head home to spend time with her baby before going to bed, and then start all over again the next day. This hectic schedule didn't negatively impact her education, though. "My grades actually went up after I had Amal," said Abshiro. "I was more focused and better able to prioritize my school work. I owe my success to her."
Abshiro also credits the individualized attention she received from her professors. Throughout her time at the Mount, she felt that they truly cared about her and her future. They were accommodating, with one professor allowing her to bring her baby to class when she had childcare issues. Fittingly, it was a class on the parent-child relationship.
"Professors really try to understand your situation and accommodate you,' saaid Abshiro. "It's more of a family here, everyone wants the best for everyone."
A bright future
In the summer of 2016, Abshiro welcomed her mother, brother and sister to Halifax. They were brought to Halifax through the Saint Andrew's United Church Refugee Sponsorship Program. They now all live together, supporting one another as they make new lives for themselves in Canada. They will all be sitting proudly in the auditorium as Abshiro walks across the stage at her convocation ceremony on November 5.
In more good news, Abshiro recently accepted a job with the YMCA Centre for Immigrant Programs where she is working with new Canadian youth and their families, helping them adjust to school and life in Halifax. Her long-term plan is to go back to school at the Mount to complete a master's degree in Lifelong Learning.
Graduating from university, working in a field she's passionate about, her immediate family now out of the refugee camp, living in Canada – Abshiro's wildest dreams have come true. When asked if, as a child, she could have ever imagined her life turning out as it has, she replies, "Not in a million years."