During Mount Saint Vincent University's spring 2022 convocation ceremonies, Dr. Brook Taylor, Interim Vice-President Academic and Provost, announced the recipients of the President and Vice-Presidents' Advanced Career Teaching Award, the Alumni Early Career Teaching Award, and the Alumni Part-Time Teaching Award.
The awards were presented to Dr. Ashwani Kumar of the Faculty of Education, Dr. Ellen Shaffner of the Department of Communication Studies, and Professor Susan Stevens of the Department of Family Studies and Gerontology, respectively.
The awards were established to recognize teaching excellence at every level, including senior and junior full-time and part-time faculty. They reflect MSVU's strong commitment to leadership in teaching and learning.
The President and Vice-Presidents' Advanced Career Teaching Award: Dr. Ashwani Kumar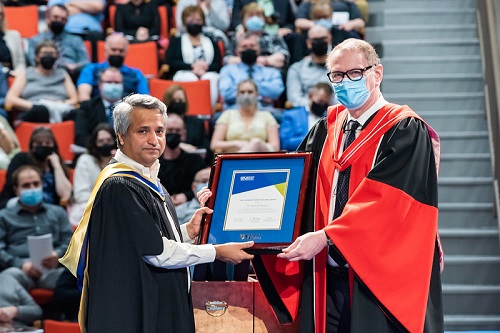 Dr. Kumar is recognized as an extremely innovative teacher. He incorporates Teaching as Meditative Inquiry (TMI) in his course offerings. TMI is a holistic approach that fosters deep learning and nurtures students' minds, bodies, and hearts. It offers students choice and flexibility, which provides autonomy, individuality, originality, passion, and creativity, thereby making space for their unique personal development and expression.
Another component of Dr. Kumar's TMI approach is self-reflection and introspection through free writing, autobiographical inquiry, and journaling. He provides an inviting space, encouraging students to deepen their understanding of themselves within their personal and social contexts which fosters the capacity to understand others and the world around them. Dr. Kumar has written extensively on his teaching approach, including a book, Curriculum as Meditative Inquiry, and a paper, "Teaching as Meditative Inquiry."
A student writes, "His teaching style not only helps to develop our learning and rationalizing abilities, but also nurtures the whole student, their inner personal interests, abilities, and talents. There is a creative freedom of expression in his courses where students can grow, not just academically, but also as more attentive and thoughtful human beings."
Another student says, "I have noticed a considerable amount of similarity between Ashwani's pedagogical approach and Indigenous knowledge and pedagogy. As a Mi'kmaw student, I have appreciated Ashwani's inclusive and culturally responsive pedagogical practices."
The Alumni Early Career Teaching Award: Dr. Ellen Shaffner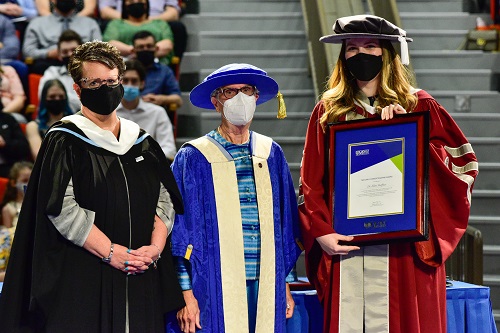 Dr. Shaffner's teaching and learning philosophy is based on two central principles: care for her students and quality of delivery. She describes 'care' as getting to know her students and being enthusiastic, encouraging and positive with them. She's interested in her students and takes the time to build rapport through learning about their experiences, goals, and challenges.
Says one of her students, "I remember my first class with Professor Shaffner when she was brand new to MSVU. As students, we were nervous about the unfamiliarity of our new professor; however, our concerns were put to rest within the first few minutes of class. In addition to her lecture notes, she had a large piece of white Bristol board with her. As we introduced ourselves to the class, she began taking notes on the Bristol board. By the end of class, she had created a page full of student names, facts, and characteristics that she studied in detail to get to know us better."
Her second core principle is 'quality' which she describes as "providing organized and up-to-date course content and engaging students in a hands-on, learning-by-doing approach. One of Dr. Shaffner's students noted, "Professor Shaffner truly wants her students to succeed, not just in her class, but in their careers. She is creative, kind, intelligent, and a wonderful academic role model."
The Alumni Part-Time Teaching Award: Professor Susan Stevens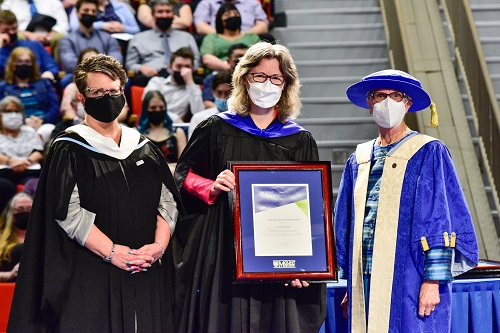 A leader in course development, Professor Stevens notes, "I love to teach because I love to learn."
Two foundational principles inform her teaching: first, she believes that deep learning and transformation happen when we meet people where they are, and second, she believes that learning is a shared journey. Professor Stevens works to find an engaging entry point that opens up a student's curiosity, courage, and motivation, and she believes at her core that transformational learning most often happens in relationship – meaning it is imperative to know each student as an individual and to allow them to get to know her.
One student recently shared, "Professor Stevens provides the tools and encouragement to help all students be the best they can be," while another notes, "Susan had a beautiful way of letting each student come to their own conclusions by sharing information with us, instead of simply telling us what she thinks."
Another student comments, "Professor Stevens is an outstanding teacher. She strives to develop a classroom environment where every student feels respected and their insights valued. In ethics class, we were charged with debating relevant issues and not always on the side that we believed in. This gave us empathy and developed our skills at reasoning and critically assessing our own beliefs – things that we simply take for granted."
Congratulations, Dr. Kumar, Dr. Shaffner and Professor Stevens! And thank you for the difference you have made in the academic journeys of so many students.