MSVU Athletics Director June Lumsden is pictured with athletes and colleagues: Tyler Simmons, June Lumsden, Derrick Brooks, Haley MacDonald, and Jamie Brown
There are few in the world of post-secondary athletics who are as dedicated to students and athletics more than June Lumsden. Turns out, we're not the only ones who have noticed.
At the 2022 Canadian Collegiate Athletic Association's (CCAA) Hall of Fame Banquet held this week in Halifax, June received national accolades when she was named the CCAA's 2022 Athletic Director of the Year. Notably, this is the second time in her career that June has received this award – the first being in 2001.
Explains the CCAA: the Athletic Director of the Year Award recognizes administrative excellence within the campus or college community environment. This award also recognizes an Athletic Director who has made a significant contribution to their institution over the past academic year.
"June is someone who really cares about what we do and always has the best interests of the student-athlete in mind when decisions need to be made," said Vince Amato, CCAA President. "Her leadership at MSVU, in the conference and the CCAA was appreciated by all over the past year, and she continues to leave her mark in everything that she does."
June Lumsden pictured at right, receiving her Athletics Director of the Year Award from CCAA President, Vince Amato
In addition to her role as Director of Athletics and Recreation, June also served as Interim Associate Vice-President of Student Experience at MSVU this past year. In this capacity, she provided leadership to a number of student support areas – and in the midst of a pandemic, no less.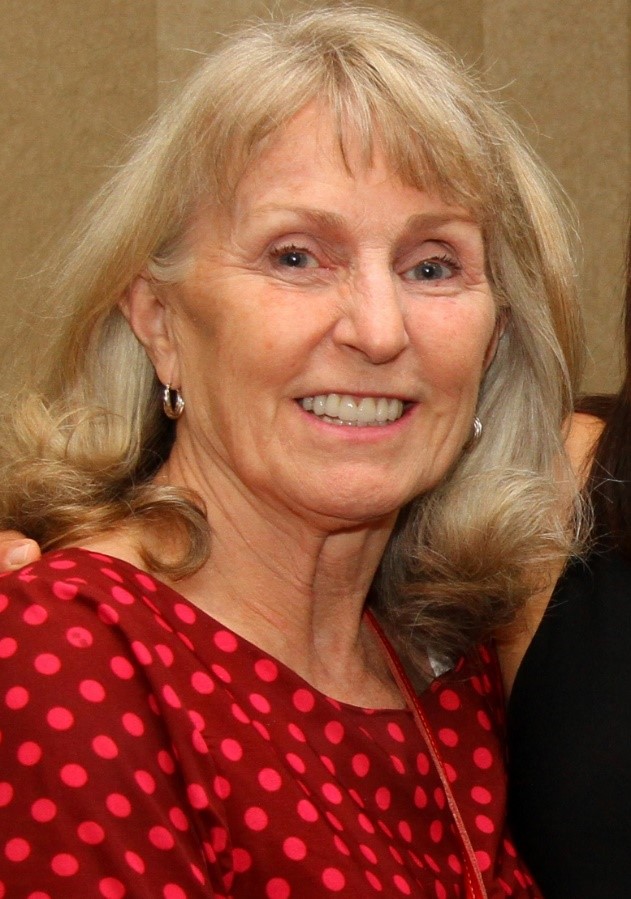 "June, characteristically, didn't skip a beat," said Ramona Lumpkin, Interim President and Vice-Chancellor at MSVU at the time. "She worked tirelessly and ultimately successfully, leading two senior level portfolios, and in doing so, she showed us what true dedication to post-secondary education and the student experience looks like."
"Despite holding two demanding positions of leadership on campus, June continued to welcome all who entered her space with open arms," said Lumpkin. "She is a role model for our staff, faculty, students and broader campus community."
June held a number of volunteer roles off campus this year, too. She served as the Atlantic Collegiate Athletic Association (ACAA) Treasurer and Secretary and member of the Executive, Awards and Return to Play Committees. She also served on the CCAA Board of Directors.
It was also an impressive year for varsity athletics at MSVU, which hosted the 2022 ACAA Volleyball Championships.
Overall, the Mystics earned five ACAA medals, including three conference championship banners. Three MSVU student-athletes were honoured as 2021-22 CCAA All-Canadians and two Mystics were named ACAA Players of the Year. Three head coaches earned ACAA Coach of the Year honours.
The Mystics also proudly celebrated seven CCAA Academic All-Canadians in 2021-22 and 35 CCAA National Scholars.
In the fall, former Women's Soccer player Abbey MacLeod, joined the Mystics coaching staff as a participant in the CCAA Female Apprentice Coach Program, to further the participation of women in sport.
MSVU also saw four alumni inducted into the 2022 CCAA Hall of Fame. Each of these individuals – two coaches and two athletes who were successful in their own right – have had the opportunity to work with and be supported by June throughout their athletic and academic careers.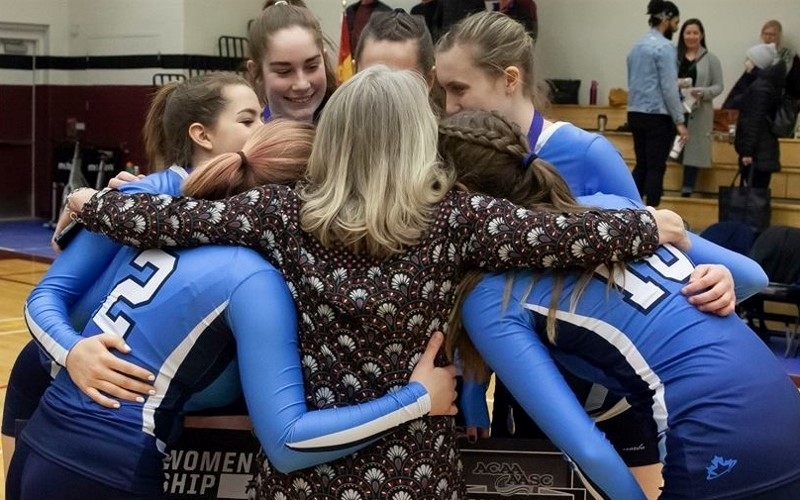 June Lumsden celebrating with members of the Mystics Women's Volleyball Team
The Mystics also continued to host many sports camps and development sessions for youth in the community. In addition, June's support for women in sport continued with the community co-ed and women's volleyball leagues as well as the newly formed Maritime Women's Basketball Association that are hosted at MSVU.
"MSVU and our students are fortunate to have an individual of June's caliber – someone who has committed a lifetime of passion for sport and who is devoted to the success of all MSVU students," said Lumpkin. "We as an institution are forever grateful for the contributions she has made over the past year to ensure MSVU students find success and happiness on and off our campus."
June, along with Ray Chateau of Humber College, are the first ever co-recipients of the CCAA's Athletic Director of the Year Award, which has been presented annually since 2000.