Mount Saint Vincent University (the Mount) celebrated approximately 500 graduates from 25 countries during spring convocation ceremonies held in Halifax, Nova Scotia on May 16 and 17. Students crossed the stage from arts, science, education, and professional programs to accept a wide range of certificates, diplomas and degrees before becoming part of the Mount's network of more than 34,000 alumnae.
Accessibility improvements
Mount President and Vice-Chancellor Dr. Mary Bluechardt highlighted several accessibility improvements made to the Seton Auditorium in which convocation took place – also a frequent classroom and home to other special events.
One of the biggest changes made was to the convocation stage itself, which is newly accessible via leveled access. A new accessible washroom was also added nearby, while another was renovated, and further accessible parking was added outside. Noted Dr. Bluechardt, "These renovations are part of a bigger effort, an ongoing evolution. We don't know where it will end, but we know it won't stop here."
Honorary degree recipients
The Mount bestowed honorary degrees on three successful community leaders: Canadian icon and unparalleled advocate for people with disabilities Rick Hansen; award-winning entrepreneur and trade industry ambassador Mandy Rennehan; and celebrated educator, author and community leader Gloria Ann Wesley, whose efforts in support of opportunities for Black youth have transformed lives (bios/additional photos).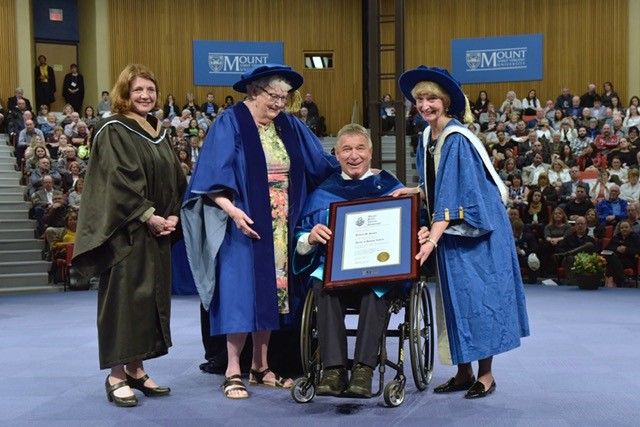 Pictured above: Tanya Lorimer-Charles, President of the MSVU Alumnae Association, Sister Joan O'Keefe, University Chancellor, Rick Hansen, honorary degree recipient, and Dr. Mary Bluechardt, President & VIce-Chancellor.
---
In his address, Rick Hansen, CC, OBC, shared the story of the accident that left him without the use of his legs, and reflected on some of the many mentors who have helped him on his journey. "For me, teachers have been powerful. … My teacher Bob Redford was my physical education coach and he reminded me that nowhere in the definition of an athlete does it say that you have to use your legs in order to be one. It's defined by your passion, your commitment to excellence. … I needed to just adjust or redefine possibilities and get back in motion again."
Rick called on graduates to pay it forward, noting that we are all on a journey to build an inclusive world. "Let's continue to move forward together…and create transformational change throughout this world. And schools, universities and colleges, places of learning, they need to be that beacon of hope and you are providing this every single day, and I congratulate all of you. Continue to celebrate this success. Never, ever give up on your dreams. Anything is possible."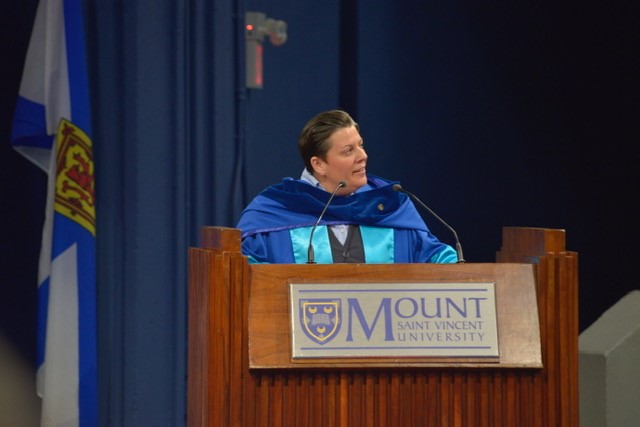 Pictured above: Mandy Rennehan, honorary degree recipient.
---
Mandy Rennehan spoke of the value of determination and good humour. She shared stories that reminded graduates of the importance of hard work, commitment to quality, family and individuality. She said, "We're different here. I've made millions being an east coaster because of my heart, the love I have and the ability to make people laugh while I'm inducing change. Personality is what's going to separate you from the rest of the pack."
She also encouraged graduates to pursue their goals, no matter what barriers may stand in their way. "I would like to take this time to tell you how proud I am, … because you were consistent enough and committed enough to be here. And that's the absolute framing of what success really is. It's not success, it's consistency. Consistently, I was pounded into the ground with barriers, but … I did it and I continue to do it."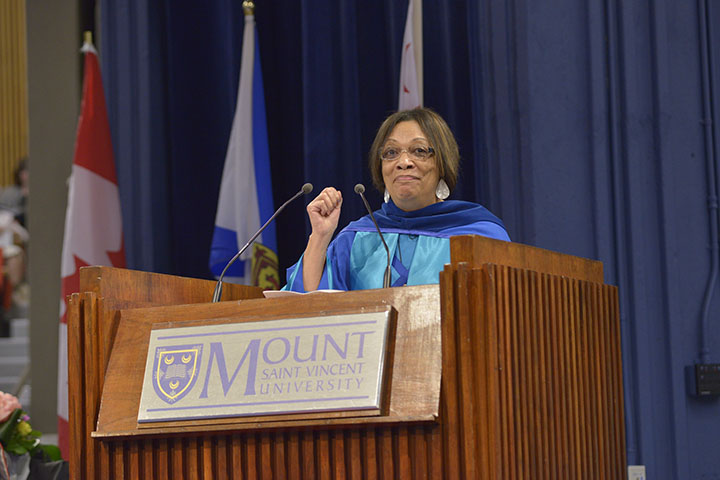 Pictured above: Gloria Ann Wesley, honorary degree recipient.
---
Gloria Ann Wesley, BA, BEd, cited the names of other Black women who have received honorary degrees from the Mount noting that they are among the women who inspired her to address a lack of opportunities for people of African descent in Nova Scotia, and a concern about how African Nova Scotian history and experiences were minimized in school curriculums. "With those realizations came great challenges to affect change. Through teaching, writing and working with young people and organizations, I discovered it was possible use these avenues as vehicles for change and to make a difference in the lives of others. There's a lot to be said for persistence and conviction."
She reminded graduates that the future lies before them. "Much is required to design a way forward that doesn't disadvantage one group while benefitting another. It's a tall order. No one expects you to do it all, but if everyone did their, how the garden would flourish. … Be daring. Be bold. Be confident. Be open-minded and fair. But foremost, be an individual."
Student prizes
Valedictorian Prizes for significant contributions to extracurricular activities at the Mount and in the community-at-large were awarded to:


• Casey Perrin, Bachelor of Arts, Oxford, NS
• Amanda Scott, Bachelor of Business Administration, Bridgewater, NS
• Jonathan Grant, Bachelor of Education, Antigonish, NS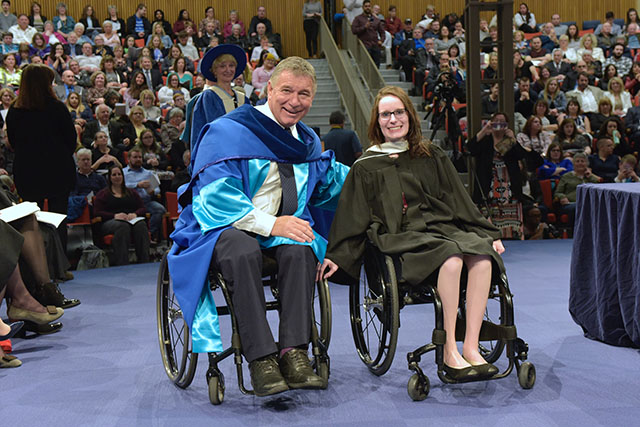 Pictured above: Casey Perrin, Valedictorian at the Thursday morning ceremony (right) with Rick Hansen, honorary degree recipient. Casey graduated with a Bachelor of Arts degree and a Certificate in Nonprofit Leadership.
---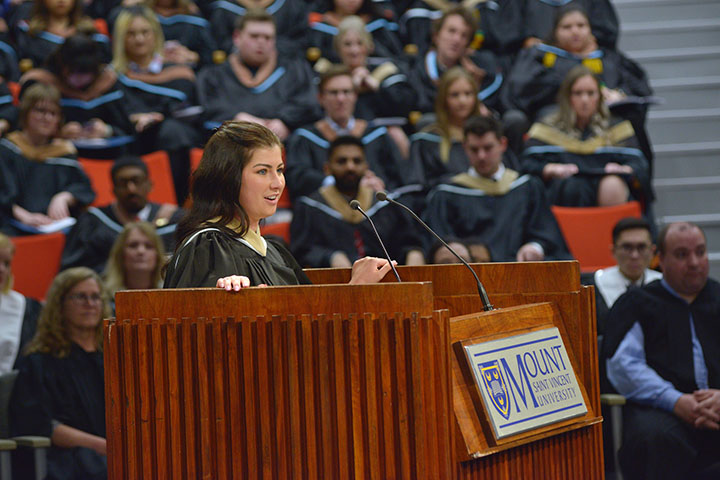 Pictured above: Amanda Scott, Valedictorian at the Thursday afternoon ceremony. She graduated with a Bachelor of Business Administration degree.
---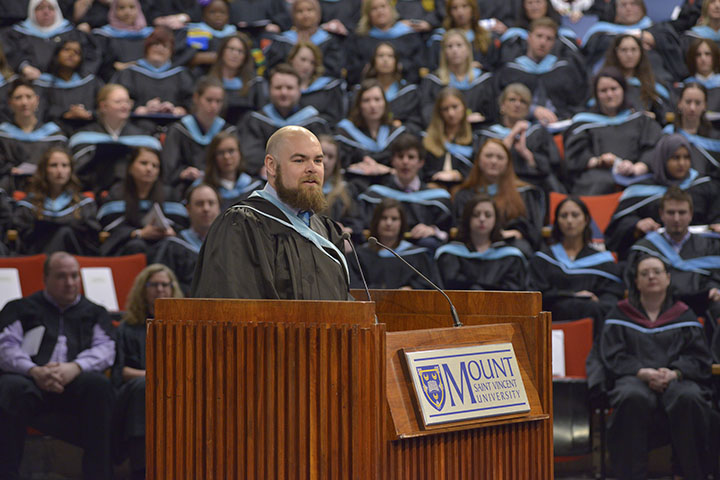 Pictured above: Jonathan Grant, Valedictorian at the Friday morning ceremony. He graduated with a Bachelor of Education degree.
---
The President's Prize, awarded to graduates whose generosity, energy and commitment enriches the university, was presented to:


• Tisha Parker Kemp, Master of Education (Lifelong Learning), Bayside, NS
Governor General's Medal is presented once per year for the highest aggregate in the final three years of a degree program (undergraduate) and the top graduating Master's student:


• Alison Carpenter, Bachelor of Business Administration, Dartmouth, NS
• Jennifer Waterhouse, Master of Education (Lifelong Learning), Norman Wells, NT
Membership to Kappa Gamma Pi, the National Catholic College Graduate Honor Society, is based on scholarship, leadership, and service, and was presented to:


• Jenn Leckey, Bachelor of Science Hons (Psychology), Fredericton, NB
• Deandra Doyle, Bachelor of Public Relations, Miramichi, NB
• Guillaume Fleury, Bachelor of Education, Les Andelys, France
• Jennifer Green, Master of Education (Lifelong Learning), Halifax, NS
Faculty Recognition
Professor Emerita/Professor Emeritus


• Dr. Leslie Brown, Department of Sociology & Anthropology
• Dr.Michael MacMillan, Department of Political & Canadian Studies
• Dr. Susan Walsh, Faculty of Education
Teaching Excellence Awards
•
Dr. Elizabeth Bowering
, Psychology – President and Vice-Presidents' Advanced Career Teaching Award
• Dr. Kelly Resmer, Chemistry & Physics – Alumnae Early Career Teaching Award
• Dr. Matthew MacLellan, Political & Canadian Studies and Cultural Studies – Alumnae Part-Time Teaching Award
Early Career Research Award


• Dr. Kyly Whitfield, Applied Human Nutrition

President Emerita


•
Dr. Ramona Lumpkin
– The title President Emerita is bestowed upon Presidents of the Mount who have retired from the position and who have rendered exceptionally distinguished service to the University during their term of office. During her seven-year term (2010 to 2017), Dr. Lumpkin contributed greatly to the success of the Mount, always leading with passion and deep commitment. Her many exceptional contributions included: enhancing student services & student retention; developing programs reflecting the Mount's commitment to social justice; ensuring continued contribution to the advancement of women; maintaining the Mount's fiscal health through successful fundraising; and more. Dr. Lumpkin's contributions will be ever-lasting.
About Mount Saint Vincent University
As a leader in distance and experiential learning, and based on a strong tradition of social responsibility, Mount Saint Vincent University takes a personalized approach to education to nurture socially responsible global citizens. Founded in 1873, the Mount has been nationally recognized for having one of the lowest student-to-professor ratios, for providing students early access to valuable research opportunities, for its legacy in the advancement of women, and for facilitating critical advancements in food security, healthy aging, literacy, and childhood development.