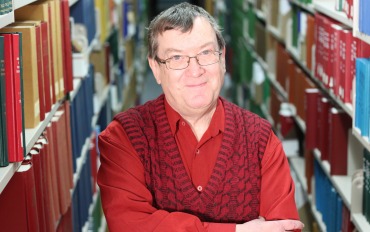 Terrence (Terry) Paris (1948-2021) was a beloved member of the MSVU community, whose career at the Mount spanned 42 years. Terry was known for his integrity, generosity and many contributions to the Library, the University, and the greater academic, as well as to arts and social support organizations.
Terry graduated in 1970 with a Bachelor of Arts (with Honours in History) from the University of Manitoba and received his Master of Library Science from the University of Western Ontario in 1972. That same year, he began a term position at MSVU as a Reference Librarian. In 1980, Terry obtained a permanent position as Librarian II, and in 1990 was promoted to Librarian III.
During his time at MSVU, he served on the Senate, numerous library committees, and other collectives including the Art Gallery Advisory Committee and the EMF Centre User's Group. Terry's legacies include the early development of the Library's collection in the areas of women, gender, and queer studies. Due to his efforts, MSVU now has the strongest such collection in the Atlantic region.
Over his time at the University, Terry saw the growth of the campus and its advancements in library technology. In 2014, Terry retired from MSVU, but his contributions to the school and its history will never be forgotten.
---
MSVU's history is rich with the stories of countless people who've had an impact on the university and in the broader community.
Over the course of 2023, we'll feature mini stories about 150 MSVU students, faculty, staff and alum. Check back often to meet more amazing MSVU people!