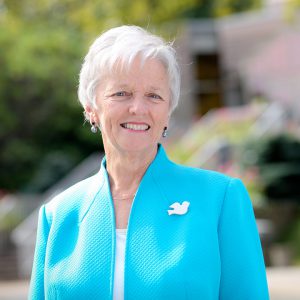 Dr. Alexa McDonough, OC, ONS, received an honorary degree from MSVU in 2009 and served as the university's interim president from 2009 to 2010. Over her remarkable life, Alexa has been recognized as a trailblazer for women in politics and for her dedication to public service.
Alexa began her commitment to public service at a young age. As a teen, she led her youth group to fight the deplorable conditions in Africville. Her dedication to racial and social justice continued throughout her career as a social worker, reporter, teacher, and politician. She fought for worker health and safety improvements, human rights protections and pay equity, and has been a champion of international development and peace advocacy.
In 1980, Alexa was elected as the leader of the Nova Scotia New Democratic Party, becoming the first woman to lead a major, recognized political party in Canada. She led the federal NDP from 1995 to 2003 and remained an active Member of Parliament until her retirement in 2008. Alexa remains the only woman in Canada to have been the leader of both a provincial and federal party.
In 2013, MSVU's Institute for Women, Gender and Social Justice was re-named the Alexa McDonough Institute for Women, Gender and Social Justice (or AMI). The institute's mission reflects what Alexa spent her life fighting for: equity and improved lives across communities through feminist initiatives, activism, and a dedication to social justice. The institute is fittingly housed in the Margaret Norrie McCain Centre for Teaching, Learning and Research at MSVU – the only Canadian university building dedicated to celebrating the accomplishments of women. MSVU is committed to continuing Alexa's work and honouring her legacy as a fearless and compassionate leader who forged a path for women in politics.
---
MSVU's history is rich with the stories of countless people who've had an impact on the university and in the broader community.
Over the course of 2023, we'll feature mini stories about 150 MSVU students, faculty, staff and alum. Check back often to meet more amazing MSVU people!