Mount Saint Vincent University officially marked the start of its 150th anniversary activities with a launch event held January 24, 2023 in the Elizabeth and Fred Fountain Atrium of the McCain Centre.
MSVU's history is a story of trail blazing – of challenging the status quo, of opening doors to higher education, and, ultimately, of transforming post-secondary education in Nova Scotia.
The leading and longest-standing university in Canada for the advancement of women, MSVU was founded in 1873 by the Sisters of Charity Halifax, and was one of few institutions of higher education for women and girls in Canada at a time when women could not vote. In 1925, the Nova Scotia Legislature awarded Mount Saint Vincent the right to grant its own degrees, making it the only independent women's college in the British Commonwealth. Today, MSVU Is home to a diversity of students pursuing studies in areas across Arts, Science and Professional Studies.
"We recognize our founders, the Sisters of Charity Halifax, for their vision of making education accessible, starting with providing opportunity for women and girls when few others saw the opportunity and value," said Dr. Joël Dickinson, President and Vice-Chancellor, MSVU. "For 150 years now, MSVU has been challenging the status quo, opening doors to higher education that otherwise remain closed."
"For 150 years, we've been more than a place of learning – we've been a place of letting go of old ideas and unlearning outdated perspectives."
At the launch event, Dr. Dickinson highlighted the importance of reflecting on all aspects of the university's history – not just the successes.
"While there is a lot to celebrate about MSVU's tremendous impact, our history is not without its difficult parts, in particular our relationships with the Mi'kmaq People on whose land we reside," she said. "These are aspects of our history that at this major milestone and into the future require our thoughtful reflection and reconciliation."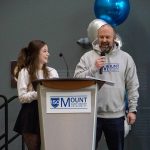 Setting the stage for the year ahead
The launch event opened with a presentation by musician, poet and professor Raymond Sewell, BA'08, of Pabineau First Nation, and Mi'kmaq dancer Jesse Benjamin of Eskasoni First Nation.
Emcees Cheyenne Hardy (4th year student in Child & Youth Study) and Dr. Derek Fisher (Department Chair and Professor of Psychology) expertly engaged those gathered through trivia and by inviting attendees to share their reflections.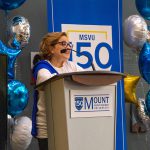 The Honourable Lena Metlege Diab, Member of Parliament for Halifax West, brought greetings on behalf of the Federal government. Noted Ms. Metlege Diab, "The Mount's reputation as a welcoming, inclusive institution for people of all different backgrounds should be celebrated loudly and often. … No matter where you look on campus, you will find people building each other up."
Ms. Diab spoke of the centres within MSVU that are critical to our community, and the world-class research being undertaken at the university, noting the role that research will play in leading the institution – and our world – into the next 150 years. "My goal, in particular as a member of Parliament's inaugural Science and Research Committee, is to make sure that everyone across the country recognizes what a special place the Mount is. Rest assured that your presence and impact are known and deeply valued."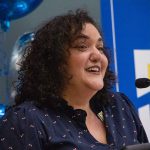 The Honourable Patricia Arab, BEd '01, MLA for Fairview-Clayton Park spoke of her multi-generational connection to MSVU. She spoke of how her mom attended MSVU at a time when it wasn't the expected step. "Back in the 50s, it was not normal for somebody of her background to take a path like that," she said.
And the experience that her mom had at the university had a family impact.
"Two of the biggest lessons that she taught me and that I've tried to carry on she got from the Mount, and they were the sense that you always have to be a welcoming place for everybody. … To me if I'm to think about what the legacy of the last 150 years for the Mount has been it's that it's been that safe place," noted Ms. Arab. "And the second piece is the Caritas piece, because growing up the biggest lesson in our house was that it was our responsibility to give back. That is something that was fostered at the Mount in my mom and that she went on to foster in her four kids and beyond."
Sister Sheilagh Martin, PhD, professor emerita and member of the MSVU Board of Governors spoke on behalf of MSVU's founders, the Sisters of Charity Halifax. "As the founders and early nurturers of this institution, we look with pride at what has been accomplished. While acknowledging that not all has been perfect. The history of the Mount shows how it has evolved in meeting the needs of the times while keeping the goal of education for women paramount. In time, it was seen that the walls of the tent needed to be enlarged, which allows for a more diverse and inclusive university community. … We look forward with great anticipation to the future endeavours of this gem of a university. We applaud and thank all of you for expanding the dreams of the founders."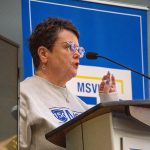 Representing alumni, The Honourable Joanne Bernard, BA '96, President of the Mount Saint Vincent Alumni Association, reminded of MSVU's unique essence and its impact. She said, "Talk to any student from generations before and after my time, and they will say the same thing: The Mount, with her quest for social justice, her desire to lift through education and opportunity, and her ability to embrace and rise above adversity, has taught us all what we are capable of doing, of achieving. Of reaching for our goals. Of building and nurturing our resilience. Because our experiences in this gentle institution, our learnings about the world around us and our place in it, will always be our safe place to fall and reignite our own resilience."
150th anniversary website
A new 150th anniversary website section also launched this week, providing a hub for information of all kinds on MSVU's 150th, including details of special events, stories, 150th merchandise and more. The site will continue to expand as the year moves forward. Those with a Mount memory or story to share are encouraged to send it to news@msvu.ca.
MSVU 150 Fund: Access & Impact
With a view to a future filled with more students who have access to a life-changing MSVU education, the MSVU 150 Fund: Access & Impact Fund also launched this week. The fund in support of MSVU students current and future will enable the university to open doors to education for those who face barriers, and nurture socially responsible global citizens by emphasizing social justice and EDIA. Donations can be made online or by contacting MSVU Advancement at 902-457-6470.
Video: 150 years in 150 seconds
At the launch, the university premiered a new video designed to share 150 years of history in a nutshell. Thanks to the expert animation skills of staff in the university's Digital Media Zone, the video succinctly journeys from MSVU's earliest days as an academy that trained novices and young Sisters as teachers to its transformation into a leading university for all students interested in pursuing studies in Arts, Science, Education and Professional Studies. Check out the video on Youtube.
Historical timeline
Want a deeper dive into the history of MSVU, including photos from the past 150 years? Check out the online Mount Saint Vincent University Historical Timeline created by MSVU Archivist and Records Manager Alina Ruiz – some details might surprise you: did you know that that first journalism course offered in Canada was offered at MSVU? And MSVU was one of the earliest post-secondary homes for Nursing studies in Halifax, in partnership with other Halifax-area universities.
Looking ahead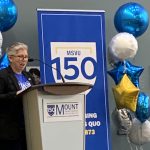 As so often is the case at anniversary times, the launch event included contemplation on what lies ahead.
On the future of MSVU, Dr. Dickinson said, "The world has never needed a university like MSVU more because we are unique in our commitment to equity, diversity and inclusion and accessibility. We are set to continue to help our community, our societies and the world solve some of its most pressing problems. I'm confident that will be part of the MSVU legacy 150 years from now."