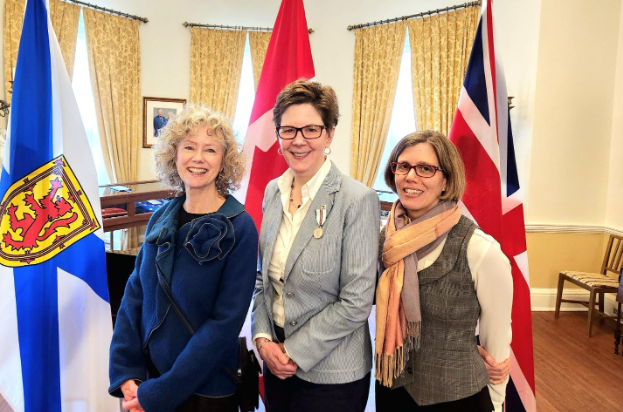 From left to right: Donna Bourne-Tyson, Dr. Jacquie Gahagan, Carlye Stein 
Congratulations to Dr. Jacquie Gahagan who received a QEII Platinum Jubilee Medal at an investiture ceremony held at Government House on January 24, 2023.
The QEII Platinum Jubilee Medal commemorates the 70th anniversary of the accession of Her Majesty Queen Elizabeth the Second to the Throne as Queen of Canada and is awarded in recognition of significant contribution to the province of Nova Scotia, in particular achievement in support of others.
Dr. Gahagan was recognized for their health equity work (across education, research and advocacy) to address the needs of equity-deserving communities, including 2SLGBTQIA+ populations.
Dr. Gahagan is the Associate Vice-President of Research at MSVU and a leader in equity-related research. A medical sociologist by training, Dr. Gahagan has engaged in research in the areas of public health and the social sciences locally, nationally and internationally. Their program of health promotion research focuses on evaluating policy and programming interventions using sex and gender-based analyses to address health and social inequities.
Dr. Gahagan is the recipient of numerous recognitions, and recently received the 2022 Leadership Award presented by the Canadian Foundation for AIDS Research (CANFAR) for their outstanding leadership, commitment, and dedication to the fight against HIV/AIDS in Canada and beyond.