Mount Saint Vincent University celebrated more than 550 graduates from 16 countries during spring convocation ceremonies on May 19 and 20.
Students crossed the stage from Arts, Science, Education, and professional programs to accept a wide range of certificates, diplomas and degrees before becoming part of the Mount's network of more than 33,000 alumnae.


Honorary degree recipients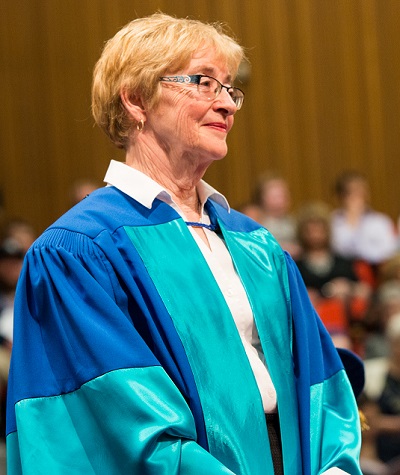 The Mount bestowed honorary degrees on three exceptional women: internationally-respected activist
Maude Victoria Barlow
, acclaimed business leader
M. Sheelagh Dillon Whittaker
and Canadian singing icon
Anne Murray
(
bios/photos
).
In her address, Maude Victoria Barlow (at left) encouraged graduates to embrace a life of activism. "The life of an activist is a good life, because you get up in the morning caring about more than yourself and how to make money." She continued, "Water is the issue I know best. Fresh water supplies are rapidly being drawn down and destroyed due to a perfect storm… I'd like to urge you all no matter what your education, vocation or location to give some of your precious energy to the environmental challenges of our day."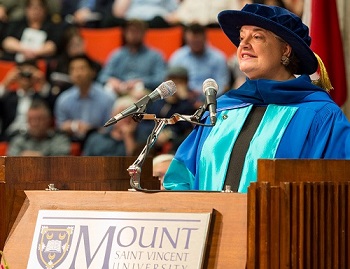 M. Sheelagh Dillon Whittaker (at right) encouraged graduates to pursue their passions while contributing to a better world. "We who have enjoyed the benefit of higher education have a special duty to do what we can to make the world a better place for everyone," she said. "We can best achieve that goal by making the most of ourselves." Among the other words of wisdom she shared, Sheelagh called on graduates to "always presume that you are equal" and "control the chaos within your reach. Enjoy the chaos on the fringe."
Anne Murray
(below) noted, "This is a deeply nostalgic moment for me. I spent my first year of university here, and things have changed – a lot." Anne reflected on that year calling it "a year of transition" as a "a stepping stone to the real world." She also shared some advice with graduates: "If you have a dream, a passion and have the opportunity to make it happen, great, but if you can't get to it right away, give the job you're doing 100% and keep your eyes open. You never know what opportunity might arise. Something you never thought of could become your life's work."


---

"This is a deeply nostalgic moment for me. I spent my first year of university here, and things have changed – a lot."


— Anne Murray, CC, ONS, DHumL
---
Student prizes
Valedictorian Prizes for significant contributions to extracurricular activities at the Mount and in the community-at-large were awarded to:
Entisar Ashareef
, Master pf Eduction in Curriculum Studies: TESL (in association with Saint Mary's University) Halifax, NS (formerly of Libya)
The President's Prize, awarded to graduates whose generosity, energy and commitment enriches the university, was presented to:
Emily Caroline Nielsen, Bachelor of Arts, Fort Ellis, NS
Scott R. Lester, Bachelor of Public Relations, Midhurst, ON
Nada H. Selim, Master of Public Relations, Cairo, Egypt
Governor General's Medal
Nathan Peter Haddon, Bachelor of Business Administration, Fall River, NS
Margaret Anne Hastings James, Master of Education, Halifax, NS
Membership to Kappa Gamma Pi, the National Catholic College Graduate Honor Society, is based on scholarship, leadership, and service, and was presented to:
Zackary S. Parsons, Bachelor of Arts (Honours), Gander, NL
Jessica Shirley Grace Rockwell, Bachelor of Education, Halifax, NS
Faculty Recognitions
The Mount conferred
titles of recognition
on two individuals for their significant contributions to the University:
Dr. Ilya Blum, Professor Emeritus, Department of Mathematics & Computer Science
Dr. Carmel French, Professor Emerita, Department of Child & Youth Study
The Mount presented an Award for Research Excellence in recognition of a faculty member's contribution to the research community and to the University's research climate to:
Dr. Patricia Gouthro, Faculty of Education
The Mount presented the Senate Award in Service in University Governance in recognition of a faculty member's extensive, consistent, and valuable contributions to the academic governance of the University to:
Dr. Susan Drain, Professor, English Department