Entisar Ashareef is a community builder.
An eager supporter of newcomers to Halifax, it wasn't long ago that Entisar herself first laid eyes on her new home country, province and city. A successful lawyer in Libya, Africa, Entisar moved with her husband to Canada in 2007.


At first, she spoke no English. But in the years since, she's mastered the language and, today, reports that she is as comfortable speaking English as she is Arabic. At the Mount's 2016 spring convocation, Entisar will graduate with her Master of Education degree in Curriculum Studies: Teaching English as a Second Language (degree in association with Saint Mary's University). Now her aim is to inspire others in their efforts to learn English and encourage confidence in English language studies among newcomers.

"I had the honour to be the voice of the voiceless as a lawyer in Libya," said Entisar.
"Now I'm honoured to be helping to build the voice of those who need to speak for themselves.
It's a community Entisar has supported through volunteer efforts nearly too numerous to note.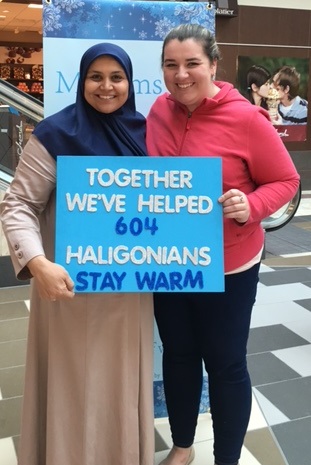 At the Mount, Entisar is an active member of the World University Services of Canada (or WUSC) committee. WUSC MSVU is made up of students, faculty and staff who are passionate about international development; their activities are many, including supporting refugee students to study at the Mount. As a WUSC MSVU volunteer, Entisar has supported fundraising efforts, welcomed new refugee students, and generously shared her culinary talents cooking traditional African dishes for many events.
Recognizing the isolation that can come with moving to a new country, Entisar supports newcomers to Canada to connect socially. Outside the Mount, she is known for her efforts to bring Canadians and international students together on topics of culture and language. And when Canada's first Syrian refugees arrived this winter, Entisar took the initiative to help teach these newcomers about local culture, making arrangements for them to watch a local hockey game – what was for many their first exposure to Canada's national sport. She also applies her multilingual skills as a volunteer Arabic-English interpreter for families represented by Dalhousie Legal Aid and Nova Scotia Legal Aid.
---
"I help build momentum for people." – Entisar Ashareef
---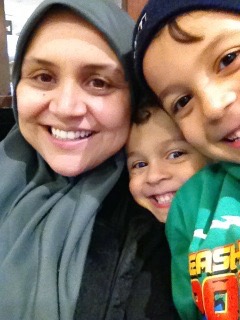 Entisar makes unique connections with her clients and students that underpin their success in learning English, and beyond. "I encourage them to have goals. I transform their perspectives by getting them to think of themselves. Many have ambitions for their children, but I make people think about what they want to be, what they want to do." (Shown at left with her own children)
Entisar's love of helping others to learn English is only matched by her love of sharing the Arabic language. Last summer, she held sessions to teach Arabic to Mount staff. She also held summer Arabic classes for the broader community through local family resource centres.

Her list of volunteer commitments seems to leave little time for academic pursuits, but Entisar proudly graduates from the Mount this spring as a noted leader among her classmates for the energy and enthusiasm she brought to her studies – a passion she'll no doubt bring to the podium as valedictorian too.
---
Watch Entisar's valedictory address live on MSVU.ca during the Mount's convocation ceremony that starts at 10 a.m. on Friday, May 20.