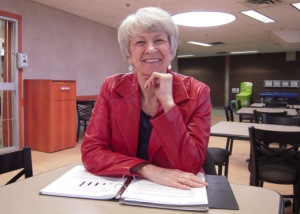 Many people have had the pleasure of experiencing their first year of university at the Mount. Most people's experiences, however, do not start at the age of 64. Yet for Eileen LeBlanc, a Client Service Representative at the Royal Bank of Canada (RBC), this is just the case. 
Growing up in an Acadian Village in West Pubnico, Nova Scotia, Eileen was not required to attend high school after grade 11. In fact, it was more common for students to leave school in grade 11 and go straight into the work force. This is just what LeBlanc did: she went directly from high school to RBC, where she continues to work today.
On Eileen's 60th birthday, she decided that she wanted to return to school. "I always wanted to continue my education, but life gets in the way sometimes," she says. Eileen took matters into her own hands and took two credits from the Queen Elizabeth II High School. Upon finishing there, she graduated with her grade 12 from Université Saint-Anne's in Halifax.
Eileen's next step after receiving her high school diploma was university. She spoke with many people before making the important decision of which university to attend. She finally decided on the Mount due to  its emphasis on women's issues, the large proportion of mature students, and because it is close to her home in Bedford.
Currently, she is auditing her third class at the Mount, Human Perspectives on Aging, a course offered by the Department of Family Studies and Gerontology. She does not plan on stopping there, though. Eileen hopes to audit several more classes ranging from Music to Psychology.
"Auditing a class is much like being registered for one," she explains. Eileen sits in on lectures, completes the readings and homework and pays for the classes. She does not, however, receive credit and can choose if she wants to write tests and exams. 
Eileen could not be happier about auditing classes at the Mount. "I love the atmosphere, I love everything about it" she says. "It's been so long that I've wanted to do this." She cites her interactions with students and faculty as being her favourite part of going to the Mount. 
Although she has always known that she would return to further her education someday, Eileen was motivated and inspired even more by her two daughters. "I saw them get an education and it made me want to do it more," she says.  She has always advocated to her children that education is important. In addition to her daughters, Eileen's husband has been a strong support system. "He's my rock" she says.
For the future, Eileen is not ruling out the possibility of taking classes for credits. "I might say 'I need more'," she says. But for now, it's just something that she's doing for fun and to learn. "Maybe when I work less and have more time," she concludes.
To her fellow students, Eileen shares advice gleaned from a lifetime of experience. "[Don't] let anyone else tell you what to pick as a career. Always follow what's in your heart, and always follow what's in your head," she says. "People of my generation think I'm out of my mind."
But Eileen doesn't let the naysayers stop her. To those in her position, she says, "Go for it. You're never too old to learn."