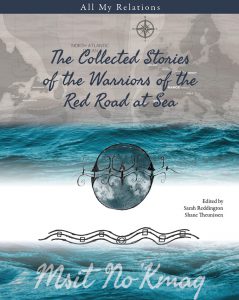 In the summer of 2017, 45 Indigenous youth aged 15 to 24 from across Canada set sail on a transatlantic voyage from Halifax, Nova Scotia to Le Havre, France aboard the tall ship Gulden Leeuw.
Launched at a celebration held on campus today (November 23, 2021), The Collected Stories of the Warriors of the Red Road at Sea is a compilation of first voice reflections on this journey. The collection was co-edited by Mount Saint Vincent University faculty members Dr. Sarah Reddington and Dr. Shane Theunissen of the Child & Youth Study Department.
"This book gives uninterrupted space for the Warriors to share their stories, poetry, art and reflections of their journey at sea," said Dr. Shane Theunissen of MSVU. "Their stories and reflections in this book are a celebration of the wisdom of the Indigenous youth, and their respective worldviews.
Brennan Googoo of Millbrook First Nation represented the Warriors at the book launch event.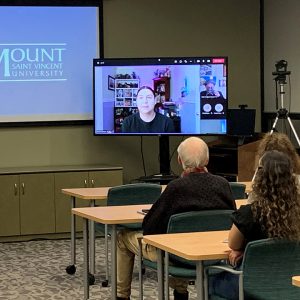 "What really made the trip was the other warriors and the facilitators, and the community that everybody was able to build – that includes both the bad and the good… If you were ever looking for a definition of a warrior, you can just go down that list (of youth who participated), and if you followed their journey from birth to the ship, and then from the ship to now, you'd find some really remarkable stories and some really remarkable journeys there," said Brennan.
Before they set sail, Shane and Sarah hosted the Warriors at MSVU for a welcoming ceremony and journaling workshop. Noted Shane, "At the sharing circle conducted during the welcome ceremony, we learned from the youth that knowledge is relational and emerges from the interconnectedness we have to all creation. We are honoured to re-unite with the Warriors today and we are humbled by their generosity and courage to share of themselves and their stories. This book belongs to them."
Entries in the book are grouped into four chapters. In chapter one, the youth reveal what it means to be a Warrior. Chapter two unfolds their connections to the sea. Chapter three shares the youth's connections to self and explores how the voyage has transformed their own ways of doing and knowing. Chapter four takes a closer look at the youth's connections to others.
Indigenous knowledge keeper Pytor Hodgson, CEO of Three Things Consulting, was a lead organizer and facilitator of the Msit No'Kmaq: All My Relations National Tall Ships Project.
"Those 45 selected represent nations and communities in every part of this country now called Canada. Thirty-two first nations, two of four Inuit regions, and nine urban spaces were represented. From 15-23 years old, these young people agreed to take part in something that had never been done before – combine a sail training experience with a leadership development and healing program led by Indigenous peoples," said Pytor.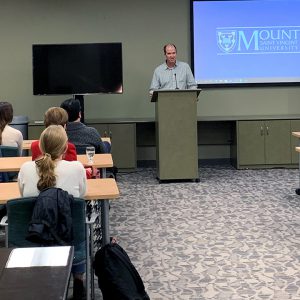 The editors thanked project sponsors Develop Nova Scotia and Deloitte, without whom the book wouldn't have been possible. "You have been strongly committed to seeing the stories of the Warriors shared and we are sincerely grateful for your support," said Dr. Shane Theunissen. "You understood the immeasurable value of supporting the Warriors to capture and share their stories. Thank you."
"These courageous young leaders inspired us all through their transatlantic journey on Tall Ship Gulden Leeuw as part of the international Tall Ships Regatta. We're proud of the very small part we were able to play to support their journey and, through this book, to support them to share their experiences, which are extraordinary stories of bravery, resilience and discovery that continue to inspire us," said Jennifer Angel, President & CEO, Develop Nova Scotia.
During the event, Fiona Kirkpatrick Parsons, Senior National Advisor / kā-nīkānīt, Deloitte Indigenous, announced a new fund at MSVU.
"To honour this unique educational opportunity, and through their example – supporting how they have shown other young indigenous peoples that they have a warrior within themselves, too – it's wonderful to share with you today that in honour of the 46th Warrior, a fund has been created to provide financial support for Indigenous youth to attend Mount Saint Vincent University and other Indigenous youth initiatives across Canada," said Fiona.
All proceeds from the book will go to the 46th Warrior Fund. It is named for the 46th Warrior who the youth often spoke of on their trans-Atlantic journey. The 46th Warrior is the one who couldn't make the trip, the one who should have been there with them.
Copies of the book are available upon request and by donation: contact Dr. Shane Theunnissen, shane.theunissen@msvu.ca. You can donate online to the 46th Warrior Fund.
Watch a video featuring the Warriors' photos from their journey.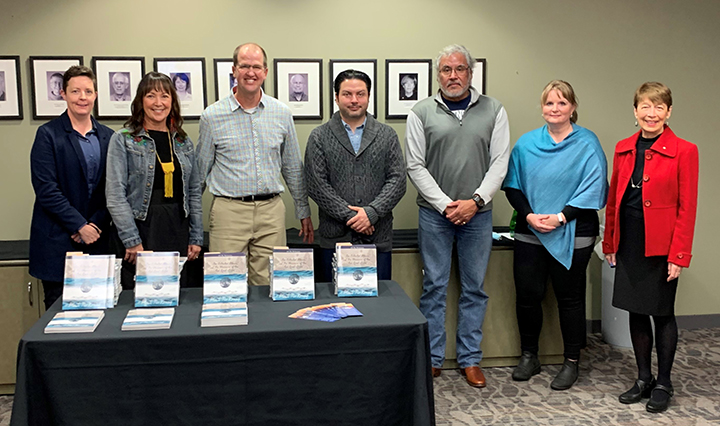 -30-
Media contact:
Gillian Batten
Director, Communications
Mount Saint Vincent University
902-457-6439
Gillian.Batten@msvu.ca
MSVU is located on unceded ancestral Mi'kmaq territory. This territory is covered by the Covenant Chain of Treaties of Peace and Friendship signed between 1725 and 1779. We pay respect to the knowledge embedded in the Indigenous custodians of this land and to the Elders, past, present, and future.