A message from Ramona Lumpkin, CM, PhD, Interim President & Vice-Chancellor
Today, November 25, is the International Day for the Elimination of Violence Against Women. This important day marks the beginning of the 16 Days of Activism Against Gender Violence, which concludes on December 10 with International Human Rights Day.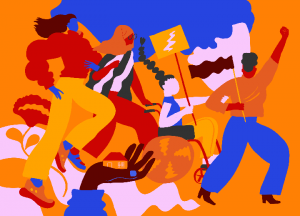 This year's theme is 'Orange the World: End Violence Against Women Now!' The colour orange represents a brighter future, free from violence against women and girls. MSVU will join a number of organizations around the world in lighting iconic buildings in orange in an effort to highlight this pervasive issue. MSVU will light the front of the Seton Academic Centre in orange from November 25 until December 10. We will also fly a new 'End violence against women and girls' flag on the pole attached Seton.
On December 6, from 12 – 1 p.m., the Alexa McDonough Institute for Women, Gender & Social Justice will commemorate the National Day of Remembrance and Action on Violence Against Women with a virtual remembrance ceremony, followed by a special presentation – Missing and Murdered Indigenous Women, Girls, and Two-Spirit Inquiry and Report: Where are we now? Please RSVP to ami@msvu.ca to receive a link to the virtual event.
As a university committed to the advancement and well-being of women and girls, it is especially important for us to continue to be champions for women, social justice, accessibility, and equality.