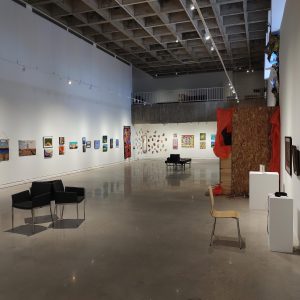 As part of their 50th Anniversary celebrations, the MSVU Art Gallery is hosting its first Mount Community Show since before the COVID-19 pandemic began. This year's event marks the 46th iteration of the show since it started in 1975, with 2020 and 2021 being the only years missed since its inception.
Through the years, the Community Show has become a much-anticipated opportunity for MSVU's students, staff, faculty, alumni and their family members to showcase their creative works. Entries include visual art, music, performance, poetry, craft, literature, and more. This year's Community Show features 64 works submitted by 33 members of the MSVU community.
The community is invited to a drop-in opening reception on Wednesday, March 9, 2022 from 12:00 to 1:00 p.m., with opening remarks at 12:30 p.m. followed by a musical performance by Dr. Ashwani Kumar (Faculty of Education) and Nayha Acharya. Attendees will be required to follow applicable COVID-19 safety measures and are encouraged to review MSVU Art Gallery's COVID-19 protocol before attending the reception.
The Annual Mount Community Show will run from February 16 to April 14, 2022 with the gallery open Tuesday through Saturday from 11:00 a.m. to 3:00 p.m. The gallery can be accessed via the main entrance on the first floor of the Seton Academic Centre.