Mount Saint Vincent University celebrated more than 675 graduates from 26 countries during its spring 2023 convocation ceremonies on May 18 and 19, 2023.
In her address to graduates, MSVU President and Vice-Chancellor Dr. Joël Dickinson said, "As you're no doubt aware, 2023 marks MSVU's 150th anniversary. That makes you our first class of the future. As you graduate today, you're joining a legacy of change makers and status quo challengers that goes all the way back to 1873."
Founded by the Sisters of Charity—Halifax, MSVU has a history 150 years strong of opening doors to higher education that otherwise remain closed. For 150 years, it's been both a place of learning across a number of disciplines and a place for unlearning outdated perspectives.
Highlights
Students crossed the stage from arts, science, education, and professional programs to accept a range of certificates, diplomas and degrees and join a network of alumni more than 37,000 strong.
Two graduates of the Mount Ability program were the first to wear a new felted stole designed by student Megan Pegg.
Former MLA for Preston and lawyer Angela Simmonds received her Bachelor of Arts degree.
The Honourable Dr. Wanda Thomas Bernard received an honorary degree.
"I am here because the Mount broke barriers to create space…" — The Honourable Dr. Wanda Thomas Bernard, Honorary degree recipient
During spring 2023 convocation ceremonies, MSVU bestowed an honorary degree on the Honourable Dr. Wanda Thomas Bernard. A trailblazing champion of racial and social justice, she is the first African Nova Scotian woman to be appointed to the Senate of Canada where she proudly represents the province of Nova Scotia and her hometown of East Preston.
Addressing a ceremony of Faculty of Education graduates, the Honourable Dr. Wanda Thomas Bernard called on them to use their classrooms to advance social change.
"Lead the change you want to see," she said. "Our society needs more educators who are willing to tear down systemic barriers to help others to achieve success. And now more than ever we need educators who will influence, who will inspire, encourage, support, motivate and challenge students, the next generation, to be the best that they can be. That, my friends, is teaching to transgress. That my friends, is teaching to transform."
The Honourable Dr. Wanda Thomas Bernard shared that her path to post-secondary was not an easy one.
"I am here because the Mount broke barriers to create space for my late sister, Valerie Thomas Hodges and our cousin Connie Glasgow-White and I – the first three people from East Preston to attend and complete a university degree. We were three of the 'Metro 9' in 1969. We were the largest group of African Nova Scotian students to attend university in any one year. Imagine, 1969, when we've been here since the 1600s."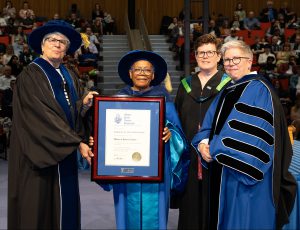 She "failed out" of MSVU after her first year at the age of 16 and without a completed high school diploma. After a couple of years working in food service, she said MSVU gave her a second chance. She completed her Bachelor of Arts degree at MSVU in 1975.
"That degree changed my life and put me on a career path that even sometimes I wonder how I did it all."
"To the Mount I want to say thank you for that second chance, it wasn't wasted. It positioned me to be where I am today. And I thank you for this great honour."
Student prizes
Valedictorian Prizes for significant contributions to extracurricular activities at MSVU and in the community-at-large were awarded to:
Michael Gillis, Bachelor of Arts (English and Political Studies), Stellarton, Nova Scotia
Cheyenne Hardy, Bachelor of Arts (Child and Youth Study), Dartmouth, Nova Scotia
Tyler Simmons, Bachelor of Education (Elementary), North Preston, Nova Scotia
The President's Prize, awarded to graduates whose generosity, energy and commitment enrich the university, was presented to:
Michael Gillis, Bachelor of Arts (English and Political Studies), Stellarton, Nova Scotia
Megan Savary, Bachelor of Public Relations (Co-operative Education Route), Halifax, Nova scotia
The Governor General's Medal is presented once per year for the highest aggregate in the final three years of a degree program (undergraduate) and the top graduating Master's student:
Undergraduate: Joseph Barss, Bachelor of Arts (Mathematics, Honours), Victoria, BC (graduated spring 2023)
Graduate: Alannah MacLean, Master of Education (Curriculum Studies), Ottawa, ON (graduated fall 2022)
Membership to Kappa Gamma Pi, the National Catholic College Graduate Honor Society, is based on scholarship, leadership, and service, and was presented to:
Lauren Giles, Bachelor of Science (Psychology, Honours), Bedford, Nova Scotia
Ji "Sophia" Hong, Bachelor of Public Relations (Co-operative Education Route), Seoul, South Korea
Faculty awards
Professor Emeritus
Dr. Elizabeth Church, Education
Dr. Kim Kienapple, Child & Youth Study
Dr. Gayle MacDonald, Women's Studies
Dr. Anna Smol, English
Dr. Joan Turner, Child & Youth Study
Librarian Emeritus
Teaching Excellence Awards
Dr. Michelle Eskritt, Psychology – President and Vice-Presidents' Advanced Career Teaching Award
Prof. Lindsay Leighton, Education – Alumni Early Career Teaching Award
Prof. Chandarrao (Kelly) Kale, Applied Human Nutrition – Alumni Part-Time Teaching Award
Research Awards
Dr. Jessie-Lee McIsaac, Assistant Professor/Tier II Canada Research Chair in Early Childhood: Diversity and Transitions, Faculty of Education/Department of Child and Youth Study – Early Career Research Award
Dr. Anna Smol, Professor, Department of English – Award for Research Excellence