Valedictorian Michael Gillis is a stand-out student in the Mount Saint Vincent University community. Hailing from Stellarton, Nova Scotia, Michael will receive his Bachelor of Arts this spring, with a combined major in English and Political Studies and a minor in Writing.
A journey of discovery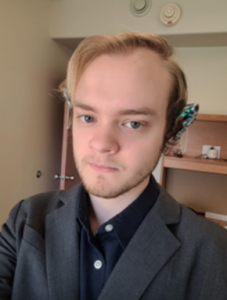 Michael's first encounter with the Mount was through the MSVU recruitment team, who came to his high school when he was in twelfth grade and convinced him to apply. In March 2019, Michael was offered a scholarship to attend MSVU (a President's Scholarship for four years no less), and he accepted immediately. "Even though I put financial need first, the choice to accept was easy for many other reasons: the small class sizes, beautiful campus, location, and the incredibly friendly staff I met when I toured the school," he said.
Michael's interest in studying English was partly sparked in high school by his English teacher, an MSVU alumnus. The English department faculty he met and course offerings only solidified his interest. Michael's passion for Political Studies began when he took a few first-year classes with Dr. Matt MacLellan. "Studying political philosophy and literary theory and seeing all the overlap between the two fields, I couldn't separate them. They really complemented one another throughout my degree," he said.
Finding his way
While Michael has found personal and academic success at MSVU, his journey was not always easy. "In the first semester of my first year, I had terrible anxiety about not being cut out for university. On multiple occasions, I considered packing up and going home, but I'm so thankful I didn't," he said.
Michael soon found his sense of belonging on campus with the university community's support. "By the winter semester, I had gotten into a rhythm with my classes, began exploring the campus and city, had a great group of friends, and felt like I had made MSVU my home."
However, by early 2020 COVID-19 had changed everything. Michael had to leave the university just as he had grown to feel comfortable on campus. "I didn't know how much I loved the university and everyone I had met until I was forced to leave in March of 2020," he said.
Fortunately, Michael was able to return to residence that fall. And while he still felt a sense of separation from those around him, he began connecting with other students in his program through online classes. Later that year, Michael and his best friend Hayley Bone, whom he had met through shared online courses, began running the MSVU English Society. Michael explained his motivation to get involved: "We really wanted to make the English Society a place where all students, regardless of program, could regroup, make new friends, and just enjoy their journeys as students — essentially, do everything that COVID made nearly impossible."

Around the same time, Michael joined the Students' Union. "By the beginning of fall 2021, I was involved in every area of the school I could be, meeting as many people across campus — students, faculty, and staff alike — and I have been loving it all ever since." Admitting that his work with both the English Society and Students' Union involved big commitment, Michael added, "Now, I can't imagine my life without volunteering around the Mount."
Looking back, Michael said his work with the English Society has been his biggest personal achievement during these past four years. "The English Society has just become a huge part of my life. Among all the success the Society has had, in retrospect, I'm just most grateful for all the people I've met and gotten to know through it."
Through his inspiring determination, hard work, and dedication, Michael has accomplished impressive feats at the Mount and has been recognized with numerous awards. Last year, Michael won the Beryl Rowland Book Prize for having the highest average in English. This year, he received the Dr. Larry Fisk Book Prize for graduating with the highest GPA in Political Studies.
However, for Michael, his success at the Mount was not only about academic achievement but also about personal growth and meaningful connection. "There is no MSVU experience without my faculty and classmates."

Looking ahead
As he prepares to graduate and move on to the next chapter of his life, Michael is grateful for his many Mount experiences. Moreover, he is honoured to have been one of the few chosen to represent the 2023 graduating class as valedictorian. He shared, "Firstly, I'm endlessly grateful to those who sprung the nomination on me and encouraged me. I hope my address does the graduating class justice. Secondly: totally surreal. I still haven't processed that I'm graduating, let alone that I'm the one doing the final send-off."
Looking ahead, Michael is excited to further pursue his passion for writing and hopes to continue positively impacting the world around him. Michael will next pursue a one-year honours certificate at MSVU and move further into the city to make new memories and adventures. "After that, I suppose it'll be on to grad school. But I haven't thought that far ahead yet," he said.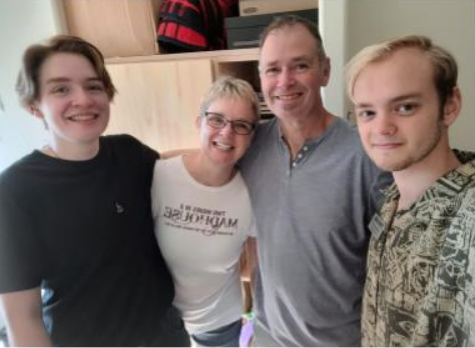 Parting Advice
Through all the challenges and successes he's had over the past four years, Michael's journey at the Mount has been underscored by resilience and a deep commitment to building a vibrant student community. As far as his best advice for new MSVU students, Michael said, "It's okay to be nervous and feel out of place at first. Don't worry if things don't come naturally right away, and know that there are so many people here to help you; all you have to do is ask. Get involved, even if you're nervous about it — even if it's just showing up for a society event or two, I promise you won't regret it (and there's usually free food)."
He concluded, "Vote in the Students' Union elections. Talk to your professors — they might seem intimidating at first, but they're some of the most incredible people you will ever meet. And most of all: savour it because, before long, nerves turn to nostalgia."
Michael Gillis will deliver his valedictory address during the morning convocation ceremony on Thursday, May 18, 2023, which gets underway at 10 a.m. [watch the ceremony live online].