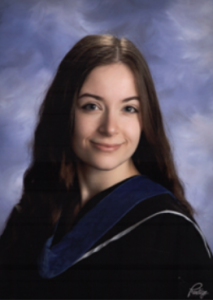 Cheyenne Hardy, valedictorian of Mount Saint Vincent University's class of 2023, is no ordinary student. Through her exemplary leadership, advocacy work and dedication to helping others, Cheyenne's journey at MSVU has been a testament to the incredible impact one person can have on a community.
Cheyenne, a Child and Youth Study graduate from Dartmouth, Nova Scotia, has always had a passion for giving back and advocating for others. At just 16 years old, the Canadian Red Cross recognized her as the Young Humanitarian of the Year for her work fighting negative stereotypes about Dartmouth North. She also received the Prince of Wales Youth Leadership Award that same year and used the $2,500 prize to teach English at a school in Kenya and buy supplies for the students.
Finding her calling
Although Cheyenne was still deciding what career to pursue in her senior year of high school, she knew through her volunteer work with organizations such as the IWK, Ronald McDonald House, Special Olympics, and Make-A-Wish Foundation that she loved helping others and working with children. When she discovered MSVU's Child and Youth Study program, Cheyenne quickly knew it was the perfect fit.
"The Child and Youth Study Program courses focus on working with children and youth from all backgrounds and teaches students about different disabilities, cultures, and issues children may face and how we can support them," Cheyenne said. "I am passionate about helping give a voice to those who are not always heard, and I knew this program and university could help me learn how to do that."
Since arriving at MSVU as a recipient of the prestigious President's Scholarship in 2019, Cheyenne has continued to thrive academically. She is graduating with a 4.2 GPA and is also this year's winner of the Child and Youth Study Award for Academic Excellence.
Impact inside and outside the classroom
Cheyenne's involvement at MSVU extends far beyond the classroom. She's built connections with so many others across the university community.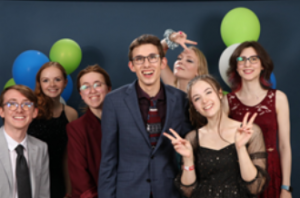 "When I first got to the Mount in 2019, I was nervous because I had no idea what to expect," she confessed. "Little did I know that I would connect with some of the most incredible people I've ever met and make lifelong friends."
At MSVU, Cheyenne served as the Professional Studies Representative on the Student Union's Student Representative Council, volunteered at the Mount Student Food Bank and Captain Crow's Café, and served as a Student Ambassador for the Student Recruitment Office.
"Serving as a student representative on the MSVU Senate, helping to create a soup kitchen from the ground up, and being able to help prospective students learn about the Mount through orientation and the recruitment office are all experiences I'm very thankful for," said Cheyenne. "MSVU provides a safe place for students to grow and spread their wings."
One of her proudest accomplishments has been her contributions to MSVU's food security projects. "Helping make food accessible to students became a huge passion of mine, and it's been an honour to serve visitors to the food bank and Captain Crow's Cafe for as long as I have," Cheyenne said. "I hope that I've been able to create a lasting impact on these services."
Finding balance
During her time at MSVU, Cheyenne has experienced many memorable moments, such as attending paint nights, decorating Residence with Halloween decorations annually, and dancing with friends at the pub. However, she has also faced challenges like hurricanes, pandemics, and shutdowns.
"Trying to pivot with all of those changes, as well as finding time to do everything I love and handing in assignments I'm proud of was a challenge," she explained. "But I've learned a lot about myself throughout my university journey. If you take time to truly recenter yourself, doing everything else seems much more possible. Having fun nights with friends or taking Netflix/YouTube breaks is okay! Then you will be mentally stronger to accomplish everything else."
What's next
As she prepares to graduate, Cheyenne is excited about the future. This spring, she will take on a new role in Advancement at MSVU having been named one of only two recipients of the TD Insurance Meloche Monnex Fellowships in Advancement awarded in Canada this year. Additionally, she plans to continue volunteering with food security projects and later hopes to work in the child and youth field, using the skills and knowledge she gained at the Mount to help give children a voice and make a difference in their lives.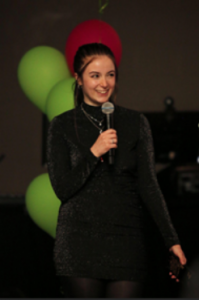 Cheyenne expressed how honoured she is to have been selected as valedictorian. When asked how she felt about the recognition, she said, "In one word: grateful. I am thankful for the people who nominated, voted for, and supported me during this process."
Wise words & thank yous
Cheyenne had this advice to share with new MSVU students: "Starting a new chapter is incredibly scary. But I promise you, things will be okay. Go at your own pace, ask for help, take time to do things you love, and surround yourself with people who support you."
"Try out the extracurriculars because maybe you'll find something you adore that will drive you. And, of course, take time to have fun! Creating special moments with good people in places you're comfortable can help guide you through your entire university career. Finding a healthy balance can be a key to feeling successful. You got this!"
Cheyenne also noted how grateful she is to all the people who helped her along her journey. "I want to say a huge thank you to MSVU and all of the people I've met along the way. This community has been so kind to me, and I have grown incredibly because of the support I've received. I feel very lucky to have been a Mount student," she said. "I also want to thank my parents for their unwavering support. I appreciate them so much and am grateful for their unconditional love. I love you guys."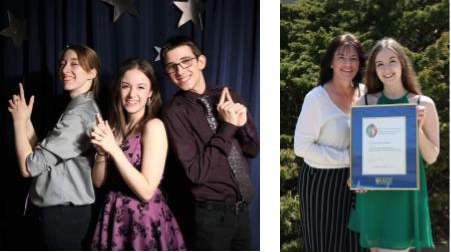 Cheyenne will deliver her valedictory address during the afternoon convocation ceremony on Thursday, May 18, 2023, which gets underway at 2 p.m. [watch the ceremony live online].