Science Meets Parliament is a program that brings together leading Canadian scientists and policymakers. The event (now in its third year) aims to ensure strong, evidence-based policy making by connecting Parliamentarians to new scientific research and the people behind it.
Hosted by the Canadian Science Policy Centre, in partnership with the Office of the Chief Science Advisor of Canada, the program is a reminder of the critical role science and Canadian researchers play in policy development. It reminds that the work being undertaken by scientists can improve the lives of individuals and build better societies. And it spotlights the need to ensure support for Canadian researchers.
This year's program featured the work of 38 leading Canadian researchers (selected from among 120 applicants), including Dr. Jennifer Khoury of MSVU.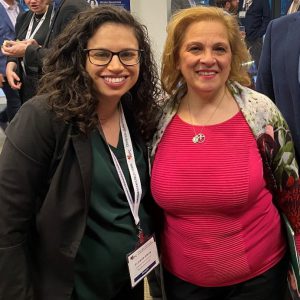 Dr. Khoury is a Tier II Canada Research Chair in Interdisciplinary Studies in Neuroscience and Assistant Professor of Psychology. She is the Director of the Developmental Psychobiology Research Centre at MSVU which seeks to understand how early life experiences influence biological, psychological, and social development.
Dr. Khoury studies stress responses primarily through physiological markers, including the stress hormone cortisol, as well as through brain imaging techniques. One of her current studies is exploring how a history of childhood adversity, including childhood maltreatment, impacts the health and wellbeing of pregnant individuals and their infants. She is also currently studying how caregivers influence the development of child emotion regulation and social-emotional development (learn more about current studies).
On May 1 and 2, Dr. Khoury met with Parliamentarians in Ottawa, including Halifax West MP Lena Metlege-Diab and Senator Dr. Stan Kutcher, among many others.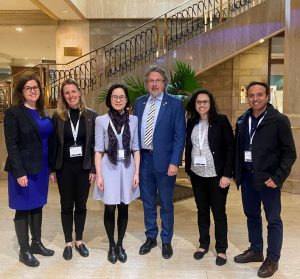 In addition to connecting scientists and Parliamentarians, the program teaches scientists about policy-making at all levels. A series of sessions were held for participating scientists before their meetings in Ottawa. The sessions discussed policy development and government process, how to communicate scientific research, as well as equity and diversity in science and policy. Participating scientists were also invited to join in conversations with Tri-Agency presidents ("Tri-Agency" is a term that describes the three Canadian Government research funding agencies: the Canadian Institutes of Health Research, Natural Sciences and Engineering Research Council, and Social Sciences and Humanities Research Council).
"To maintain the central position of science in policy making, the scientific community needs to build capacity and learn about policy making at different levels," said Mehrdad Hariri, CEO and President of the Canadian Science Policy Centre. "Science Meets Parliament is a program – a first in Canada – to build that capacity for the future, while providing the opportunity for Parliamentarians to become familiar with research. These systematic channels of connectivity are essential for the scientific community to ensure the continuity of the central role of science in policy making."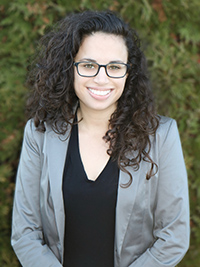 Noted Dr. Khoury: "It was a privilege to be a part of Science Meets Parliament 2023. This program emphasizes the importance of an open dialogue between the scientific community and politicians. I've learned so much about how to engage with policy makers, communicate the importance of research, and disseminate my research in ways that will inform policy and practice. After Science Meets Parliament, I hope to continue to foster relationships with other Canadian researchers and policy makers to have the most positive impact on Canadian families".
---

We're advancing research, scholarly work and professional activity. Learn more about this MSVU Strategic Plan Theme.