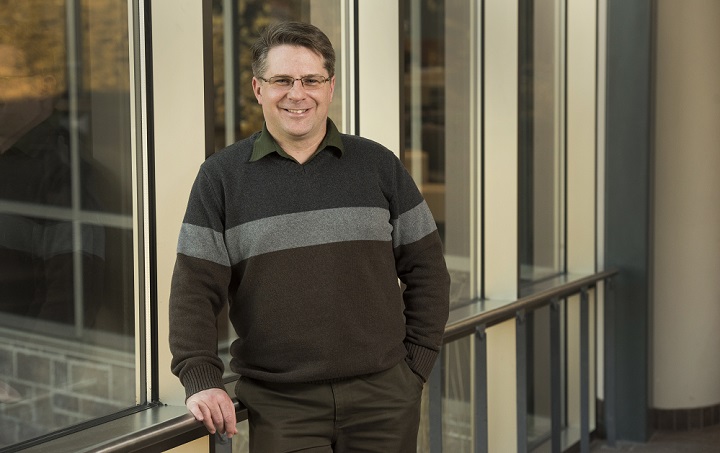 Mount Saint Vincent University Chemistry and Physics Professor
Dr. Ian Pottie
is among the 251 researchers at 43 universities whose research is being supported through new
John R. Evans Leaders Fund (JELF) awards
from the Canada Foundation for Innovation (CFI). The Honourable Kirsty Duncan, Minister of Science and Sport, announced more than $39 million for labs and equipment through the JELF in mid-March.
Dr. Pottie was awarded $281,897 to advance his work to develop a new diagnostic agent that will allow for the non-invasive early diagnosis of Alzheimer's disease in living patients. Currently, a definitive diagnosis can only be made through brain autopsy. The work of Dr. Pottie and his collaborators, including Dr. Sultan Darvesh of Dalhousie University, stands to transform the diagnosis and treatment of Alzheimer's disease.
Specifically, this funding will enable the addition of a 400 MHz nuclear magnetic resonance (NMR) spectrometer to Dr. Pottie's lab. The NMR spectrometer will facilitate the required detailed analysis of possible diagnostic agents being evaluated in the Mount laboratory.
Alzheimer's disease, the most common form of dementia, affects millions of people worldwide. One in four people will develop the disease by age 80.
"Pathologically, Alzheimer's disease is characterized by abnormal deposits of two proteins (called amyloid-Beta plaques and neurofibrillary tangles) which cause brain cell death. Clinically, this destructive process produces loss of memory and cognition," explains Dr. Pottie. "Although Alzheimer's disease is one of the most prevalent illnesses, its cause and cure are unknown and modern medicine lacks the ability to give an accurate early diagnosis and curative processes. This collaborative research program is tackling the problem using chemistry techniques for preparing possible new imaging agents that target butyrylcholinesterase, an enzyme that associates with amyloid-Beta plaques and neurofibrillary tangles within Alzheimer's disease."
Dr. Pottie is one of a group of Mount researchers who've recently established state-of-the-art labs in the Centre for Ap
plied Research in Human Health – a new dedicated research facility on campus.
As stated by CFI, "the JELF aims to help universities attract and retain top talent from around the globe by providing researchers with the highly specialized infrastructure they require to be leaders in their fields. … [As well,] investing in research infrastructure creates the spaces to train the new generation of researchers."
Read more about Dr. Pottie's work:

Other supporters
Dr. Pottie's research has also been funded by Research Nova Scotia, Mount Saint Vincent University and the Canadian Institutes of Health Research.