"The Mount lab is home to the synthesis, characterization and biochemical investigations of this puzzle."
A Halifax based research team has received close to $1.5 million from the Canadian Institutes of Health Research (CIHR) that will help with the development of an earlier, more definitive way of diagnosing Alzheimer's disease.
The grant was awarded to lead applicant Dr. Sultan Darvesh (Dalhousie University, seated in the centre of the photo below), together with co-applicants Dr. Ian Pottie (Mount Saint Vincent University, standing at left in the photo) and Dr. Steve Burrell (Dalhousie University and the Nova Scotia Health Authority), and several additional collaborators.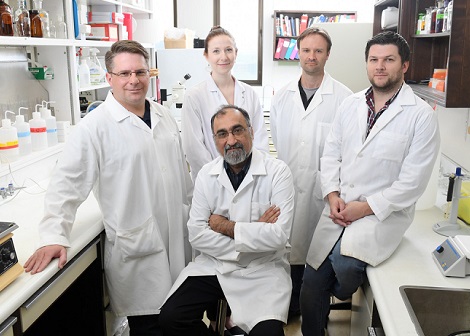 In February of 2016,
an article in the Journal of Nuclear Medicine
revealed that, through extensive collaboration and determination, the team had developed a new type of diagnostic agent that will hopefully advance the fight against Alzheimer's disease through early detection (involving non-invasive diagnostic scanning) and, ultimately, new treatments.
Alzheimer's disease, the most common form of dementia, affects millions of people worldwide. A major obstacle in treating the disease is not having an accurate early diagnosis.
Successes to date
The key to this new development is a small radioactive molecule ("radiotracer"), synthesized to bind to an enzyme associated with the pathological structures in brains affected by Alzheimer's disease. The group has demonstrated that this radiotracer can be used in brain imaging to distinguish between "normal" brains and those affected by Alzheimer's disease – a development process that has taken 11 years.
In two studies published earlier this year
, the team has confirmed the targeted enzyme is uniquely associated with pathology in the Alzheimer's affected brain and a radiotracer targeting this enzyme can distinguish between Alzheimer's and normal brains using pre-clinical brain imaging. The next step is refining the compound with an aim of starting clinical trials in about five years. This latest funding from CIHR will help move that process forward.
"We now need to take what we've learned so far and get ready to submit for approval of an experimental new drug for human imaging," says Dr. Darvesh.
Preparing for clinical trials
The work to refine the compound will begin in a lab at the Mount under Dr. Pottie's leadership.
"The Mount lab is home to the synthesis, characterization and biochemical investigations of this puzzle," explained Dr. Pottie.
The compounds will then be put to the test at Dalhousie.
According to Drs. Darvesh and Pottie, the compound in its current form has both good and bad qualities.
"In order to head to clinical trials, we need to reduce the bad without affecting the good," Dr. Darvesh says.
That will include reducing side effects, ensuring molecules cannot be metabolized by the blood (i.e. increasing bioavailability) and increasing the compound's effectiveness in passing through the blood-brain barrier (i.e. getting it successfully into the brain).
Additional funding will be needed in the next five years in order to propel this work closer to the development finish line and into clinical trials. The team continues to seek agency funding and other donations to help in taking this major breakthrough from lab to bedside.
Other supporters
In addition to the support of CIHR, this work has been funded by the Department and Faculty of Medicine, Dalhousie University; Mount Saint Vincent University; Dalhousie Medical Research Foundation; Sobey Foundation through the Dalhousie Medical Research Foundation Irene Macdonald Sobey Chair in Curative Approaches to Alzheimer's Disease; Natural Sciences and Engineering Research Council of Canada; Nova Scotia Health Research Foundation; Brain Repair Centre; Innovacorp; Treventis Corporation; and The Maritime Brain Tissue Bank.
Photo credit: Danny Abriel, Dalhousie University
---
For more information:
Gillian Batten
Manager, Communications
Mount Saint Vincent University
902-457-6439
Gillian.Batten@msvu.ca