Centre celebrating 25 years
The Global Ageing Network, an international network of leaders in aging, has announced that the Nova Scotia Centre on Aging (NSCA), based at Mount Saint Vincent University, is one of two 2017 recipients of its Award for Excellence in Applied Research.

NSCA representatives will receive the award at the 2017 Global Ageing Network/CURAVIVA Global Ageing Conference which takes place on September 18-21 in Montreux, Switzerland.
"We are so pleased to receive this international recognition," said Dr. Janice Keefe, Director of the Nova Scotia Centre on Aging. "This Award exemplifies what our Centre has been doing for 25 years through our work – influencing policy and practice to enhance the quality of life for older adults and their families."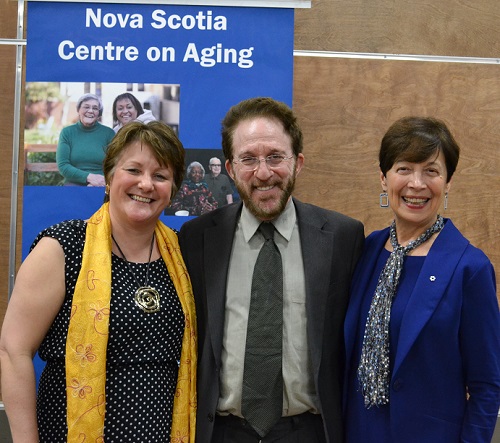 The award recognizes ongoing commitment to quality in aging services through evidence-based research, translation of research into practice, and dissemination of research findings through internal and external shared learning opportunities. The NSCA is being recognized for its authentic engagement of decision makers and practitioners in research and effective knowledge translation strategies.


25 years of research excellence
The NSCA is celebrating its 25th anniversary this year (2017) making it one of the longest standing university-based research centres on aging in Canada. The centre marked this major milestone with a special dinner event in April, featuring guest speaker Dr. Brian Goldman, best-selling author and host of White Coat, Black Art on CBC Radio, and emceed by Norma Lee MacLeod, host of CBC Radio's Maritime Noon. (Pictured above: Dr. Janice Keefe, Dr. Brian Goldman and Dr. Ramona Lumpkin)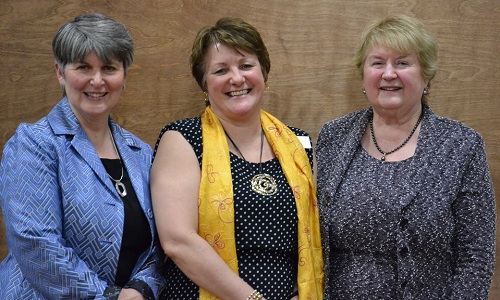 At the event, the NSCA recognized the Alzheimer Society of Nova Scot
ia for its significant contribution to enhancing the lives of older adul
ts and their families (Director of Programs and Services, Linda Bird pictured at far left). Dr. Rosemarie Sampson (at right), w
ho has had a life-long connection with
the Mount
, was recognized for her significant legacy gift which enabled a new home for the NSCA in the Margaret Norrie McCain Centre for Teaching, Learning and Research.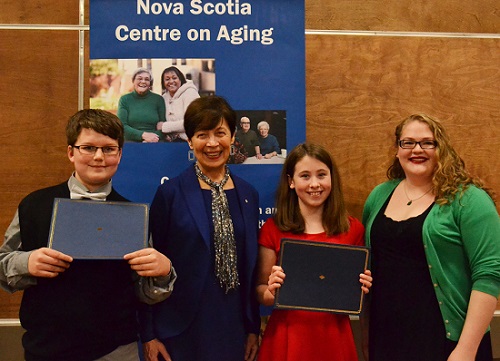 As well,
student essay contest
winners
(pictured at right)
were celebrated: Madeline McPhee, a grade five student at Sambro Ketch-Harbour Elementary (first prize) and Aidan Ashley, a grade six student at Musquodoboit Valley Education Centre (second prize). The student essay competition was intended to increase awareness of older adults and the contributions they make to families and society, and to foster a culture of caring and respect across generations.
Coming up
NSCA events continue throughout this anniversary year (l
earn more here
), including an art exhibit slated for this fall. The exhibit titled "Bodies in Translation: Age and Creativity" will feature work that challenges assumptions about aging and explores the lived experience of aging as it relates to identity, culture, embodiment, sexuality and disability. This is the first time an age-focused art exhibit will be featured at the
Mount Art Gallery
. It will run September 8 to November 12, 2017 at the Gallery located in the Seton Academic Centre at the Mount. The NSCA is hosting a Public Reception at the Art Gallery on October 1 in recognition of National Seniors Day and International Day of Older Persons.
---
For more information:
Elaine MacFadyen
Nova Scotia Centre on Aging
902-457-6322
Elaine.macfadyen@msvu.ca
Gillian Batten
Mount Saint Vincent University
902-457-6439
Gillian.Batten@msvu.ca