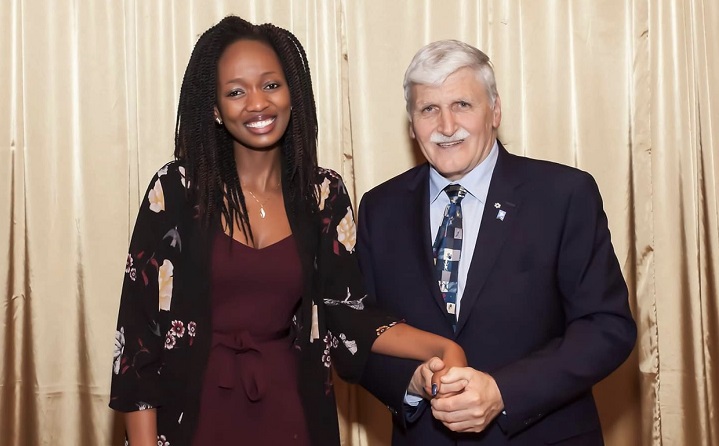 "I believe that inner strength comes not only from the will of the heart, but also from the will of the mind." –– student Fammy Uwantege
---
Arriving to an empty apartment in Halifax, Nova Scotia from Rwanda in 2015, Fammy Uwantege knew no one, had no furniture and needed to figure out the basics of taking a bus.


While it was not an easy journey, she quickly embraced her new life as a student in Mount Saint Vincent University's
Bachelor of Business Administration
program and began blazing a path that would lead to meeting an individual who had made a remarkable impact on her future, her family's future and the future of her home country.
Growing up in Rwanda, Fammy realized early on that her parents had gifted her with more than the knowledge that "hard work pays off." Her mother and father had lived through the 100-day genocide in Rwanda in 1994, and Fammy describes their resiliency as something that has defined her own inner strength and tenacity.


"My parents never wanted us to suffer," says Fammy. "They believed that our minds are our greatest tools – even if something bad happens, we can't dwell on it and wonder why it happened. We need to move on, keep going with life, and never settle." Fammy's brother, Fabrice Ntacyonatanze, is also a student in the Mount's BBA program.
Her parents' response to their traumatic experience has shaped Fammy's own approach to life, her passion for giving back and her involvement in non-profit leadership – such as taking on her role as President of the Rwanda Community of Nova Scotia.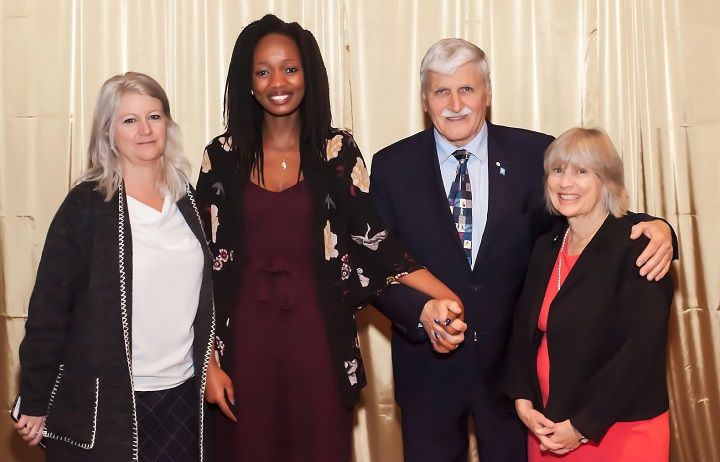 (From left to right: Mount professor Dr. Heidi Weigand, student Fammy Uwantege, Retired Lt.-Gen. Roméo Dallaire, and Dr. Heather Mackinnon)
That same interest led Fammy to enroll in a Nonprofit Leadership class at the Mount taught by Professor
Dr. Heidi Weigand
.
"In one of our class presentations, Fammy shared her experience from Rwanda and I made the connection that General Roméo Dallaire would be a honourary guest speaker at an upcoming event," recalled Heidi. "I connected Fammy with the organizer and we found her a ticket."
General Dallaire, of course, held heroic stature in Rwanda and across the world for his decision to stay behind and help the people in Rwanda during the genocide, against the orders of the United Nations.
While it took a couple of tries to get her words out because of the overwhelming emotions associated, Fammy did get the opportunity to speak with General Dallaire in a moment that she will remember and cherish forever.
"No one cared about us, and he stood up for us. His management team was telling him to go back and leave us there, but he stayed and went against his authority," said Fammy. "I told him that if at least half the men alive were to express such humanity to each other, not for what they would get in exchange, but rather for what they risked to lose, the world would definitely be a better place." Fammy points out that the area in Rwanda that General Dallaire was protecting was the area where her family lived. She says that without him, she probably would never have been born.
She also adds a note about the Mount – a place that she says is unique in the connections formed between faculty and students, in particular the interest she's seen professors express in learning about their students. Dr. Heidi Weigand was one of those faculty for Fammy.
"Professor Heidi wants to change your life. Beyond class, beyond the books, she wants to make sure you grow," says Fammy. "She always wants to give you opportunities. I think she is the best professor I've had in my whole life – very kind, very helpful."
Fammy will graduate in 2020, but she still is not sure where life will take her when that happens, "I'd like to have my own non-profit foundation that helps children that do not have shelter, perhaps have a school, or be part of the government. I have so many ideas. I want to do all of them. The hard part is where to start!"
When asked how meeting General Dallaire has changed her she says, "We don't have to always agree with everyone. You have to be polite and respectful – but when you know what you are doing is right, you have freedom to say what you want to say and fight for the rights for people. I learned that it is not about me, it is about us. We have to keep fighting for what our parents fought for and not let it go to waste."