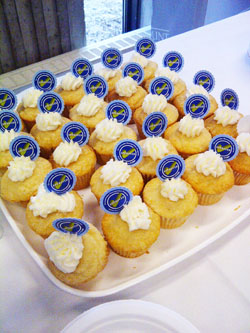 Earlier this week, students, faculty and staff gathered in the Seton cafeteria to mark the one-year anniversary of launching the Mount's Co-curricular Recognition Program (CCRP). The program allows students to be formally recognized for their non-academic, extra-curricular involvement with an official document called the Co-curricular Record. With cupcakes in hand, students, staff and faculty gathered to learn more about the program's successes and plans for growth in year two.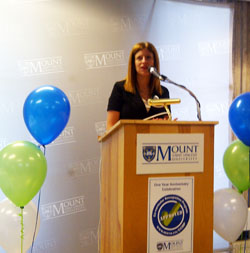 "Things have taken off very quickly – I'm delighted with this year's success," said Christine Frigault (shown below), Coordinator of the Mount's Career Planning Services. "The goal of CCRP is to support well-rounded students with a broad range of skills. By tracking things like volunteering at the SPCA, playing for the Mount basketball team or winning an award, students are learning to market their skills."
In the CCRPs first year, more than 350 Co-curricular Records were distributed to Mount students for non-academic achievements. Jeff Hollett, Associate Vice-President Student Experience, hopes to increase program participation by 50 per cent in the upcoming year. "We know many of our students are participating in extracurricular activities, so enrolling in CCRP provides students a way to formally document their hard work."
According to Mount Students' Union President Daniel McKenna, "Employers are just as interested in what's taking place outside of the classroom. The Co-curricular Record is a credible document that students can take to an employer and say 'this is what I've done'".
Students can request their record at any time, and are encouraged to incorporate it when seeking employment, applying for scholarships or award nominations. For more information, or to start tracking your own non-academic achievements, visit msvu.ca/ccrp.