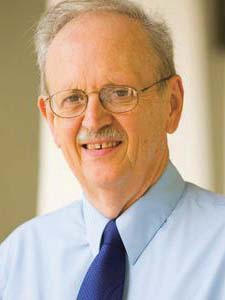 (Halifax, NS) – On Thursday, September 29, Mount Saint Vincent University (the Mount) will welcome Dr. Ken Bain, historian, educator, and author of the international best-seller What the Best College Teachers Do for an interactive public lecture titled "Fostering Deep Learning in Students: A Dialogue with Ken Bain."
Dr. Bain's research conclusions are referenced internationally, and are drawn from a 15-year study examining more than 60 of what he classified as 'the best teachers' throughout the United States. The lecture, inspired by his findings, will explore the strategies teachers can use to spark interest and devotion to learning among students.
"The Mount has a strong history of developing educators with a passion for making a difference in the world through teaching," says Dr. Ramona Lumpkin, President and Vice-Chancellor at Mount Saint Vincent University. "Dr. Bain's research findings and experience in evaluating the methods of successful educators will impart valuable advice and inspiration to students and faculty alike."
Dr. Ken Bain's visit to the Mount is the second installment of the President's Visiting Lecture Series on Teaching and Learning, an initiative designed to support faculty and future educators in developing and enhancing their teaching, and supporting flexible learning approaches. Dr. Bain is the Provost and Vice President for Academic Affairs, and Professor of History and Urban Education at the University of the District of Columbia.
The lecture will be held in the Mount's Seton Academic Centre Auditorium A, starting at 7:30 p.m. All educators, future educators and interested members of the community are welcome (no RSVP required) and admission is free. For more information, visit msvu.ca/lectureseries.
About Mount Saint Vincent University
A leader in flexible education, applied research, and a personalized approach to education, Mount Saint Vincent University has been nationally recognized among undergraduate universities in Canada for our success in Social Sciences and Humanities Research Council grants and for having one of the lowest student-to-professor ratios. The Mount is committed to providing the best university experience for all members of our community and to developing thoughtful, engaged citizens who make a positive impact on their world. For additional information about the University, visit msvu.ca.
-30-
For more information contact:
Akiko Lovett
Public Affairs
Mount Saint Vincent University
(902) 441-0505