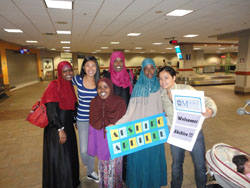 It was an emotional evening at the Halifax Stanfield International Airport as the Mount's WUSC Local Committee joined Halima Abdille to welcome her sister Abshiro. Both Halima and Abshiro have come to the Mount from Somalia as sponsored refugee students through the World University Service of Canada (WUSC) program. Halima, who was the Mount's first WUSC-sponsored student, welcomed her younger sister Abshiro with open arms. The two hadn't seen one another in close to three years.
"I can't even explain how happy I am to be chosen and to be able to see my sister again. I felt like I was going to a home far away from home, because the Mount is not new to Halima." said Abshiro. Halima jumped in, noting "I've been showing her pictures of campus and of Halifax. It's a great feeling to be able to share my life with my sister."
Abshiro left the Dadaab Refugee Camp at a devastating time in Somalian history. Since the famine was declared in July 2011 by the United Nations, thousands of Somalis have been pouring into the refugee camps in neighbouring Kenya, looking for support and aid. According to the Humanitarian Coalition, the Dadaab Refugee Camp is the largest refugee camp in the world, surpassing 380,000 individuals. This famine is now considered to be the largest humanitarian crisis in the world.
"I can't even begin to express the conditions in Dadaab," said Abshiro. "Before I left, I experienced someone dying in front of me while working for an aid organization." Halima added, "Everyone is trying their best to help. Even the refugees have given up a lot of their belongings to help the influx of Somalis in Dadaab."
A group of students at the Mount felt compelled to help. On September 14, the Mount held a charity dinner titled 'Feast or Famine' and raised $4,000 in large part due to two sponsors: Chartwells, the Mount's catering provider, and the international student health insurance provider, GuardMe. Together, the two sponsoring organizations covered the cost of the dinner, ensuring all proceeds were donated to the Humanitarian Coalition, a collaborative effort by OXFAM, CARE Canada and Save the Children. With a commitment from the Canadian government to match every dollar raised by September 16, the Mount's contribution will double.