FOR IMMEDIATE RELEASE
Halifax, NS – Mount Saint Vincent University (the Mount) biology professor, Dr. Tamara Franz-Odendaal has been named the only Atlantic Natural Sciences and Engineering Research Council (NSERC) Chair for Women in Science and Engineering.
The primary goal of the Chair is to increase the participation of women in science and engineering and to provide role models for women active in, and considering, careers in these fields. Nationally, women represent only 37 per cent of students enrolled in science and engineering programs at post-secondary institutions.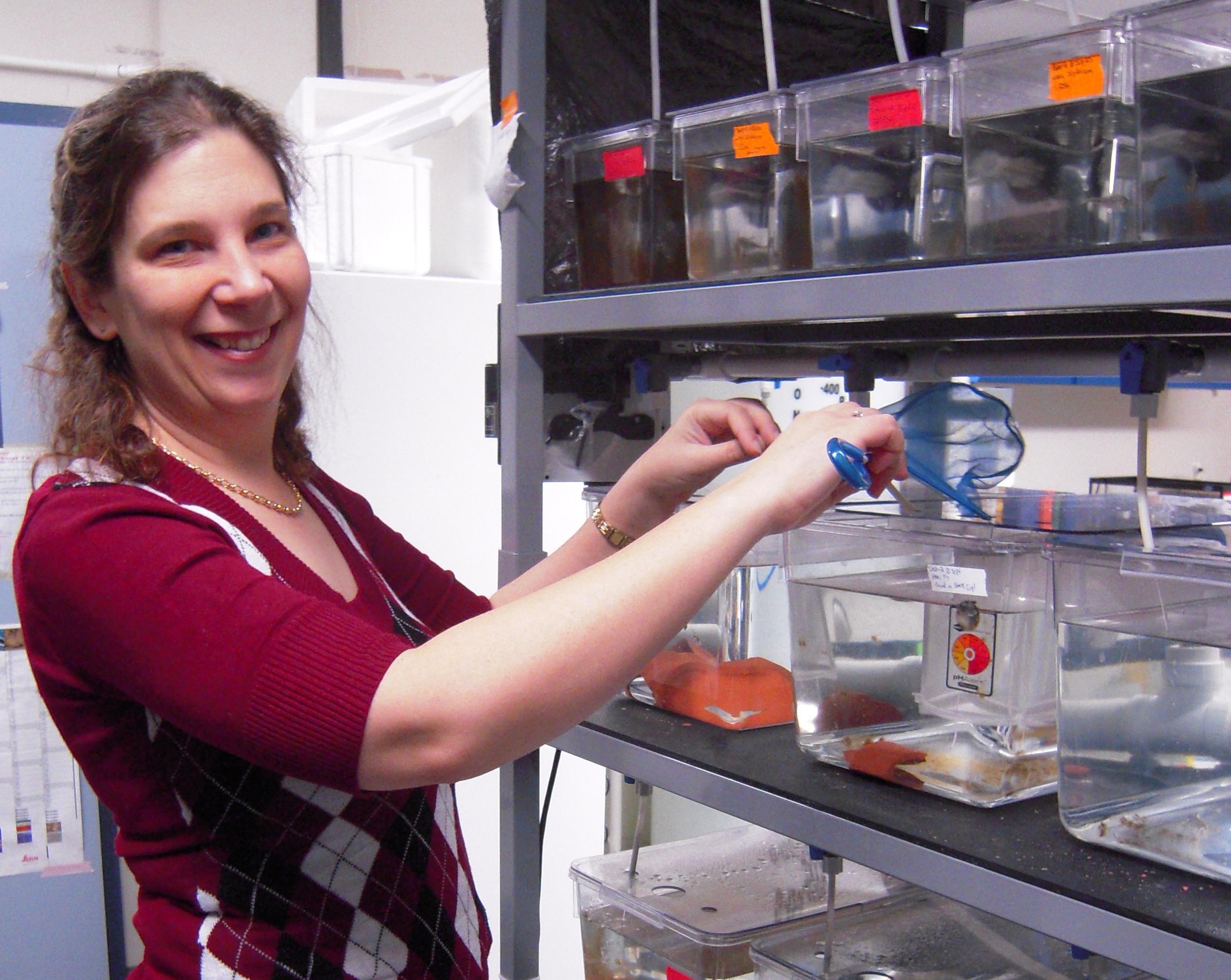 "I am honoured to be selected as the Atlantic Canadian Chair in this area," says Dr. Franz-Odendaal, who's been a professor at the Mount since 2006. "There is an increasing demand for skilled scientists and engineers in our country and this position will contribute to growing and fostering the talent pool that is needed locally, and globally."
Over the next five years, Dr. Franz-Odendaal will be working with high school students and science teachers in the region to inspire young girls to pursue careers in science and engineering. Some of her projects will include: multimedia initiatives, community seminars/workshops, high school student outreach and the creation of summer camps for junior high participants. She will also be conducting surveys to research the career decision process made by high school students.
Dr. Franz-Odendaal is also looking forward to working closely with the Mount's Bachelor of Science (Science Communication) and Bachelor of Education students – our future science teachers and science communicators.

As a developmental biologist and a previous NSERC University Faculty Awardee, Dr. Franz-Odendaal has established a vibrant and growing research group at the Mount. She holds a number of external research grants, and has mentored more than 20 undergraduate and graduate students at the Mount.
"As an institution that is committed to the education and empowerment of women, we're thrilled to have been selected by NSERC to hold this Chair and continue this mutual mission of advancing women in science and engineering," says Dr. Ardra Cole, Associate Vice-President, Academic and Research, the Mount. "Dr. Franz-Odendaal has been a valued member of the Mount's Faculty of Science and a mentor to many of our students. This position will allow her to further her work in supporting young women to choose careers in science and engineering."
NSERC has contributed $450,000 in support of the Chair program for five years, with the Mount, and industry sponsors contributing matching funds.
By working with partners such as Eastlink, Techsploration, the Nova Scotia Community Colleges, and the Mount Distance Learning and Continuing Education Department, delivery of webinars and focus groups across the province will be made possible. In addition, role model videos will be created in partnership with Firefly Digital Media Inc. and Techsploration and summer camps will be run with assistance from Nikon Canada Inc. and Atlantica Mechanical Contractors Inc. and other supporters such as Girl Guides of Canada NS Council.
To read more about Dr. Franz-Odendaal's Chair appointment click here.
To read Dr. Franz-Odendaal's official NSERC profile, click here.
About Mount Saint Vincent University
Recognized as a leader in flexible education, applied research, and a personalized approach to education, Mount Saint Vincent University is nationally recognized among undergraduate universities in Canada for its success in establishing research grants and for having one of the lowest student-to-professor ratios. The Mount is committed to providing the best university experience for all members of our community and to developing thoughtful, engaged citizens who make a positive impact on their world. For additional information about the University, visit msvu.ca.
About NSERC
NSERC is a federal agency that helps make Canada a country of discoverers and innovators for all Canadians. The agency supports some 30,000 postsecondary students and postdoctoral fellows in their advanced studies. NSERC promotes discovery by funding more than 12,000 professors every year and fosters innovation by encouraging more than 1,500 Canadian companies to participate and invest in postsecondary research projects.