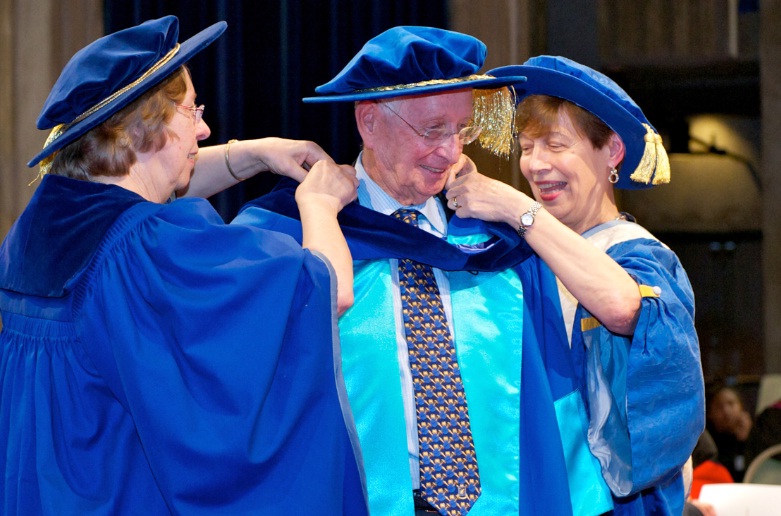 Halifax, NS – On May 17 and 18, more than 650 students from 15 countries graduated from Mount Saint Vincent University (the Mount) with a wide range of degrees in Arts, Science, Education, and professional programs.
The Mount bestowed honorary degrees on three distinguished leaders in the arts, philanthropy, and ethics. Ms. Budge Wilson, Mr. Stephen Jarislowsky (shown at left), and Dr. Jean Bethke Elshtain each addressed graduating students during their respective ceremonies.
Dr. Elshtain told graduates that life "offers few life-transforming second chances" and to affirm their roles in the broader human community by remembering their bonds with family, friends, and the less-fortunate. "We are all called to love the world," said Dr. Eshtain.
Mr. Jarislowsky challenged the Class of 2012 to respond to the world with open eyes and an open mind, and not to drift into a self-centered view. Instead, he urged, "set an example with your life, to help people help themselves."
Budge Wilson, an award-winning and renowned local children's author, received an honorary degree during Friday morning's ceremony. Ms Wilson told education graduates that they were now equipped "to be teachers in the broadest sense of the world", and to always remember the value of praise and play.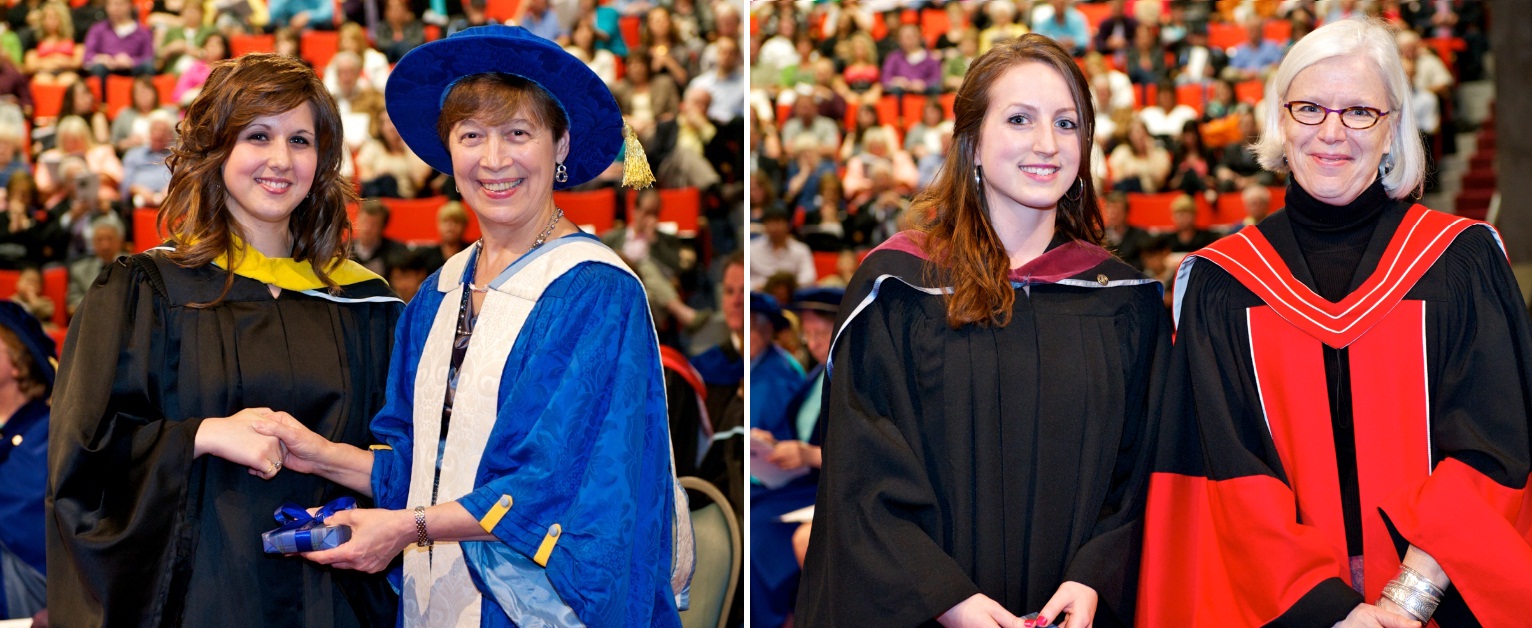 (Shown above (Left to Right): Vanessa MacLellan, BScAHN (Honours) with Dr. Ramona Lumpkin, University President and Vice-Chancellor; Margaret MacDonald, BPR with Dr. Elizabeth Church, Vice-President Academic)
Student Award Recipients
Valedictorian Prizes were awarded to:
• Michelle Camara, Bachelor of Arts (English), Smiths, Bermuda
• Vanessa MacLellan, Bachelor of Science (Applied Human Nutrition – Honours), Sydney, NS
• Andrea Colley, Bachelor of Education (Secondary Education), East Preston, NS

The President's Prize, which is awarded to a graduate whose generosity, energy and commitment enriches the University, was presented to:
• James Jalabee, Bachelor of Science (Biology), North Sydney, NS
• Louise Brooks, Master of Public Relations, Guelph, ON

The Kappa Gamma Pi awards for scholarship, leadership and service were awarded to:
• Michelle Camara, Bachelor of Arts (English), Smiths, Bermuda
• Margaret MacDonald, Bachelor of Public Relations, Antigonish, NS
• Jarrett MacLeod, Master of Public Relations, Sydney, NS

Governor General Medals are given once a year to students with the highest aggregate in the final three years of a degree program and were awarded to:
• Rebecca Danielle Romo, Bachelor of Science (Mathematics), Gaetz Brook, NS
• Angela Laurin, Master of Education (Educational Psychology), Calgary, NS

The Lieutenant Governor Intergenerational Award, awarded to students for their commitment to enriching the lives of youth and seniors in their community, was presented to:
• Shannon Lynn Davis, Bachelor of Education (Elementary), Yarmouth, NS
Faculty Award Recipients
Dr. Wade Kenny, Associate Professor, Department of Communication Studies, was presented with the Mount Saint Vincent Alumnae Association Award for Teaching Excellence in recognition of his superior teaching and in appreciation of his contributions to the high standards and goals of higher learning. Dr. Kenny was credited for challenging students to engage deeply with the wider universe in their pursuit for knowledge and understanding.

D

r. Peter Mombourquette

, Associate Professor and Chair of the Department of Business Administration and Tourism & Hospitality Management, was presented with the Teaching Innovation Award for his many contributions to the department, including expanding mentorship and service-learning opportunities, linking classroom theory to professional experience, and a greater emphasis on career development.
About Mount Saint Vincent University
Recognized as a leader in flexible education, applied research, and a personalized approach to education, Mount Saint Vincent University has been nationally recognized among undergraduate universities in Canada for our success in Social Sciences and Humanities Research Council grants and for having one of the lowest student-to-professor ratios. The Mount is committed to providing the best university experience for all members of our community and to developing thoughtful, engaged citizens who make a positive impact on their world. For additional information about the University, visit msvu.ca.
-30-
For more information, contact:
Trevor Corkum
Manager, Communications & Marketing
Trevor.Corkum@msvu.ca
Tel: (902) 457-6439
Cell: (902) 441-0505