Story Update
On May 19, 2016, Mary Lou Bouchard and daughters Jenny and Liana Clifford crossed the stage at spring convocation, graduating with their bachelor degrees in Child & Youth Study.

Several media featured their story at convocation time. You can read one of those articles here.

Congratulations Bouchard-Clifford family!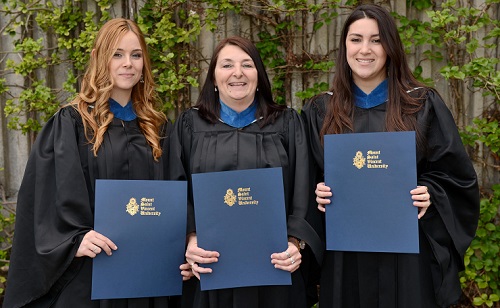 Children and youth a driving force in family's success
When Mary Lou Bouchard was young, she never dreamed of pursuing higher education. Now, this single mother is set to graduate with a Bachelor of Child and Youth Study (BCYS) degree, finishing this portion of a seven-year-long academic journey alongside two of her daughters, Jenny Clifford, 24, and Liana Clifford, 22. "I feel like we've defied the odds," says Mary Lou, reflecting on their journey.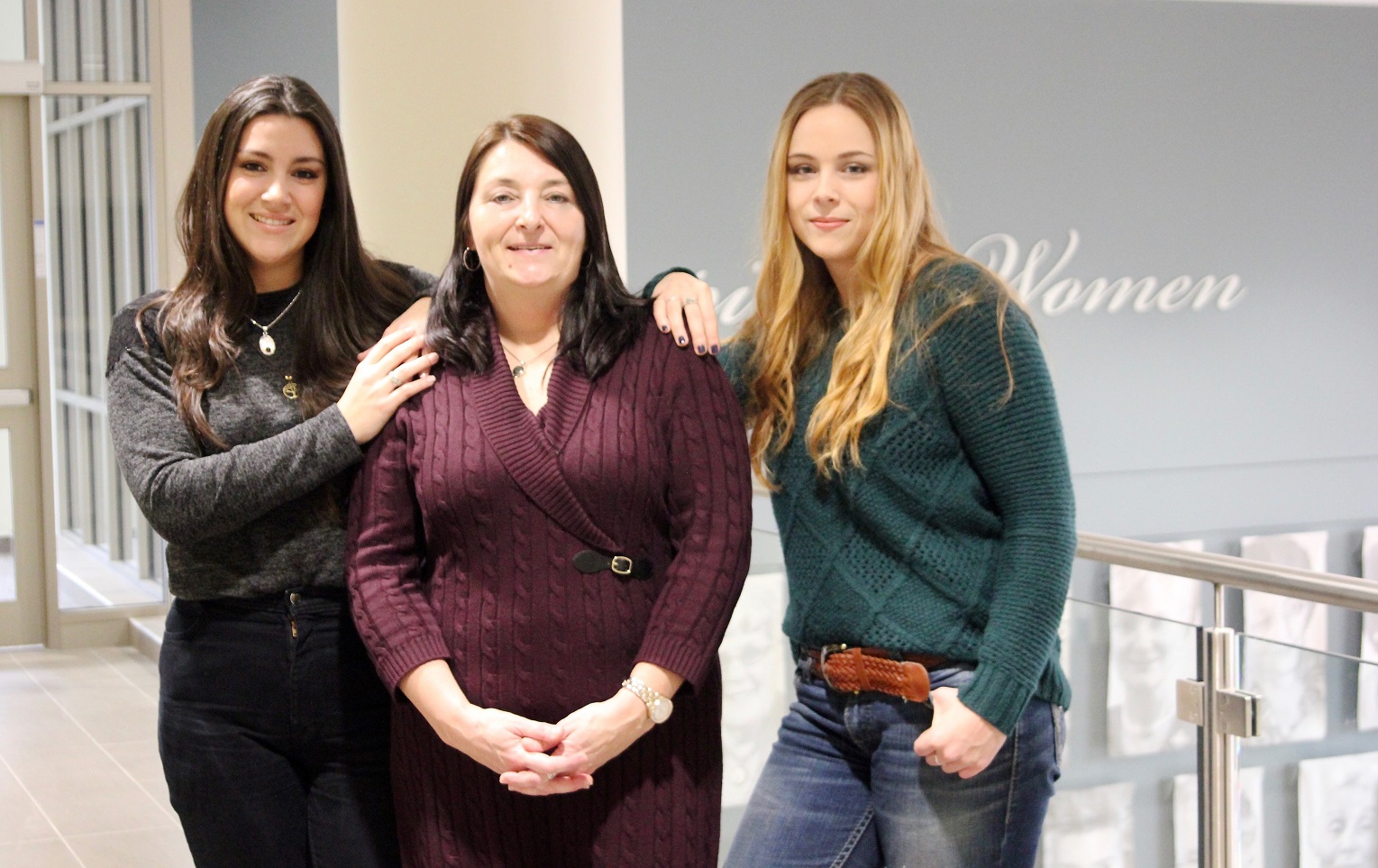 ---
"We wouldn't have been able to do this without each other."
– Liana Clifford, on graduating alongside her mother and sister.
---
From Community College to University
All three women arrived at the Mount after completing their Health and Human Services Diplomas at Nova Scotia Community College (NSCC) in Kentville, NS. "An instructor referred us to the Mount," explains Mary Lou. The women had not initially planned on moving on to university, but found out about the 2+2 program which enabled them to transfer two full years of credits toward their degree.
"College played a critical role in our decision to attend the Mount," Jenny shares. "The two experiences really complimented each other and I'm very glad to have been able to experience both."
Making the transition back to school
Before pursuing an education in Child and Youth Study, Mary Lou worked in the armed forces as an Avionics Technician for 11 years. "When I was young, I always wanted to work with people," she says. "I was told, 'You're too sensitive.' So I studied technology." After a successful career in the forces and spending time raising her family, Mary Lou switched gears.
"When Jenny graduated high school I thought: If I don't do it now, I never will." Taking the plunge and returning to school with Jenny enabled Mary Lou to transition into new roles as an early childhood educator. Post-graduation from NSCC, she worked in a French preschool full-time while commuting with Jenny to the Mount for part-time evening classes. And so began the first part of an ambitious and rewarding academic journey with her daughters.
Coming together at the Mount
Following in her family's footsteps, Liana graduated from NSCC just a few years after her mother and sister, and joined them at the Mount. The three traveled from Kingston (in the Annapolis Valley) to Halifax for classes, amounting to more than three hours of driving each day. "It was actually very efficient," laughs Liana. "We shared books, gas money, and we could work with each other on group projects."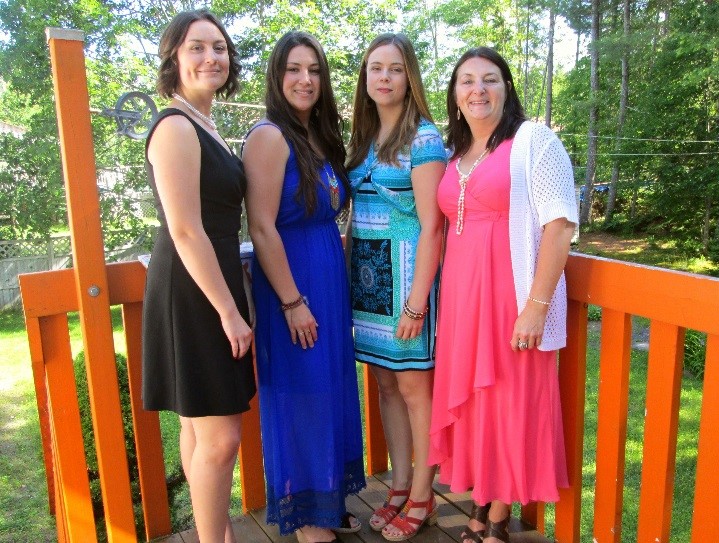 Mary Lou, Jenny and Liana are not alone in their academic pursuits. The family's third and youngest daughter, Robyn, started university last fall. "Sometimes our home life resembles that of dorm life," says Jenny half-jokingly. (At right [left to right]: Robyn, Liana, Jenny, and Mary Lou in June 2015).
Even with the time commitment of their commute and part-time jobs (Jenny holds two), the women have thrived academically. During their time at the Mount, they have all repeatedly made the Dean's list and received scholarships.
In the fall of 2015, the trio completed their Child and Youth practicums in Dartmouth. "We were even fortunate enough to secure positions close together," Liana says. Liana and Jenny both worked at the Dartmouth Daycare Centre, and Mary Lou landed a position at the Ray Allen Centre just down the street. With the practicum portions of their degrees complete, the women look forward to graduation this spring.
The "closing of a chapter"
After convocation on May 19, the family aims to continue along their academic path. The women are all looking into potential Master's degree programs and the possibility of publishing research. "I've been thinking about writing a peer-reviewed journal article, actually," Mary Lou shares. The family has big dreams for the future. They aim to one day open a private counselling practice in the Annapolis Valley catering to youth.
---
"It's been a journey," Mary Lou shares emotionally. "I won't say it's been easy because, at times, it hasn't. The family has leaned on one another along the way. It's bittersweet, this closing of a chapter in our book."
---
Passionate about her studies and her family, Mary Lou credits her daughters for helping her along the way, "I honestly couldn't have done this without their support." Liana is quick to add, "I definitely think I've gotten more out of this with my family."
The Mount congratulates Mary Lou, Jenny and Liana on their individual and shared achievements as students in the Bachelor of Child and Youth Study program, and we look forward to celebrating with them during Spring Convocation.