Mount international student graduate helping others build careers through connection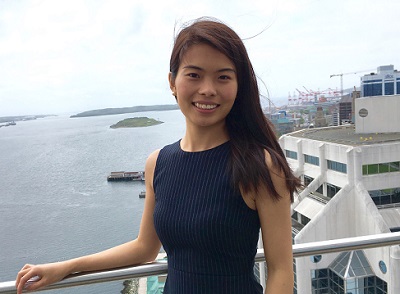 Christine Qin Yang, originally from Fuzhou, China, understands the importance of networking and putting yourself out there in order to build a life in a new country. This is part of the reason she is so successful at her current position as Program Coordinator with the Halifax Partnership Connector Program, where she has been working since May 2015.

Christine finished her studies with Fujian Agriculture and Forestry University (FAFU) in 2012, after studying horticulture. Under their 2 + 2 program (linking FAFU with universities abroad), she continued her studies by pursuing a degree in business, graduating from the Mount in 2014, and receiving her degree from FAFU in 2015. She had several options to choose from to complete her education in Canada, including UBC, Dalhousie and Mount Saint Vincent University. For Christine, choosing to come to the Mount was an easy decision — the University's commitment to the education of women resonated with her, as did the location by the water, similar to where she studied in China.

---
"It's all about people. If you're looking for a career, you need mentors, you need solid advice. If people don't know you, it's very hard to be heard, to be helped."
— Christine Qin Yang, Mount graduate and Program Coordinator, Halifax Partnership Connector Program

---
Finding her footing
Christine describes herself as shy when she first arrived in Canada, knowing very little English. She accredits her personal growth and confidence in large part to the International Education Centre at the Mount, where she was constantly supported, right from the moment she was met at the airport upon her arrival. She immediately started the Centre's language program and was encouraged to volunteer within the Mount community and beyond.

During her time at the Mount, Christine spent one summer working as a student liaison and recruiter with the International Education Centre, and this is where she first had an opportunity to help others during their adjustment to their new school and surroundings. She quickly began to assist with recruiting Chinese students, providing English/Mandarin translation, and building a social media platform where international students were able to connect. Christine's love of writing flourished as she began contributing to Halifax's English-Mandarin newspaper, Dakai Maritimes, published quarterly, and founded by Mount Public Relations graduate Meng Zhao.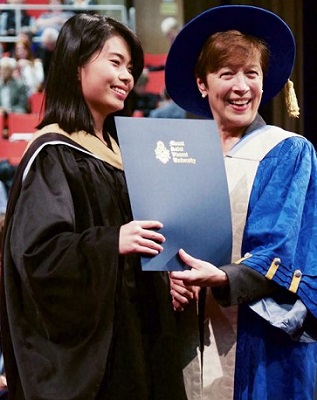 Building networks
As Christine's confidence grew, she reached out to the Halifax Partnership's Connector Program, an initiative that assists recent graduates with expanding their business networks, increasing their chances of finding employment and internships in their field. She remembers being in their offices and hoping that she could work there one day. That dream came true for her when in May 2015 Christine was hired as Project Coordinator with the Connector Program. In that role she is responsible for engaging and educating business leaders on the benefits of hiring young talent and providing networking opportunities for international and local students.

Christine knows that as a newcomer and new grad it can be very challenging to build professional relationships. She also knows the importance of getting out from behind a computer and actually networking face-to-face. That's why she thrives in her job and the opportunities she has to connect business leaders with recent grads and new immigrants.

Christine encourages employers to be game changers, hiring new grads with fresh ideas and international background, and sees this trend growing, recognizing that everyone has a role to play. She calls it a "win-win situation" – great for the graduate, the employer and the region. In her experience, a lot of international students quickly fall in love with the Halifax area and want to be able to stay. For Christine, her decision to stay in Canada, particularly Halifax, was based on the fact that there is constant growth and development here, and opportunity for new graduates to contribute to this.

Christine was excited to hear about the recent partnership between the Mount and Halifax-based talent firm Venor, connecting international student graduates with employers and opportunities to start their careers in Nova Scotia, as well as the Mount's recent agreements to offer new collaborative programs with universities in China.
Experiencing the Mount
She feels the Mount was crucial in preparing her for her current role, including the individual attention provided by professors, the work experience she received, and the support of Career Planning Services staff who connected her with different resources.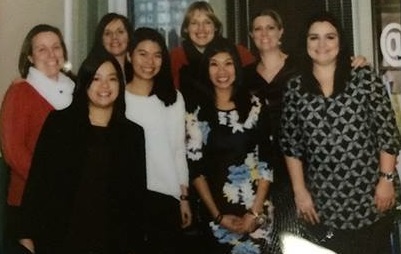 "You're not just a number [at the Mount]. Every idea you have, everything you talk about, they listen and provide feedback. If you have a great idea, they support you," she said.

In particular, Christine credits the Mount's business administration program with providing important networking opportunities and experiential learning opportunities, and stressing the importance of giving back to the community.
"It's not just studying to get a degree, but giving back and feeling like a part of something." For Christine, the people at the Mount have become like family to her.
"If people don't know you, it's very hard to be heard."
If Christine could share one piece of advice with a soon-to-be new grad just starting their career, it would be to keep connecting with people, including through networking events and volunteering. "It's all about people. If you're looking for a career, you need mentors, you need solid advice. If people don't know you, it's very hard to be heard, to be helped."

In the future, Christine hopes to continue her efforts to connect Nova Scotia and China, and wants to see more people like her make Nova Scotia home. She believes that if you do something you're truly passionate about, it shows, and she is thrilled to be able to help others. "Every day I do something that's not for myself; and to see someone else's success, I'm happy for that."