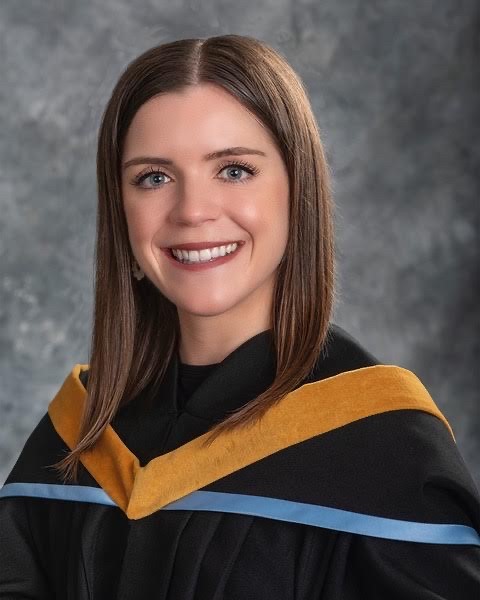 During her time at MSVU, Valedictorian Grace Anderson built strong relationships with her peers and professors and worked hard to achieve her goal of entering the Applied Human Nutrition Internship Education Program (IEP).
Grace has been an active participant in both on- and off-campus initiatives and, over the course of her degree, was both an active volunteer and a student athlete. She has been recognized as the 2019-2020 MSVU Cross Country MVP, an Atlantic Collegiate Athletics Association (ACAA) Cross Country Championship race winner, and recipient of the ACAA Runner of the Year award (2019-2020). Grace also worked as a biochemistry laboratory and coursework marker for Dr. Abuzaytoun (2021) and served as a Mount Mentor (2019-2021), helping new students navigate their transition to MSVU.
Grace will deliver her valedictory address during the spring 2022 convocation on Friday, May 20 at 2 p.m. You can watch the ceremony via MSVU's Facebook and YouTube pages. We asked her to tell us about her time at MSVU and what's next for her. Read on to learn more about Grace.
Hometown: New Glasgow, NS
Current city/town: Halifax, NS
Degree being awarded: Bachelor of Science in Applied Human Nutrition with a major in Dietetics (IEP) and a minor in Chemistry
Previous education completed: Bachelor of Business Administration from St. FX
More About Grace
Why did you choose to study at MSVU?
I wanted to stay in Halifax to complete my Bachelor of Science in Applied Human Nutrition degree. I went to St. FX for my first degree, so I wanted something different. MSVU became my option since it is in the city. I am very happy I chose to complete my degree here!
How were you involved on campus during your time as an MSVU student?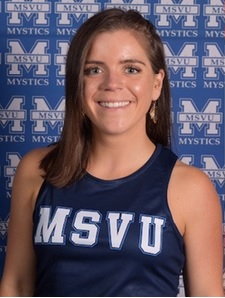 I ran on the MSVU Cross Country team, worked as a Mount Mentor from 2019-2021 and as a Biochemistry marker for the full year of 2021. I volunteered for HOPES Health Clinic, The Breakfast Program of Fairview, Canadian Association of Foodservice Professionals MSVU student branch, the Food & Nutrition Society, the Appetite Lab, as a notetaker for one of my nutrition classes, and with the Physically Active Kids Excel (PACE) program.
Who are your academic and research mentors (either at MSVU or beyond)?
Professor Linda Mann has positively impacted my time at MSVU by helping me a lot through my academic career at the university. She took me on for independent study because I had classes that overlapped. She's really busy, so the fact that she took the time to do that was very meaningful to me. Otherwise, I would have had an extra semester of school to do. I got a lot of one-on-one time with her, and I got to know her as a person rather than just as my professor. I really respect her opinion. She helped me a lot through my internship program as well. She's awesome.
Did you complete any internship placements?
I completed three dietetic internship placements during my final year at MSVU. My first was at ZeroIN – a sugar free-chocolate bar production company. My second was at the North End Community Health Centre. I learned a lot, including thinking outside of the box for nutrition. I had to think about what people could afford and about the social aspects of nutrition as well. The chance it gave me to help people was amazing. I gained a wide variety of experience, including program development and one-on-one nutrition counseling. My supervisor for that placement was incredible. My most recent internship placement was at Melville Lodge Long-Term Care Centre. I thoroughly enjoyed my placement there, and I accepted a dietitian position with them in April.
What class, professor, project or learning activity has held the most meaning for you? Why?
Anyone who was in the Applied Nutrition program will definitely remember this one – the menu project. It was a very long project – the final report ended up being about 85 pages long. It definitely taught me a lot and I learned about time management as well because I had to make sure I could fit in time to meet with my group.
What is your favourite location on campus and why?
It was wherever my friends were hanging out if they had time outside of class – often someplace like the main floor of the McCain Building. And my least favourite part was definitely walking up the hill!
Do you have any favourite stories about your time at MSVU?
I have made so many great memories with my peers. One story that stands out to me would be when my friend, Alex Bromley, presented her project in Animal Origin class in first year. If you were in that class, you most likely know what I am referring to when I say, 'grind the liver.'
What do you think differentiates MSVU from other post-secondary institutions?
The small class sizes really provide a great learning environment. You're not just a number at MSVU, professors get to know you, which is so important. Another benefit is that you get to know your classmates really well.
Do you have any advice for current students or people considering going to MSVU?
Get involved in extracurriculars on campus. It not only makes your experience more enjoyable, it also looks good on your resume.
 What's next for you?
I am now working full-time as a dietitian and I will get my official certification after writing my national exam in November. I was accepted into the Master's of Physiotherapy program at Dalhousie, but I have decided that I am ready to put a pause on school for now.
Anything you would like to add?
I loved my time at MSVU. Getting involved on campus and within the community made my experience that much better.