Each spring, MSVU recognizes stand-out students from across academic and athletics programs.
This year's student award winners are an exceptional reminder that talent abounds at MSVU. They represent students who have demonstrated academic excellence and students who are at the top of their game.
In short, they are an inspiration to their university community and a source of Mystic pride! We extend our heartiest congratulations to them all.
(Keep scrolling for more information about both our academic and athletics student award winners.)
Academic award winners
Science departments at MSVU held an event to present their student academic awards this year, while departments in Arts and Professional Studies prepared a video celebrating their latest student academic award winners. Watch the Arts and Professional Studies video here »
The following is a list of all 2022 academic award winners:
Alleyne Murphy Award  
Megan Churchill
Applied Human Nutrition Community Service Award
Rebecca Lynn Hatcher
Jill Patterson
Frances Malloy Award   
Erin West
Bob Bagg Award       
Kathleen Williams
Business and Tourism Award
Jennifer Kurmey
International Student of the Year    
Ji In Yoo
Department of Child & Youth Study Award for Academic Excellence    
Heather Perry
Lindsey Cousineau Award    
Emily Hammond
Dr. Patrick O'Neill Award in Public Speaking         
Grace Boucher
David Bell Memorial Endowed Award        
Emily Thompson
Mount Co-op Students of the Year  
Kathrine McEwen (Business Administration)
Megan Savary (Public Relations)
Ella Burns (Tourism & Hospitality Management)
Sister Marie Agnes Book Prize In English     
Julia Hines
English Department Literary Prize
Mackenzie Moore
Sophia Godsoe
Beryl Rowland Book Prize in English
Michael Gillis
McGrath Baird Prize 
Chelsey Rachelle Joudrie
Sister Francis D'Assisi Prize in History (Alumni-sponsored)
Helena Brigham Gale
Sister Francis deSales Award
Lucinda Higgins
Library Research Award      
Sarah van de Walker
Sister Rose Celestine Award for French  
Hayley Bone
Sister Frances Carmel Regan Award in Philosophy 
Renaj' Forbes
Andrea and Charles Bronfman Award in Canadian Studies
Natalie Locke
Dr. Larry Fisk Book Prize     
Amanda Hendrie
Marial Mosher Award in Canadian Studies 
Natalie Locke
Pauline Jones Award
Madyn Bourque
Certificate for Outstanding Performance in WS 1110     
Meghan Richard
Chemistry Society of Canada Silver Medal
Bret Baxter
Dr. Frank Bennett Mathematics Research Prize
Emily Smith
Sara Elizabeth Philips Memorial Prize in Mathematics
Shun Usuki
Doug and Joy Harriott Award in Physics
Emily Smith
Athletics award winners
Each spring, the Best of the Blue Varsity Awards are given out at MSVU in celebration of the successes of our student athletes. This year's awards recognized exceptional student athletes across our soccer, volleyball, basketball and cross-country teams.
In addition to sport-specific and other named awards, "Athlete of the Year" awards were bestowed this year on: Kelsey Crocker (Women's Basketball) and Joel McCrossin (Men's Basketball).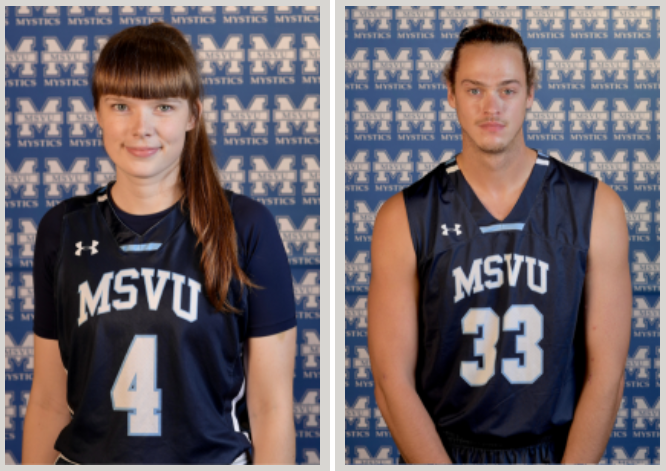 The following is a list of all 2022 athletics award winners:
CROSS COUNTRY
Most Improved
Teaghan Wallace
Coach's Award
Hannah Baillie
Most Valuable Player
Mitchell Firth
WOMEN'S SOCCER
Most Improved
Esja Marr
Coach's Award
Mariah Wright
Most Valuable Player
Annika Monroe
MEN'S SOCCER
Most Improved
Michael Grechuk
Coach's Award
Nick Bryden, Connor Grant
Most Valuable Player
Luc Andriopoulos
WOMEN'S VOLLEYBALL
Most Improved
Madyson Parlee, Marcy MacNeil
Coach's Award
Nicole Rector
Most Valuable Player
Elisabeth Héroux-Rhymes
WOMEN'S BASKETBALL
Most Improved
Katherine Khorovets
Coach's Award
Piper Tracy-Stewart
Most Valuable Player
Kelsey Crocker, Tahlia Jones
Dyrick McDermott Memorial Award
Alisha McNeil
MEN'S BASKETBALL
Most Improved
Will Spaulding
Coach's Award
Tariq Thomas
Most Valuable Player
Jaxon Smith, Joel McCrossin
Raymond and Helen Plato Memorial Award
Jaxon Smith
Rick and Andrea Plato Award
Ty Murnaghan
OTHER ATHLETICS AWARDS
MSVU Varsity Alumni Prize
Mariah Wright, Women's Soccer
Tariq Thomas, Men's Basketball
Margaret Ellis Award
D'Vaughn Rolle-Johnson
Sheila & Stephenie Allt Award
Kathrine McEwen, Women's Soccer
Madeline Laurence, Women's Soccer.
Tracy Barton Endowed Memorial Award
Adam Callaghan, Men's Basketball
Seven McHatten, Women's Volleyball
CCAA Academic All-Canadians
Mitchell Firth, Cross Country
Annika Monroe, Women's Soccer
Nicole Rector, Women's Volleyball
Elisabeth Héroux-Rhymes, Women's Volleyball
Tahlia Jones, Women's Basketball
Kelsey Crocker, Women's Basketball
Alisha McNeil, Women's Basketball
Windsor Flash Trophy
Ally Seamone, Women's Soccer
Madeline Laurence, Women's Soccer
Kathrine McEwen, Women's Soccer