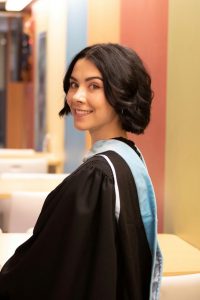 As a woman with a strong passion for research, policy and social change for women, girls, and children, Valedictorian Brooke VanTassel is an exceptional role model who is setting an example for the next generation of women leaders. She is a committed volunteer and a talented teacher and coach who has made very significant contributions to extracurricular activities at MSVU and beyond.
Brooke has achieved academic excellence during her time at the university and was a Sociology-Anthropology (SOAN) Book Prize 2020 Awardee for earning the highest GPA in the SOAN program. She will deliver her valedictory address during the spring 2022 convocation on Friday, May 20 at 10 a.m. You can watch the ceremony via MSVU's Facebook and YouTube pages.
We asked Brooke to tell us about her time at MSVU and what's next for her. Read on to learn more about Brooke.
Hometown: I grew up in Middle Sackville, Nova Scotia, very close to MSVU!
Current city/town: I continue to live in Middle Sackville.
Degree being awarded: I'm graduating with my Bachelor of Education, Secondary degree.
Previous education completed: I graduated with my Bachelor of Arts (double major in Women's Studies and Sociology/Anthropology) from MSVU in 2020.
About Brooke
Why did you choose to study at MSVU?
Intent on attending a post-secondary institution in Nova Scotia, MSVU was one of the first universities that sparked my interest. During my final year of high school, I attended Open Campus Day to explore the university and learn about academics and extracurriculars. As someone who enjoys spending time outdoors, I appreciated the trees, study nooks and the view of the basin that made me feel at home. I was familiar with Rosaria, having played volleyball in the gym as a secondary student and felt deep comfort and excitement imagining myself attending MSVU.
One of my fondest memories from this day was a conversation I had with the Chair of the Sociology/Anthropology (SOAN) department, Dr. Alex Khasnabish. His passion, enthusiasm and deep knowledge of SOAN sparked my interest and significantly impacted my decision to attend MSVU.
Through connecting with MSVU alumni in my community, I was made aware of the exceptional academic reputation and the benefits of attending a smaller institution. As someone who learns best from dialogue and open conversations with peers and professors, the small class sizes and approachable faculty allowed me to feel confident and comfortable immersing myself in the classroom.
How were you involved on campus during your time as an MSVU student?
My involvement on campus included engaging in clubs of interest such as the Sociology/Anthropology Society and the Feminist Collective, assisting in research and training opportunities such as the Waves of Change Bystander Prevention Program, and supporting campus events such as the annual MSVU Girls Conference.
Although I'm grateful to have engaged in meaningful opportunities, most of my time was devoted to academics and part-time work. As my peers will attest, the demands of university compounded by the necessity of earning income leave little time and energy for extracurriculars. My suggestion for future students is to avoid undertaking too many commitments. There are endless opportunities for involvement – select the ones that speak to YOU, ensure you enjoy the activities, and prioritize your well-being.
Who are your academic and research mentors (either at MSVU or beyond)?
I have several academic and research mentors from MSVU – Dr. KelleyAnne Malinen and Dr. Alex Khasnabish from the SOAN department, Dr. Deborah Norris from the Family Studies and Gerontology Department, Dr. Adrian Downey from the Education Department, and many more!
Did you complete any work terms or internships?
I completed two practicum periods in secondary schools during my time at MSVU. My first was at Caledonia Junior High in Dartmouth, and my second was at Dartmouth High School. Both experiences taught me many important lessons, often absent from traditional "classroom" learning. I'm extremely grateful to have built and sustained relationships with the amazing students, faculty and staff.
What class, professor, project or learning activity has held the most meaning for you and why?
One of the most memorable learning activities I've experienced was in my first year at MSVU as part of my Introduction to Women's Studies class with Dr. Brenda Hattie-Longmire. Partial fulfillment of this class involved supporting the Walking with Our Sisters project, a Commemorative Art Installation for the Missing and Murdered Indigenous Women of Canada and the United States.
This exhibition showcased thousands of moccasin vamps representing Missing and Murdered Indigenous women as well as children who never returned home from residential schools. Deeply moved by the beauty of the vamps and grappling with the purpose of the exhibition, this experience shook me emotionally. It incited my passion for learning more about this ongoing genocide and emphasized the importance of decolonization – dismantling the structures of colonialism.
What is your favourite location on campus and why?
Something I love about campus is the variety of locations. I'll describe two of my favorite sites for distinct activities:
Studying: My ideal study spot is the "study room" located on the fourth floor of Evaristus. I've enjoyed many peaceful moments here in the early morning before 9 a.m. classes. The stillness of the building at this hour offered clarity of mind and allowed me to relax and prepare for the day. Further, the large windows and comfortable seating created a tranquil experience.
Chatting with friends/grabbing a coffee: My favorite "hang-out" location is the McCain Centre. This central building is GORGEOUS, with large windows, flexible seating and proximity to coffee and snacks. The influx of people moving from class to class always brings familiar faces and comforting energy. Lastly, if you're looking for a private spot to relax and admire the basin, I recommend exploring the study corners on the third and fourth floors.
What experience did you gain with research during your time at MSVU?
In the third year of my undergraduate degree, I was a research assistant for the Culture and Perspectives on a Sexual Assault Policy (CAPSAP) project, led by Dr. KelleyAnne Malinen. This experience introduced me to the practice of qualitative research and revealed the complexity and nuances of the research process. I remember the frustration of transcribing focus group audio, balanced by the excitement of locating meaning and recognizing patterns in the data. This sparked my interest in research and the topic of cultural perspectives on and experiences with sexual assault policy more generally.
Seeking continued learning in this area, I approached Dr. Malinen about completing a Directed Study centered around the CAPSAP project. This opportunity enabled me to delve deeper into the research process, resulting in the CAPSAP report for MSVU, which forwarded recommendations for sexual assault policy and service provision. The project grew exponentially, expanding to three other institutions and resulting in various reports, the development of the CAPSAP Workshop and the creation of the soon-to-be-launched CAPSAP website! During this time, my role was of project coordinator, engaging in various research responsibilities as-well-as organizational demands.
This work profoundly shaped my experience at MSVU and my trajectory as a student, educator, and future researcher. I'm beyond grateful to have been encouraged and supported throughout this process by my fantastic mentor, Dr. KelleyAnne Malinen.
What do you think differentiates MSVU from other post-secondary institutions?
It's become cliche to declare MSVU as a "close-knit community." However, you cannot deny the safe, connected energy ever-present on campus. At MSVU, you are more than just a number – many professors seek to build relationships with you and offer support in your learning journey.
As I mentioned earlier, MSVU is also unique in the stunning nature surrounding campus. The trees, crows, deer and other wildlife assure that you are never alone and can ground you in moments of stress and tension.
Do you have any advice for current students or people considering going to MSVU?
My advice for current students is to be present and embrace your time at MSVU. University can feel like a sprint to the finish line, but the journey is filled with joyful moments that help your soul to soar. Although graduation is an exciting time, nothing compares to the thrill of discovery, connection and imagination engaged as a student.
I recommend selecting electives that interest or excite you, engaging in extracurricular activities out of your comfort zone, asking questions and seeking support when needed!
MSVU provides various services to help you succeed, and in my experience, these supports are underutilized. The Writing Centre, counselling staff, librarians and peer mentors enhanced my confidence as a student and enabled me to achieve my goals, and they can do the same for you.
Lastly, community – not isolation – is conducive to learning, so study with a buddy and learn from your fellow Mystics!
What's next for you?
Some much-needed rest and relaxation! After my sixth year at MSVU, I've decided to take a break from schooling and spend time connecting with loved ones and enjoying nature. I also plan to use the knowledge and skills gained during my time at MSVU to support future generations as an educator. Given my passion for research and learning, I plan to return to MSVU to complete a Master's of Education. Until next time, MSVU!