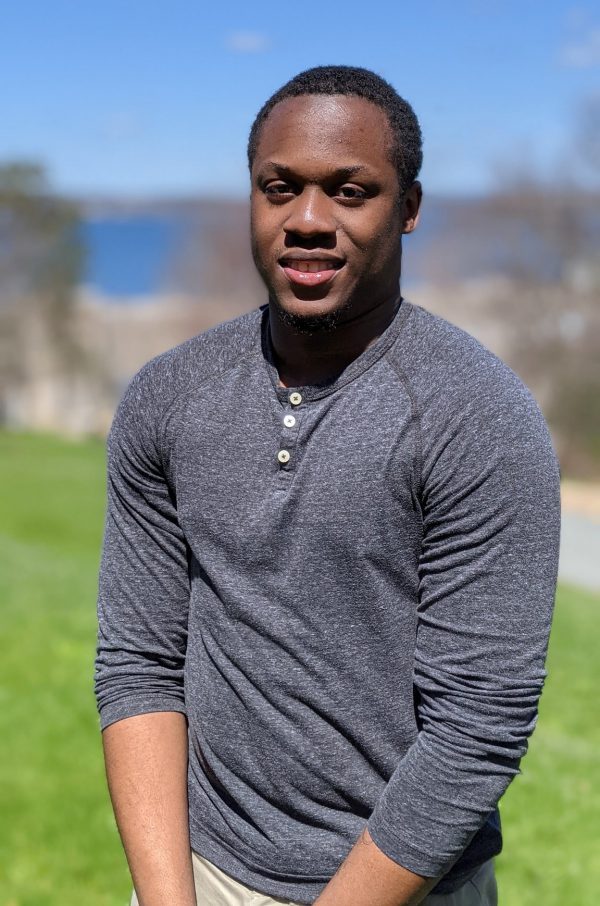 During his time at Mount Saint Vincent University (MSVU), D'Vaughn Rolle-Johnson has given his time and support to his fellow students in countless ways, becoming well known for doing all he can to be of assistance to others. As the recipient of the 2021-22 Margaret Ellis Award for outstanding leadership in recreation, he is recognized by his peers as both a hard worker and a very humble individual.
D'Vaughn will deliver his valedictory address during the spring 2022 convocation on Thursday, May 19 at 2 p.m. You can watch the ceremony via MSVU's Facebook and YouTube pages.
We asked D'Vaughn to tell us about his time at MSVU and what's next for him. Read on to learn more about D'Vaughn.
Hometown: The Bahamas (Nassau, New Providence)
Current city: Halifax, NS
Degree being awarded: Bachelor Business Administration with a focus in Management and a Minor in Applied Statistics
Previous education completed: High school (Aquinas College)
About D'Vaughn
Why did you choose to study at MSVU?
My high school back in the Bahamas has a great relationship with MSVU. Robyn, who was the International Student recruiter for MSVU at the time, came to my high school to talk about the university. After her presentation, my mom and I got a chance to talk to her about MSVU and it just checked all the boxes for what we were looking for – a small university with lots of opportunities, a great educational background and learning environment, and the chance to live in a great city.
How were you involved on campus during your time as an MSVU student?
On campus, I worked in the MSVU Athletics Department as an Athletics & Recreation Facility Assistant, as well as being a part of game crew for all varsity games. I also worked in the Math Department on campus as a statistics teaching assistant and marker and tutored students in various stats courses. I became a residence assistant in my final year and got the opportunity to work as a research assistant with Dr. Douglas Whitaker, professor in the Department of Mathematics, on one of his projects.
Did you complete any work terms or internships?
I completed a co-op term in 2019 working with Basketball Nova Scotia as the Provincial Team Events Coordinator.
What class, professor, project or learning activity has held the most meaning for you, and why?
I would say all my Statistics courses and profs (Nancy Stoddart, Gary Sneddon, Douglas Whitaker and Jennifer Thornton) hold meaning for me. By coming to MSVU and taking courses with them, I realized I had a skill for statistics. Through working with them and having numerous conversations with them, I came to understand how much I love analytics and that I would want to incorporate this into my career path.
Aside from that, Jeff Young holds meaning for me. Ironically, not only was he one of my professors in my first year, he was also the first person I met at MSVU and he gave both me and my mom our tour around campus. Since then, whenever we pass each other – which for some reason was every day – he would always check in to ensure everything was all right with me. Jeff completely changed the scope of how I analyze different situations through taking his courses. Through many lectures and conversations with him, he helped to showed me how to analyze a situation correctly and to not just look at the most obvious solutions. Jeff helped me learn to be innovative and view all the different turns you can take to get the most effective results. I truly believe that has helped me to gain all of the opportunities I have gotten so far and will receive in the future.
What is your favourite location on campus and why?
My favourite location is the pub [Vinnie's]. It was just my area where I went and separated myself from school and anything else going on around me. It gave me a moment to take a breath and hang out with some friends.
Were you involved in research during your time at MSVU?
I was able to work alongside Dr. Whitaker and other students to help with a research project. I always wanted to get an inside look at what exactly the process entails when conducting academic research, seeing the challenges that may arise, the data cleaning process, observing how you would expect the results to be one way, but the results might turn out another way. Overall, I enjoyed the experience and it really gave me more insight into how it really feels working in the analytics field.
Do you have any advice for current students or people considering going to MSVU?
Don't limit yourself. I would never have envisioned myself doing all I did or being in the position I am now. When an opportunity arises, take a shot and you may surprise yourself because I know I sure did.
What's next for you?
Fortunately, I was able to land a full-time position with Hub International, one of the leading Insurance Brokerages, as an Administrative Analyst. I'm looking to further my knowledge in the analytical field and branch off into new opportunities while with them. I aim obtaining my Certified Risk Manager (CRM) and Chartered Financial Analyst (CFA) certifications and also preparing myself to pursue my Master of Business Administration in Data Analytics.