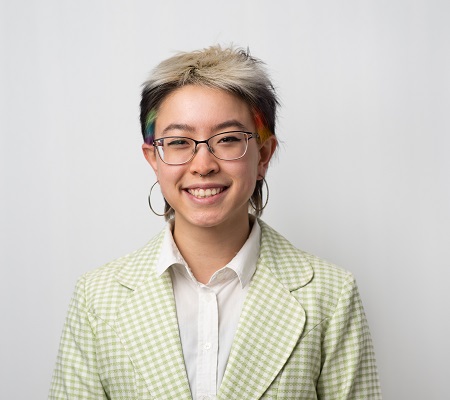 A strong advocate who recently received the Student Leadership Award in Psychology, Valedictorian Jasmine Tang is described by peers as, "constantly putting in effort to make MSVU a more positive and inclusive environment."
Jasmine is an exceptional student who excels in the classroom and has been active in research, and an active volunteer. Jasmine was also a finalist for the second class of McCall MacBain Scholars, Canada's first comprehensive leadership-based scholarship program for master's and professional studies students.
Jasmine will deliver their valedictory address during the spring 2022 convocation on Thursday, May 19 at 10 a.m. You can watch the ceremony via MSVU's Facebook and YouTube pages. We asked Jasmine to tell us about their time at MSVU and what's next for them. Read on to learn more about Jasmine.
Hometown: Cornwall, PEI
Current city/town: Soon to be Victoria, BC
Degree being awarded: BSc in Biology and Psychology, Minors in Religious Studies and Statistics
Previous education completed: Bluefield High School, PEI
About Jasmine
Why did you choose to study at MSVU?
I was drawn to MSVU by its small size, the deer and natural light on campus, and the scholarship I was lucky enough to be offered.
How were you involved on campus during your time as an MSVU student?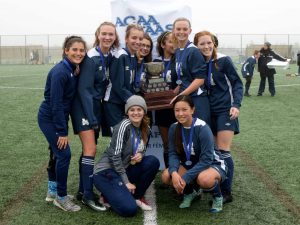 I played with the MSVU Women's Soccer team in my first year, which happened to be the year that we won the ACAAs [Atlantic Collegiate Athletic Association finals] and travelled to BC for nationals, which was a fantastic experience. I then spent a year with the MSVU Students' Union as Racialized Student Representative and another year as Vice President of Communications, during which time I volunteered often at the MSVU Student Food Bank. I have also worked as a research assistant with the Department of Psychology and with the MSVU Research Office and have worked as a marker/TA in Chemistry and Biology labs.
Who are your academic and research mentors (either at MSVU or beyond)?
I have been working with Dr. Jacquie Gahagan on a few projects for the past few months and have already learned a great deal from them. A lot of their work is in advancing queer health and in evaluating healthcare policies (such as the blood ban) to make healthcare more inclusive for queer populations – this is exactly the type of work I hope to do, and I've been so lucky to be able to work with them. I'm also super excited to work with Dr. Nate Lachowsky as one of my Master's supervisors next year and to get involved with more community-based research.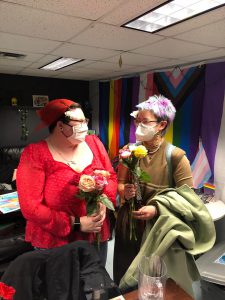 Additionally, it was my seminar class with Dr. Jen Khoury this past fall that really sparked my interest in research and made me consider it as a career path. It was the first class I'd taken where I was exposed to research that excited me, and it was super cool to learn from Dr. Khoury, an established and incredibly knowledgeable researcher in her field. I've been able to contribute to some of her projects over the past year, and she has taught me a lot about conducting research and analyzing data. I really admire her and her research.
What class, professor, project or learning activity has held the most meaning for you? Why?
I can't go through this without mentioning Dr. Arthur McCalla. I took his class Eastern Religious Traditions during my first semester at MSVU and enjoyed it so much that I decided to make Religious Studies one of my minors. I ended up taking every course offered by Dr. McCalla that I could fit into my schedule. They were all, without a doubt, among my favorites of all the courses I took throughout my degree. Dr. McCalla's enthusiasm and extensive knowledge made his classes incredibly informative and interesting, and they broadened my scope of knowledge outside of the science-heavy courses of my majors. They also forced me out of my comfort zone of APA-style essays and pushed me to increase the quality of my writing and my ability to analyze texts. While the courses were always challenging, Dr. McCalla was always available and willing to help out.
Additionally, for those of us who grew up solely exposed to Christianity, I think it is incredibly important to have a base knowledge about religions outside of the Canadian/American context, as well as about the role that religion has played in our history – especially given the misinformation that is so often spread about religions other than Christianity and those who practice them. I am by no means an expert, but I have learned so much and look forward to learning more, both in academic contexts and from practicing religious individuals.
What is your favourite location on campus and why?
I've spent countless hours sitting by the pond outside of the Birches. The muskrat that appeared every year on April 25, the fish, and the many ducks made for trusty companions throughout my degree.
Do you have any favourite stories about your time at MSVU?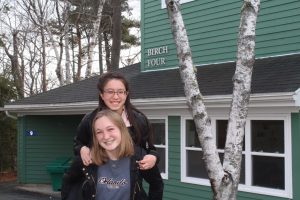 I lived in Birch 4 in my first year. At around midnight on the very first day of school, someone attending a party in the Birch attempted to exit through the emergency door, triggering the alarm. Myself and my neighbor down the hall were both woken up by the very loud alarm and took the opportunity to explore the Birch rather than evacuating. To no one's surprise, that neighbor quite quickly became my best pal, and remains so to this day. It was a very fitting start to our time at MSVU, and I have a lot of fond memories from our year in Birch 4.
Were you involved in research during your time at MSVU?
As I did a combined major rather than an honours degree, I didn't conduct any of my own research at MSVU, but I did contribute as a research assistant. For the past year, I've been working with Dr. Jen Khoury on a meta-analysis examining the relationship between child maltreatment and executive dysfunction. I am also a research assistant with Dr. Jacquie Gahagan, helping out with a few projects – one about gbMSM and trans experiences with blood donation, and two others surrounding tuition waiver programs for former youth in care.
Outside of MSVU, I took part in the Atlantic Investigaytors program with the Community Based Research Centre and the Halifax Sexual Health Centre, where I had the opportunity to analyze data from the Sex Now survey and create an independent research project.
What do you think differentiates MSVU from other post-secondary institutions?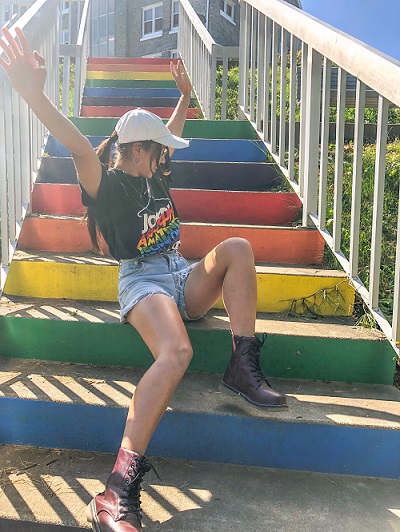 Having never attended any other post-secondary institution, I can't say much to that. But I can say that there are some really great people at MSVU – professors, students, custodial staff, meal hall staff, the folks at athletics and recreation – who are kind, genuine, and who really care about the community. I'm grateful for all of the fantastic people I was able to meet and interact with over the past 4 years.
Do you have any advice for current students or people considering going to MSVU?
The ducks love sunflower seeds, and they'll eat out of your hand if you're patient!
What's next for you?
I'll be pursuing an MSc in Social Dimensions of Health at the University of Victoria, collaborating with the Community-Based Health Equity Research Group.