Mount Fund provides important support for students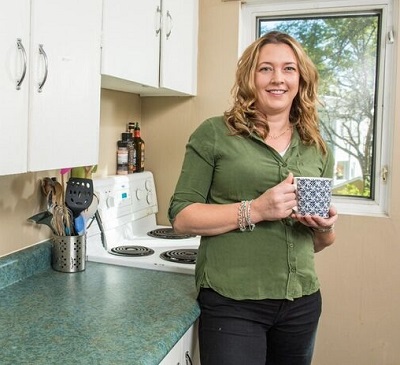 Allison (Ali) Bennett
(pictured at home at right)
is a mature student and single parent who recently dove back into post-secondary studies at Mount Saint Vincent University. Ali is in her first year of
Applied Human Nutrition
studies at the Mount, and, before joining the Mount community, had a successful career in Europe as a private chef and culinary instructor. She attended culinary college in Ireland, Thailand and France.
Things changed unexpectedly for Ali when she returned home a few years ago for a brief holiday, only to learn that her Mom was terminally ill. She stayed in Canada and was the primary caregiver for her Mom until she died. Soon after, Ali welcomed a daughter herself.
Having left her career behind in Europe, Ali needed to rebuild a life back home in Canada. In the fall of 2016, as a single mom to a busy three-year-old, Ali stepped back into the world of post-secondary education at the Mount.
Diet was an important facet of her Mom's palliative care, and also plays an important role in Ali's sister's life as a Crohn's patient and cancer survivor. Food has always been a passion of Ali's as a chef, and so a career in dietetics really appealed to her. Ultimately, Ali wants to help bring proper nutrition to those who suffer with illness.
Ali's return to her studies was made possible by the supports she has received, including from the Mount's bursary programs. Thanks to the continued generosity of Mount donors, Ali is able to focus on her daughter, her studies, and their promising future.
You can support students like Ali by contributing to the Mount Fund. For Giving Tuesday only, all donations will be matched.