For Stewart, an Arts degree was a path to self-discovery
Stewart Zaun graduated from Mount Saint Vincent University in 2011 with a Bachelor of Arts degree in peace and conflict studies and, since then, has made a name for himself as a champion for youth in Nova Scotia.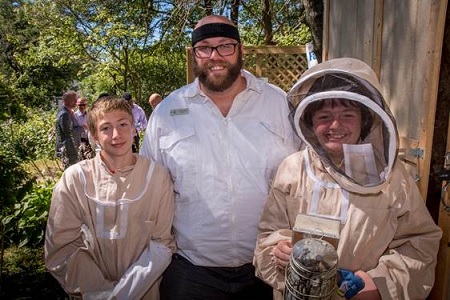 Stewart said the program at the Mount "jumped off the page" at him when perusing his options. Transferring from community college in the U.S., he was looking for something that was in line with his personal values and ambitions. The program he chose spoke to him because "it covered conflict resolution on all levels." The interdisciplinary aspect of a Bachelor of Arts program was also appealing.

Growing up with a mother who was a nurse and a father who worked in law enforcement, Stewart had an early appreciation for the need to help others and resolve conflicts. He also found at the Mount extracurricular opportunity to enhance his leadership skills. Stewart's Mount experience included serving as the mature student representative with the University's Students' Union.

Fortunately, Stewart chose to stay in Canada, and Nova Scotia specifically, following graduation. Soon after he finished his studies, he began working for Family SOS – a local not-for-profit that helps build healthy families – where he excelled as the program coordinator overseeing all children's and youth operations. Now taking on a new role at the Centre for Entrepreneurship, Education and Development (or CEED) as the Youth Employability Program Manager, Stewart hopes to expand his professional horizons and create a personal path of success within the organization. "If I'm not moving forward, I'm not doing well," he says.

"I'm always looking for the next opportunity to support my community."
Stewart has a significant background in volunteerism and community involvement, including in the Dartmouth North and Spryfield areas where he spearheaded a youth social enterprise named Honey Beez and has also worked in recreation for years.

Honey Beez is a youth-led social enterprise with a goal of teaching valuable leadership and entrepreneurial skills. It is a joint Family SOS and CEED initiative. Participants learn to care for beehives and harvest honey, as well as market and sell related products. The program helps at-risk youth gain valuable skills and prepare themselves for future careers. It's an initiative that has been a great success and continues to gain community support.

A champion for the Bachelor of Arts
Stewart has a lot to say about how attending university, and taking an Arts degree in particular, is beneficial. "It's not only about getting a career, but it's also about starting a journey to understanding what you're passionate about," he says. "Ultimately, it's about being the best version of you that you can be…do that and a career will come."

He suggests to future students that what they take in university be something that they enjoy instead of something they want to make money from. "Not everything is chasing money in life," he notes, adding that "work-life balance" is key to success and happiness. Stewart believes in the flexibility and great fit a BA can provide and shares that taking a Bachelor of Arts helped him on his journey to where he is today by providing an experience that enabled him to realize his passions and incorporate his personality into his degree.

Balancing classroom and extra-curricular opportunity
At the Mount, students graduate with both an academic record and a record of their non-academic and extra-curricular involvement through an initiative known as the Co-Curricular Recognition Program (or CCRP). Through the program, Stewart formally captured his non-academic University experiences, like his role with the Students' Union. A co-curricular record is a document that can be helpful in meeting with future employers and applying for future academic programs, highlighting valuable skills and experience gained outside of the classroom, for example through volunteering, athletics and community work.

"Having the Co-Curricular Recognition Program at the Mount is huge because when you're out in the real world you need these things to show that you can shift your priorities, whether it's family, work, school," says Stewart. "You're always going to be dealing with a balancing act and overcoming adversity because life is unpredictable."

Stewart offers the following tip to new graduates: have patience when entering the workforce. "I was actively involved in volunteering and in the community while looking for work. Patience is important, but you have to keep 'working' even if you aren't getting paid."

It might have taken some patience and persistence, but today Stewart is certainly making the most of his degree while putting his passions to work – and definitely leading by example.