Meet Dr. Hany Kim
To say that Tourism and Hospitality Management Assistant Professor Dr. Hany Kim is passionate about travel would be an understatement. From Egypt to Jerusalem to Greece and Australia, Dr. Kim has spent most of her life studying and working on the move. And she has loved every minute of it.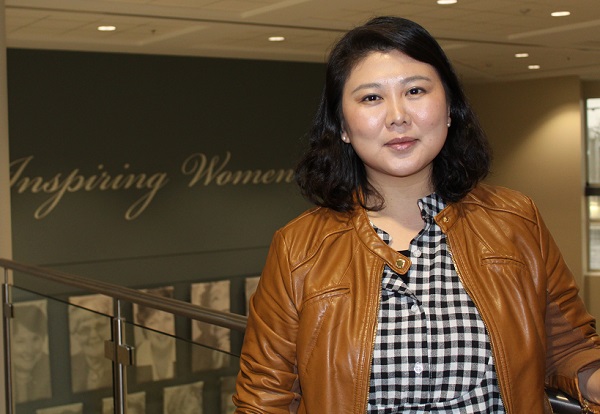 "At every destination I have been to, I learn something and hear other people's stories. This inspires me in my life, in the classroom and in my research," says Dr. Kim, who joined the Business and Tourism Department at the Mount in September 2016.
Kim was born in South Korea, but for as long as she can remember, travelling has been a part of her DNA. "My father was in the military so we traveled a lot in my childhood. And when I was 19 years old, I moved to India to study."
From tour guide to tourism scholar
During her time in India, Kim completed a Bachelor of English in Language and Literature. To earn a living while studying, she also worked part-time as a tour guide. She was tasked with leading large tourist groups from India to Nepal, speaking about the culture and landmarks along the way. Her experience as a tour guide and the many travel stories she heard from tourists led Kim to the conclusion that she wanted to pursue a full-time career in the tourism sector. Fast forward three (busy) years and Kim graduates with a Master's Degree in Tourism Management from Sejong University in South Korea.
"I think tourism is a unique industry. We have an opportunity to create happiness for people. It is also a highly specialized area. There are a lot of intangible and tangible elements in tourism, which makes it complex. Choosing a destination is unique and you learn a lot about people in the process. It is interesting to be able to watch people go outside of their comfort zones and try different things," notes Kim.
---
"I think it's important to be open to new experiences and to take risks.
There is always something new to learn."
— Dr. Hany Kim, Assistant Professor in Tourism and Hospitality Management
---
Teaching as a two-way street
Trying new things is also something Kim likes to do in the classroom. She feels that through her own personal travel experiences she can share a lot of practical insight with students, while also learning from them. "I see teaching as co-creation. I can provide my knowledge based on my experiences and they can teach me things too. It is a joint sharing."
And while Kim values the theoretical basis of research, she feels her research has much more of a practical foundation. Her research is centered on tourist perception – from branding to imagery – and how these pieces impact travelers' decisions. Most recently, Kim has been examining visual and text-based messaging in a variety of media to understand how behaviours and decisions are impacted. Her research has positive implications for tourism companies who are looking to devise marketing strategies to diversify markets and ultimately increase their visibility and overall sales.
"My research is industry focused. I like that I am creating practical knowledge that can be applied. For example, organizations like Destination Halifax will be able to apply the research I am doing in their marketing and branding strategy," she says.
There are many factors that influence how people make decisions related to travel and Kim is at the forefront of understanding the impact and application of these factors for the tourism sector. In fact, it is the marrying of business and tourism that played a role in bringing Kim to the Mount: "I like that I can collaborate with business professors and further expand my knowledge."
Swapping palm trees for pine trees
As fate would have it, Kim first heard of Halifax and the Mount from one of her personal travel adventures in Santiago back in 2003 when she met a Canadian family on a walking tour. After hearing about the rich historical roots of Halifax and friendly feel, she always felt compelled to make a visit. When a friend shared with her the opportunity at the Mount, she jumped at it. "I believe in destiny. I might have traded palm trees for pine trees, but I really love Halifax so far."
When asked what inspires her in her everyday life, her answer is simple: "The people I have met along my journey. It is not just one person, but the collective – the travelers I have met, my colleagues and students. I think it's important to be open to new experiences and to take risks. There is always something new to learn."