Conference to unite English students from across the Atlantic region at the Mount March 2 and 3
Event showcases student academic and creative achievements
The Mount's English Department is gearing up to host the 2018 Annual Atlantic Undergraduate English Conference (AAUEC) on March 2 and 3. The conference, which was started at the Mount in 1981 and has been hosted here four times since, will welcome English students from universities across the Atlantic Provinces to present their academic papers and creative projects in a stimulating and encouraging environment. It is an excellent experiential learning opportunity and chance for students to share their ideas with those who share their interests. Some of the topics to be explored include time and temporality, the natural world, and feminism.
Mount students eager to help
Alexia Major (right, above) and Samantha VanNorden (left, above) are two of the many Mount student volunteers helping plan the conference. They are assisting behind-the-scenes, like helping with set-up and registration, and will co-host the ArtFest – an opportunity for attendees to showcase performances and creative works. ArtFest will fittingly take place in the Mount's Art Gallery. Both Alexia and Samantha are excited to hear the ArtFest presentation of special guest and Nancy's Chair in Women's Studies at the Mount El Jones. "It's always fun to see the energy that she brings to her work," Alexia noted. Other anticipated events include a "Bad Poetry Reading" of not-so-famous works by known writers, a banquet, and a dance.
Being a part of a conference of this scale is a new experience for both Alexia and Samantha, who are proud to welcome attendees to their University. Alexia is particularly excited for the community to gather together to celebrate their works, "It is a great chance to build a network and meet people."
A discipline that opens doors
Both English majors, Alexia and Samantha were drawn to the Mount because of the excellent reputation of the University's English Department. They've both found opportunities to become involved on campus and strong support along their academic journeys. In fact, they were encouraged to volunteer at the AAUEC by faculty who have taught and worked with them in the past – relationships Alexia cites as a benefit of being part of a small, supportive environment.
Samantha currently serves as an executive member of the student-run English society and as the media assistant for the department. She is grateful to the English Department for influencing her next steps. She hopes to continue on to graduate school, with an ultimate goal of working in an academic setting. "My experience has really made me feel attached to the Mount community, and has made me want to try to work in a university someday."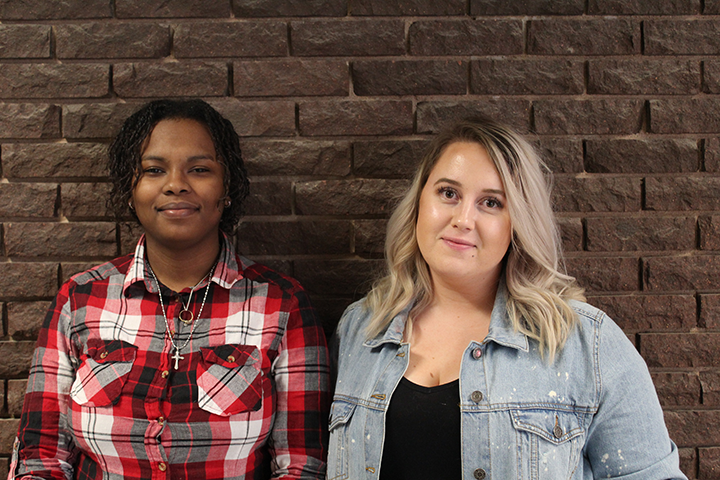 With one year to go before graduation, Alexia also feels the impact of her degree as it helps shape her career path. She recently job-shadowed English graduates now working as digital copy writers at local marketing firm SimplyCast, an opportunity coordinated in part by the Mount's Co-Operative Education department. The experience showed her how the diverse skill set she's acquired through her English degree can be readily applied in the workforce. "I totally see how I can have a job in that environment and do well because of the skills English has prepared me with," she said.
Additional conference details
The AAUEC kicks-off with a welcome reception on March 2, followed by concurrent sessions featuring student paper presentations on time and temporality, femininity and selfhood, and representations of masculinity. To finish off the first day, ArtFest takes place in the Art Gallery within the Seton Academic Centre at 5 p.m.
Day two – March 3 – includes sessions exploring such topics as ethics and morality, binary oppositions and resistance, bodies, food, and discomfort, political agendas and interventions, as well as objects and materiality, to name just a few. A "Bad Poetry Reading", banquet and dance party will wrap-up the event.
For more information on AAUEC, visit http://www.msvu.ca/en/home/programsdepartments/BA/english/aauec2018.aspx