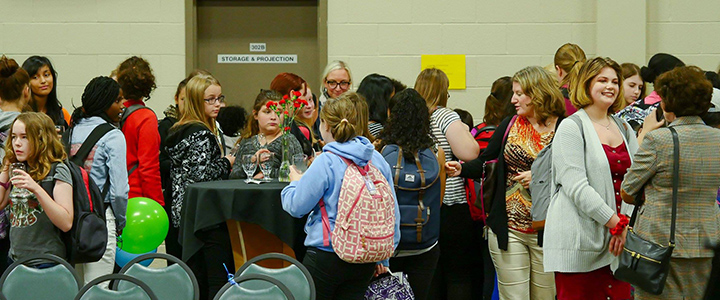 The seventh annual Girls Conference, hosted by the Alexa McDonough Institute for Women, Gender and Social Justice at Mount Saint Vincent University (the Mount), is set to welcome its largest group of participants yet for a sold out event. More than 300 junior high and high school-aged girls from across Nova Scotia will descend on the Mount campus this Friday, March 2 to celebrate women and girls.
Special guest Dr. Wanda Thomas Bernard, mental health advocate, community activist and the first African Nova Scotian to serve in Canada's Senate Chamber, will kick things off with an inspiring message. The welcome keynote address will be delivered by African Nova Scotian Student Support Worker Cyndy Cain and the Know Thy Self STOMP and Culture Group. Cain is an award-winning performer who leads this dynamic group and has shared the stage with the likes of Aretha Franklin, Charles Bradley, Michael Bublé, and Her Majesty Queen Elizabeth II, to name a few. Cain and the STOMP group give youth at Oxford School an opportunity to learn about their heritage through music and dance.
El Jones, poet, activist and Nancy's Chair in Women's Studies at the Mount, will deliver the afternoon keynote address. Throughout the day, attendees will also enjoy more than 25 different workshops with a wide range of speakers and facilitators including sessions on ending gender-based violence, career planning, reproductive rights, self-esteem and body image, Mi'kmaq history, female empowerment, and social media use for girls.
"We're thrilled to have a record number of girls attending this year's event," said Dr. Mary Bluechardt, President & Vice-Chancellor at the Mount. "The Mount has a strong commitment to the advancement of women and girls, rooted in a long history of advocacy and support for women. We are delighted this year's participants are joining us in this continued effort as they come together with other young women from across Nova Scotia to celebrate the power of girls. We need to continue to focus on building a strong and equitable future for women. And this is exactly what the Alexa McDonough Institute is doing through this event."


The Alexa McDonough Institute launched the Girls Conference in 2012 as a way to bring together girls from across Nova Scotia to celebrate International Women's Day (held annually on March 8). From its inception, the mission of the conference has been to help girls develop, appreciate and celebrate their own abilities and talents, as well as those of other girls and women, and to help them to empower themselves, build confidence, and be a positive influence in their communities. The conference gives young women the opportunity to share their stories, ideas and advice while taking on challenges in new areas, all while having fun in a safe space.


The conference will officially open at 9 a.m. with a Mi'kmaq welcome by Catharine Martin, followed by a welcome from President Bluechardt.
Visit the
event website
for full details.