MEDIA ADVISORY
(Halifax, NS) June 12, 2017 – On June 12 and 13, a wikuom (wigwam) will be installed on the Mount Saint Vincent University campus as a new space for Indigenous gathering and education. The installation is a legacy project of Catherine Martin whose term as Nancy's Chair in Women's Studies at the Mount ends on June 30, 2017.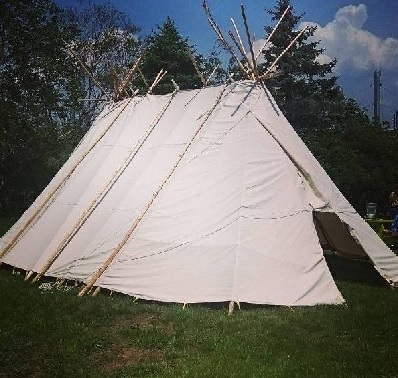 The Mount is the first Nova Scotia university to add a wikuom to its campus facilities. The wikuom will initially be raised near the Meadows at the top of Seton Road and then move to other locations as required [
map
].
The raising involves a traditional Mi'kmaq ceremony and media are invited to attend on June 13. The wikuom was traditionally made of birch bark, but are now frequently made of a treated canvas. Expert Tony Solomon, of Mukwa Teepees, will deliver a two-day workshop at the Mount (June 12 and 13) on raising it, welcoming it, protocol and ceremony.
WHEN: 1 p.m. on Tuesday, June 13, 2017, rain or shine. Media are invited to film the feast of traditional corn soup and the wikuom will be up for viewing.
WHERE:
In front of the Meadows (off of Seton Road, near the top of the road just before Caritas Residence) at the Mount, 166 Bedford Highway [
map
]
WHO: Catherine Martin will be joined by Elders from several Mi'kmaq communities in Nova Scotia. Tony Solomon of Mukwa Teepees will also be available to speak to media.
About the Nancy's Chair
The Nancy's Chair in Women's Studies (Nancy's Chair) was established at Mount Saint Vincent University in the mid-1980s. Endowed by well-known Toronto-based feminist and philanthropist Nancy Ruth, the Chair raises awareness of women's issues by bringing to campus distinguished scholars in women's studies and activists who have contributed to the advancement of women.
View past Chairs
About Mount Saint Vincent University
As a leader in distance and experiential learning, and based on a strong tradition of social responsibility, Mount Saint Vincent University takes a personalized approach to education to nurture socially responsible global citizens. Founded in 1873, the Mount has been nationally recognized for having one of the lowest student-to-professor ratios, for providing students early access to valuable research opportunities, for its legacy in the advancement of women, and for facilitating critical advancements in food security, healthy aging, literacy, and childhood development.
---
For more information:
Gillian Batten
Manager, Communications
Mount Saint Vincent University
(902) 457-6439
Gillian.Batten@msvu.ca