Women have always played a significant role at the Mount, and it is with great pleasure that the Mount community welcomes another outstanding woman to the role of Nancy's Chair in Women's Studies, Catherine Martin.
This role was established at the Mount in the mid-1980s by Senator and philanthropist, Nancy Ruth, and enables the Mount to host distinguished scholars and activists who have contributed to the advancement of women. Catherine brings to the role much enthusiasm for the goals and social change she hopes to achieve.
A passion for storytelling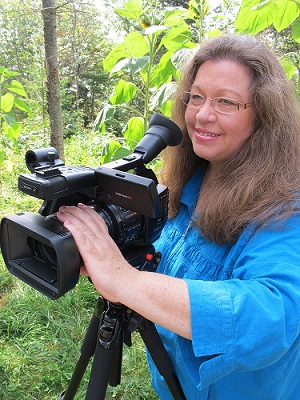 A Mi'kmaq person of the Millbrook community in Truro, Nova Scotia, Catherine's professional and academic interests have been influenced and driven by her passion for the lives and stories of Aboriginal women – specifically that of Annie Mae Aquash— a Mi'kmaq woman and activist from Shubenacadie, Nova Scotia, who was murdered in the mid-1970s.
"I love those stories of women and resistance, and resilience, and how we have brought ourselves to this place in time and society. I wanted to make films so I could tell her story… I chose film because I felt that I could make more social and educational change through film, and that it was the natural progression from an oral tradition."
An impressive filmography
Catherine completed The Spirit of Annie Mae in 2002, in conjunction with the National Film Board (NFB) – one of many projects in a filmography that in itself tells the story of an accomplished leader. As an independent filmmaker, director, and writer, Catherine's repertoire of work includes the animation film Little Boy Who Lived with Muini'skw (2004), and Spirit Wind (2000). In 2006, Catherine added the NFB online documentary Bringing Annie Mae Home to her accomplishments – a film that explores the thirty-year process of solving Annie Mae Aquash's murder. Fittingly, Catherine's contributions to film, television, and digital media in Atlantic Canada were recognized in March 2015 with a WAVE Award from Women in Film and Television Atlantic.
In addition to her career as a filmmaker and business owner, Catherine has acted as the past Chairperson of the Board of Directors for Aboriginal Peoples Television Network, and as the past Chair of the Society for Canadian Artists of Native Ancestry. She has also played an active role in the development of many programs to advance the education of Mi'kmaq and Aboriginal women and youth, including the development of many of the policies and programs within the Canadian Cultural and Arts Institutions, and the Indigenous Black and Mi'kmaq Initiative within the Law program at Dalhousie University.
A new opportunity to influence social change
"I was intrigued by [the Nancy's Chair in Women's Studies] position, because it too offers the opportunity to do meaningful work that may influence social change. I really hope that I can help bring more Aboriginal people to the Mount, and further strengthen the relationship between the Aboriginal and Mount communities."
Entering the position of
Nancy's Chair in Women's Studies
was a welcome back of sorts for Catherine, as she previously attended the Mount as a student in the Masters of Education program. She is also a member of the Mount's Aboriginal Advisory Committee.
"I have seen real change and commitment here," Catherine smiles. "President Ramona Lumpkin and her team have done an amazing job, and I am very impressed and inspired by the work she has done in the Aboriginal and women's communities. I am looking forward to having the opportunity to learn from her, and see what I can achieve in this role."