Success has never tasted so good for Mount students Danielle MacDonald and Samantha Smith.
The pair recently took first place in the
Pulse Canada
national food development competition, called
Mission ImPULSEible
. Danielle and Samantha's Celebration Cocoa Bean Cake took top spot from among 36 entries featuring pulses (or peas, beans, lentils and chickpeas) as their major ingredient, also winning them the honour of being the first Mount team to claim first prize in the history of the competition. But they don't sugar coat their journey to the top.
"The first time we made the cake, at home in our apartment, we almost had a fire in the oven," said Samantha. "It sank in the middle and nearly spilled out the sides…But our competitiveness kicked in and we didn't give up."
Danielle described the recipe modifications that ensued: "We refined the recipe four times. We not only needed it to bake properly, but we wanted to improve the taste and texture. Ultimately, we wanted to get it to 'Betty Crocker' quality."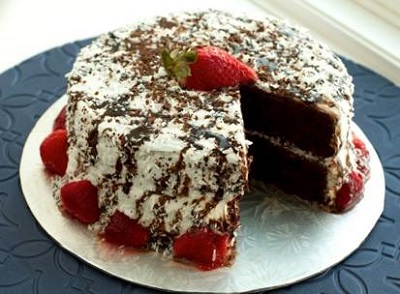 Two months later, they had it. Danielle and Samantha designed a high-quality, healthy alternative to typical chocolate cake in both ready-to-eat and boxed cake mix formats.
(See photo at left of the finished product.)
They took the 500 calorie count for an average slice of iced chocolate cake and reduced it to just 170. One hundred percent pulse-based flour replaced regular white flour; they added shredded coconut, and cut the amount of sugar in half. Strawberries garnished their ready-to-eat cake which also served as portion size markers. They topped it off with a frosting made of coconut milk and pea fiber. In short, the final product was a nutrient rich and delicious chocolate cake – high in both protein and fibre.
As part of the Mission ImPULSEible challenge, Danielle and Samantha (pictured at left and right respectively in the photo below) presented their Celebration Cocoa Bean Cake to a panel of expert judges (including a food retailer, a journalist, commercial chef, and food science company representative), during a pulse and special crops convention in Calgary, Alberta in June. It was ultimately named the winner for what judges remarked was a delicious taste and moist texture.
Battle of the Pulses
"The first Mission ImPULSEible competition at the Mount was organized in 2012 in collaboration with Pulse Canada. Since then, we have organized four competitions involving 5-8 teams each year from post-secondary institutions across the Maritimes," said
Bohdan Luhovyy
Assistant Professor of
Applied Human Nutrition
. "The Mount's first success at the national level was achieved in 2014 when Olivia Newton, Emily Glover and Katie Cvitkovitch from the Department of Applied Human Nutrition won second prize for their innovative 'Pulsicles' – a nutrient-dense frozen yogurt smoothie popsicle made with pulses and fruit. Each year, we are impressed by and proud of our new student competitors."
Noted Bohdan, "Danielle and Samantha were a pleasure to work with. They listened to the input I had to offer and took my suggestions and advice. Developing a new food product is really a ton of work."
A dynamic duo
The skill sets Danielle and Samantha brought to the table made for a perfect partnership in product development. As a
B
usiness
student, Danielle brought the business acumen, from marketing to sales and everything in between. As an
Applied Human Nutrition
student, Samantha brought the nutrition knowledge. They were the only business-nutrition pair among this year's national finalists.
Friends since they were 14-years-old, Danielle and Samantha headed their separate ways after high school in order to pursue degrees at different universities. Their friendship was re-ignited when they reunited on the soccer field as players for the Mount Mystics. They are now both about to begin their final year of study at the Mount.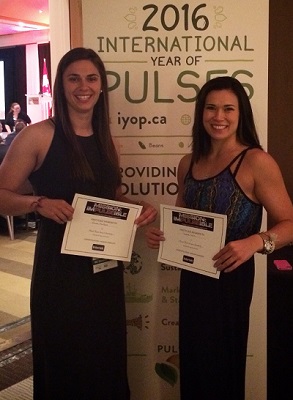 The competitive drive that propelled them on the soccer field is likely what also kept them going that late June evening when they baked dozens of mini cakes to transport to the competition. "We carried two large roasting pans of baked cakes on the plane," noted Samantha. "You could smell the cake on the plane – we made lots of friends!"
The morning of the competition, they had two hours of prep-time in the kitchen of the hotel where the conference was being held, during which they iced their samples, added a little pizzazz to them for presentation, and decorated their three-tier display cake.
Lessons in entrepreneurship
Before they left for national competition, Danielle and Samantha met with Nora Perry, Business Development Officer, of the
Centre for Women in Business
(CWB) at the Mount. The CWB is a business development centre for women, providing skills training and resources to women entrepreneurs across mainland Nova Scotia, as well as to Mount students with entrepreneurial aspirations.
Nora listened to the pair practice their pitch, offering advice based on years of supporting budding entrepreneurs. "In the end, I wasn't surprised to hear that they had won the competition," she said. "When they came to me, they were confident and knowledgeable about their product. Knowing your pitch inside out is critical to a successful outcome."
Danielle and Samantha also linked with the
Spark Zone
– a centre connecting students to services to support their business ideas and social innovations. The Spark Zone supported their preparations for the competition and will continue to assist them into the next phase of their cake's journey. Plans to commercialize their product are in the works. They've already begun to work out pricing and plan for how they'll get their cake to market.
For Danielle and Samantha, their Mission ImPULSEible experience was about more than baking a great cake. They refined their entrepreneurial skills at every opportunity and networked extensively when they were presented with the conference opportunity in Calgary.
In the end, they returned home with more than a first-place win – they brought back a treasure-trove of some 60 to 80 business cards and an intent to follow-up with many of those with whom they connected. They both also returned home with job offers for when they graduate in April 2016.
Said Samantha, "It was the people we had the privilege of meeting that was such a bonus. We had an experience that was much bigger than the competition and we took it and ran with it. It really was the experience of a lifetime."